What we Think and Do drives innovation in plant improvement, data-driven plant science and resilient agricultural systems.
Learn more about our interdisciplinary research teams and their extraordinary impact.
N.C. PSI RESEARCH PROGRAMS
Grants for Game Changers
NC State provided competitive seed funding for four interdisciplinary team-based research and outreach projects totaling $2.3M.
GRIP4PSI Projects
The Game‐Changing Research Incentive Program for Plant Sciences Initiative (GRIP4PSI) was initiated to encourage the NC State community to collaborate on integrated research and outreach projects that are focused on one or more of the Research Platforms that comprise the N.C. Plant Sciences Initiative (PSI).
Big Data for Better Sweetpotatoes
Big data platform to take tons of sweetpotato photos to improve productivity
A multidisciplinary team led by Cranos Williams is developing a data-driven platform to find out how to grow a superior sweetpotato.
They aim to combine information from images of hundreds of thousands of sweetpotatoes and their growth conditions to determine the factors that impact sweetpotato size and shape to increase the percentage of sweetpotatoes that are USDA grade 1. The platform will use custom imaging to detect shape, size, surface texture, internal composition and the presence of harmful crop damage. That data then enters a computational platform — which will be created in partnership with Intero Life Sciences and SAS, Inc. — to improve decision-making for North Carolina growers, producers and distributors.
Fertilizer of the Future
Harnessing new technologies to cut energy use, protect water and help farmers
An interdisciplinary team of researchers at NC State, led by Katharina Stapelmann, is setting out on an ambitious 3-year project to tackle the energy-intensive process of producing and shipping nitrogen-based fertilizer derived from plasma.
They will test two methods of on-farm fertilizer production and develop an on-demand, precision fertigation system to detect soil moisture and nitrogen levels and then supply water and nutrients exactly where they are needed. This should lead to less waste, less fertilizer runoff into the water supply and increased crop yields.
FUN-CROPS
Using leaf-living fungi to improve crop resilience to drought and disease
A team of engineers, plant pathologists and microbiologists led by Christine Hawkes will study how plant fungal symbionts can improve crop resilience.
They will determine if fungi can be manipulated across entire landscapes, identify highly beneficial fungi and the genes that produce the benefits, develop methods to identify microscopic fungi, and explore potential policy implications and stakeholder responses to fungal manipulation in crops. The team aims to develop practical tools to adapt crops to later cold snaps, longer heat waves, bigger hurricanes and atypical droughts.
Plant-Aid
Developing a cost-effective sensor system to detect emerging plant diseases
An interdisciplinary team led by Jean Ristaino will develop an innovative platform to monitor crops for signs of early plant disease, empowering farmers to make real-time, data-driven decisions.
They will attach cost-effective sensors to tomato plants, checking for physical, chemical, environmental and biomolecular markers of disease or plant stress. That data — collected wirelessly on smartphones — will then be integrated with a bioinformatics and geospatial database, to alerts growers of new outbreaks. The team will use the data to model the disease spread to inform a more effective, rapid response.
Other N.C. PSI Programs
AI2EAR
International Collaboration to Accelerate Integration of Engineering, Plant Sciences & Agricultural Research using Artificial Intelligence
This diverse collaboration seeks to support the successful integration of agriculture, life sciences and engineering to resolve scientific and technical gaps as well as social barriers with the overarching goal of ensuring global food security. The three research objectives include: sensor science, engineering, and integration; data mining, machine learning, multi-scale modeling, and AI models; and open-source data and network cyberinfrastructures.
Biocatalyst Interactions with Gases (BIG) Collaboration
Uncovering new methods for CO2 management and sustainable fertilizer
Reducing carbon emissions and developing alternative routes for fertilizer production are increasingly urgent challenges facing our world. This interdisciplinary research collaboration between North Carolina State University (NC State) and the Technical University of Denmark (Danmarks Tekniske Universitet, DTU) is funded by the Novo Nordisk Foundation (NNF) and will receive 50 million Danish Kroner (DKK), approximately $6.5 million, in funding over five years.
Blueberry Genetics and Genomics Laboratory
Utilizing the latest sequencing technologies for modern blueberry breeding
This multidisciplinary research group led by Hamid Ashrafi integrates principles of traditional plant breeding, modern plant breeding, comparative genomics and quantitative genetics. They utilize a combination of map-based and candidate gene strategies to identify and possibly clone genes for a variety of blueberry characteristics.
Center for Environmental Farming Systems
Creating a future of vibrant farms, resilient ecosystems and strong communities
CEFS is one of the nation's most important centers for research, extension and education in sustainable agriculture and community-based food systems. It is recognized as a national and international leader in the local foods movement and celebrated for its work in building consensus around policies, programs and actions. CEFS' Field Research, Education, and Outreach Facility at Cherry Research Farm in Goldsboro, NC is one of the nation's leading research and demonstration sites for large-scale organic and sustainable production systems and includes research based out of seven research units.
Climate Adaptation through Agriculture and Soil Management (CASM)
Bridging the gap between climate and agriculture
This interdisciplinary research group pursues three primary areas of inquiry: biochar, saltwater intrusion, and carbon stability and emissions. Teams work in the field and across disciplines to evaluate coastal farmland use, salt effects on coastal soils, soil carbon storage from compost and biochar, and greenhouse gas emissions.
Collaborative Crop Resilience Program
Interdisciplinary research program targets wheat microbes for resiliency
Amy Grunden is leading a six-year, $30 million study on the wheat microbiome to make the staple crop more resilient against environmental stresses while reducing the need for chemical treatments and irrigation. The project is supported by the Novo Nordisk Foundation.
The University of Copenhagen, Aarhus University and the Technical University of Denmark will collaborate on the project.
Controlled Environment Agriculture Coalition
Industry-focused, cost-effective and sustainable solutions to plant production
Comprised of research scientists, engineers and in close partnership with industry, the CEA Coalition aims to develop controlled environment agriculture (CEA) as an economically and environmentally sustainable option for agricultural practices by performing evidence-based, transformative research.
Forest Biotech Group
34 years of research innovation in forest biotechnology
Founded in 1988, the Forest Biotech Group (FBG) is dedicated to research innovations in forest biotechnology and molecular genetics of tree metabolism to improve growth, development and defense against biotic and abiotic stresses. Their research goal is the domestication of forest trees for conservation and productivity through a systems-level approach.
Maize Breeding and Genetics Collaboration
Corn breeding and genetics project of the USDA-Agricultural Research Service
This collaborative team led by Jim Holland aims to characterize the genes underlying important agricultural traits in maize (corn) to develop new breeding lines. Two specific research foci are to improve resistance to Fusarium ear rot in corn and to develop new specialty food corn varieties, including improved heirloom food corns and low protein grain corns for patients with metabolic disorders.
NC State Vegetable Pathology Lab
Studying diseases to improve disease management for farmers
Lina Quesada leads interdisciplinary studies of diseases of cucurbit crops and sweetpotatoes to deliver novel and improved disease management strategies to growers in North Carolina and to advance our knowledge in the field of vegetable pathology.
Precision Pest Ecology Lab
Confronting pest pressure in field crops and sweetpotatoes in the southeast
Anders Huseth leads the lab in understanding relevant interactions between nature, crops and farmers by revealing harmony and conflict between pest control, environmental and socio-economic goals. Work in the Huseth Lab combines on-farm measurements, manipulative experiments, geospatial science and statistical approaches to understand pest issues in an array of agricultural crops and production systems.
Precision Sustainable Agriculture
Nationwide project on cover crops to improve agricultural sustainability
Chris Reberg-Horton will co-lead a five-year, $10 million grant from the U.S. Department of Agriculture to improve the sustainability and profitability of agriculture by advancing the study and use of cover crops such as rye, clover and radishes.
The interdisciplinary team includes experts from 36 institutions.
Science and Technologies for Phosphorus Sustainability (STEPS) Center
Interdisciplinary research community focused on phosphorus sustainability
Jacob Jones is the Director of the Science and Technologies for Phosphorus Sustainability (STEPS) Center, a convergent research group addressing the complex challenges in phosphorus sustainability by integrating disciplinary contributions across the physical, life, social, and economic sciences. Although headquartered in the new Plant Sciences Building, the center includes researchers from eight institutions across the country.
Small Fruits Systems Research
Enhancing resiliency for strawberries, wine and muscadine grapes
Mark Hoffman leads teams that provide innovative research-driven agriculture services to enhance small fruit production resiliency in the Southeast and throughout the US. They have focused efforts on the strawberry, wine- and muscadine grape industries in North Carolina since 2017.
Talking the Plant Talk
Tiny sensors to translate the language of plants for precision farming
A cross-college team of plant scientists and engineers have developed small, inexpensive sensors to detect the volatile organic compounds plants use to communicate with each other. They are eavesdropping on crops such as tomatoes and wheat to detect pests, pathogens and other stressors before the plants show visible signs of trouble.
Whitehill Lab: Christmas Tree Genetics Program
Cutting-edge research utilizing modern genomic technologies and approaches
Led by Justin Whitehill, this program is working to advance North Carolina's Christmas tree industry by addressing grower challenges and concerns through the application of genetic, genomic and molecular biology principles.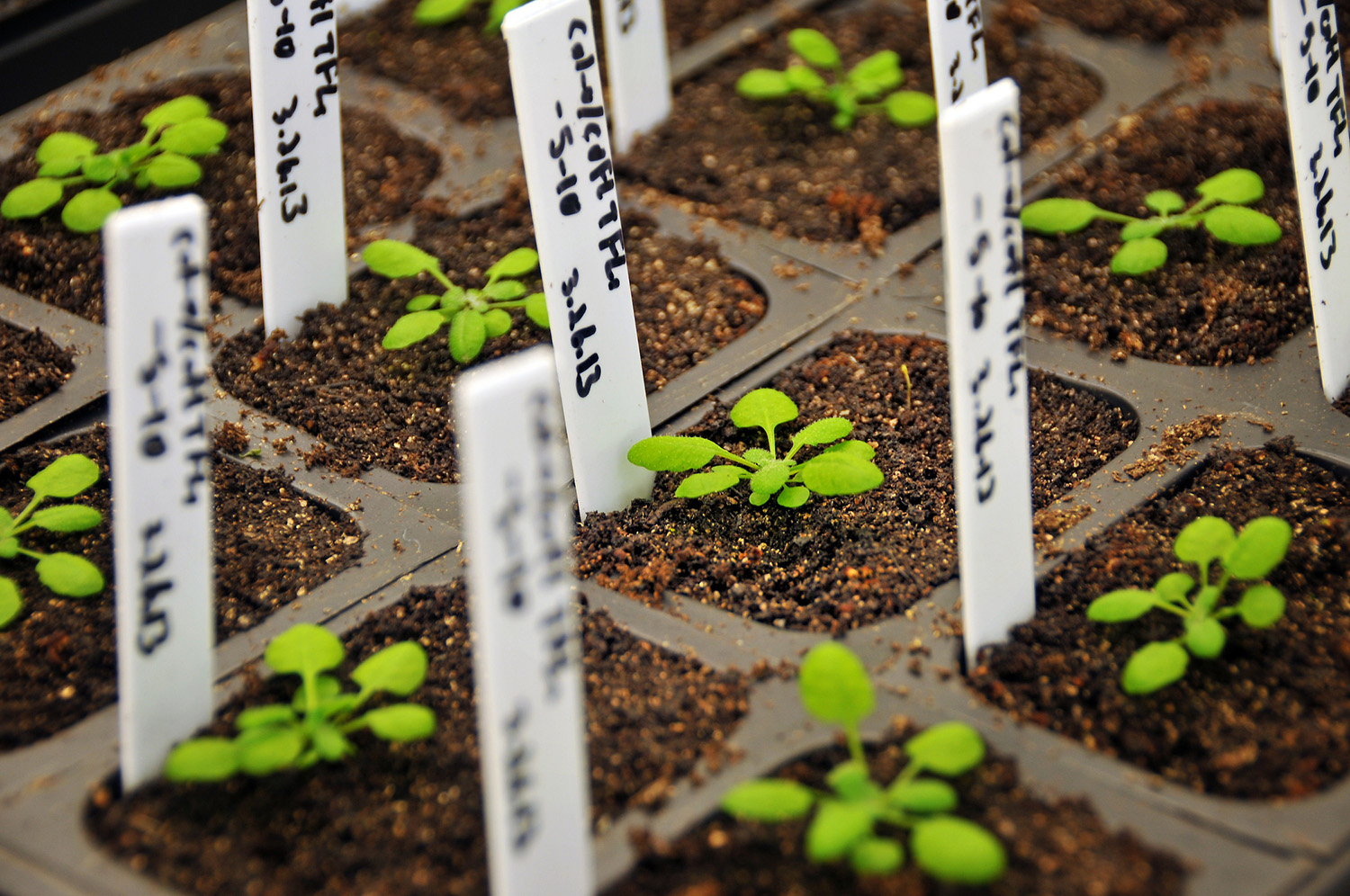 N.C. PSI brings together experts across multiple disciplines to solve agricultures grand challenges.
Stay Connected
Stay up-to-date up with these research projects and much more through our newsletter.
Subscribe to N.C. PSI News Bulletin