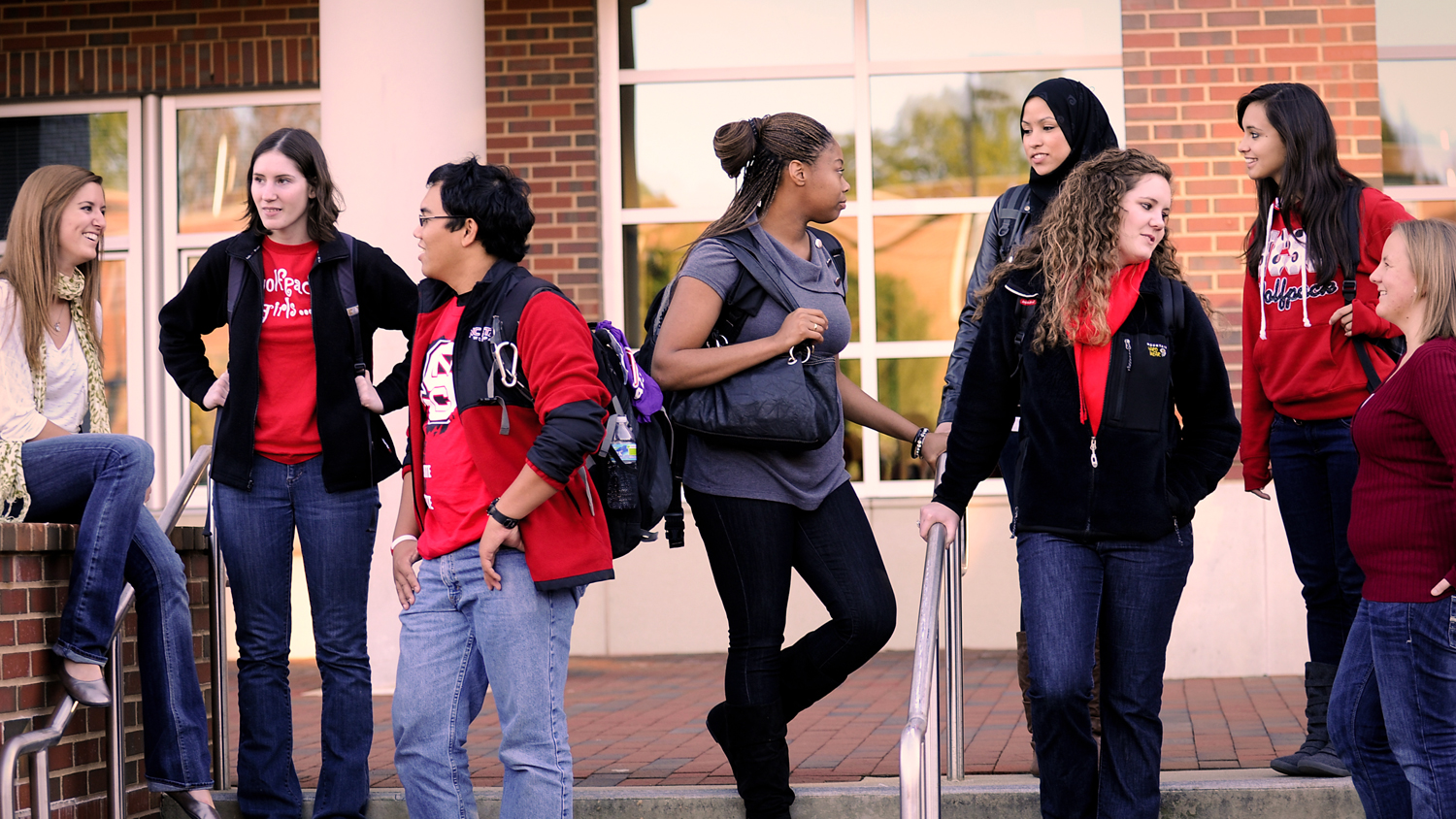 Academics
No matter what ag or life sciences career you're considering, we'll make sure you are prepared.
Accepted for Fall? Visit Virtually Now.
With the many changes happening due to COVID-19, you and your family may have questions as you navigate your educational journey.
First, check out our college overview video. Spend 15 minutes learning more about your new college and what it has to offer all CALS students – from what makes us unique, what opportunities and resources are available, and how we support students.
Next, join us for virtual "Conversations with CALS" visitation days. Join us via Zoom and chat with our CALS recruiting and advising teams, departmental faculty and staff, and current students.
Note: Registration for the virtual visits has closed for accepted fall 2020 students. Please email cals_recruiting@ncsu.edu if you'd like to participate, and we'll arrange a time for you.
Why You Should Attend CALS
We focus on teaching students. We nurture and promote their discovery of new knowledge. We engage them in the delivery of technology and innovation that transforms challenges into agriculture and life sciences opportunities.
Through our four collaborative systems of 12 departments, we provide 17 undergraduate majors, 19 minors, 25 graduate programs, undergraduate and graduate certificates, and the Agricultural Institute offering six hands-on two-year degree programs.
There are tremendous opportunities in agriculture and the life sciences. It's our privilege to help you get ready for yours.
4,009 Total CALS Students
66% in 4-Year Undergraduate Programs 8% in 2-Year Agricultural Institute 24% in Graduate Programs1% Non-Degree Seeking Students
2-Year Associate Degrees
At the Agricultural Institute, we provide a hands-on technical education in agriculture and related areas. Our students have access to the resources of a major land-grant institution, with programs of study leading to the Associate of Applied Science degree.
Our combination of general education and technical skills helps students develop both personally and professionally and prepares them to be productive leaders who can adapt to an ever-changing agricultural sector.
CALS by The Numbers
#1 Return on Investment among N.C. Public Universities #4 Best Value among National Public Universities $1M+ in Scholarships Available to Undergraduates Upon Graduation: 43% of Graduates Held Full-time Jobs 27% Pursued Postgraduate Degrees
Online and Distance Education
Learn Wherever You Are
We offer world-class agriculture and life sciences courses, taught by renowned professors, to online and distance students who need an education with the flexibility to fit into their busy lives.
Like our on-campus programs, our online and distance education classes engage students in solving real-world agricultural and life sciences problems.
AG*IDEA at NC State
AG*IDEA is an affiliate of the Great Plains IDEA, a national consortium of universities offering distance education programs and courses in agriculture.
Completed courses appear on a student's transcript as NC State courses with the grade assigned by the teaching faculty member regardless of the professor's university.
AG*IDEA has three instructional terms in a calendar year: spring semester, fall semester, and a summer term, which corresponds to the NC State 10-week summer term.
Graduate Degree Programs
Advanced Study
Our graduate students drive discovery and innovation and foster change. They play a key role in advancing essential research and enhancing the educational experiences of CALS undergraduates. They actively extend knowledge and innovation throughout the state, nation and the world.
Our nationally and internationally recognized faculty offer 25 graduate degree programs as diverse as the interests and career goals of our students.
Have Questions?