STEAM Program
The Student Transition Enrollment Advising and Mentoring program (STEAM) helps make higher education more accessible to rural students interested in pursuing agriculturally-related majors.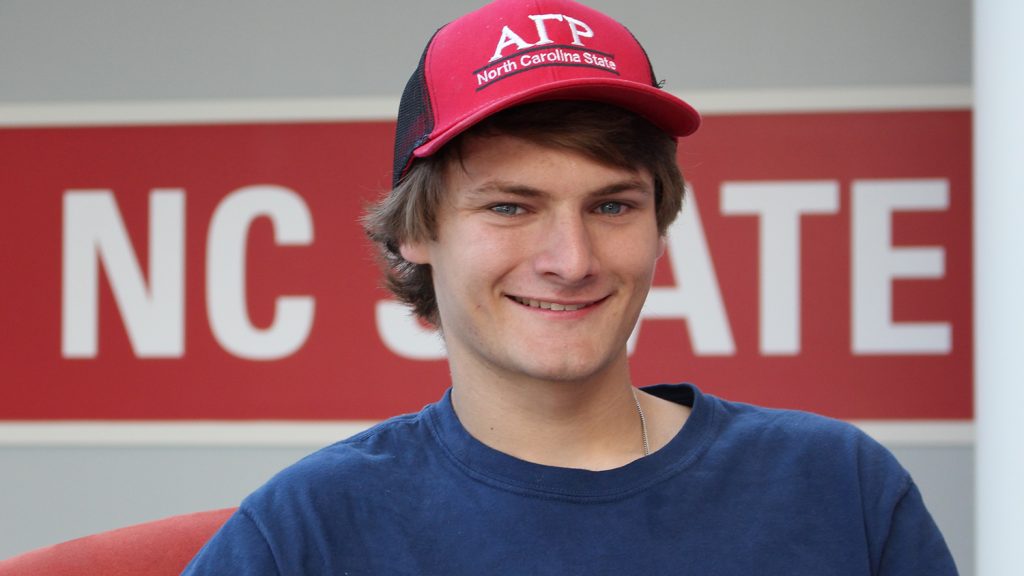 Program Details
STEAM helps make higher education more accessible to rural students interested in pursuing agriculturally-related majors.
Participants take part in a summer session at NC State, then take their first semester of coursework at an NC community college (or other institution). STEAM students are well-supported through mentoring, academic support, personalized courses and academic advising to ensure that the credits they earn will apply toward their NC State degree.
STEAM students are responsible for paying tuition and fees at the current institution they attend.
| Session/Year | Location | Tuition |
| --- | --- | --- |
| Summer Session II | NC State University | NC State tuition |
| Freshman Year, Fall | First-Year Institution (preferably an NC community college) | Community college tuition |
| Freshman Year, Spring | NC State University | NC State tuition rate |
| Summer Session | NC State University or First-Year Institution (optional) | NC State tuition or community college tuition |
| Sophomore Year, Fall | NC State University | NC State tuition |
General Program Schedule and Tuition Information
Eligibility
Participation in the STEAM program is by invitation only. Select students who applied to NC State and admitted as Spring Connect are invited to participate in the program based on their academic profile and a genuine interest in agriculture.
The STEAM program is open to North Carolina students from rural counties who applied to NC State University for freshman admission to an agriculturally-related major. Students must have earned a high school diploma and meet the UNC system minimum course requirements. Current or former NC State students are not eligible.
Invited to Spring Connect? Majoring in CALS? For our majors, we call it STEAM Spring Connect, and we think it has a lot of benefits for students who participate. Be sure to check your email on file for information, updates and opportunities.
Student Statistics
Students invited to STEAM plan to pursue a four-year degree in a traditional Agriculture major. Many are from rural counties in North Carolina.
Students invited to STEAM over last two years:
| Invitees | Avg Weighted GPA | Avg Unweighted GPA | Avg SAT Score | Avg ACT Score |
| --- | --- | --- | --- | --- |
| 2015 invitees | 3.94 | 3.42 | 1008 | 21 |
| 2015 Cohort 3 | 3.91 | 3.40 | 1023 | 21 |
| 2014 Invitees | 3.91 | 3.38 | 1042 | 21 |
| 2014 Cohort 3 | 4.07 | 3.39 | 1045 | 20 |
Invitations to STEAM are extended after a holistic review of each application. High school statistics that resemble these averages does not guarantee an invitation.
Frequently Asked Questions
Learn More
Benefits of STEAM
Students who successfully complete the requirements of the STEAM program are guaranteed admission to the agriculture major to which they applied at NC State University beginning their spring semester.
STEAM students receive personalized mentoring and academic advising, including course registration advising, to ensure that the courses taken in their freshman year will transfer into NC State and count toward their NC State degree.
STEAM students are encouraged to enroll in course work at NC State during the 2nd summer session after their high school graduation as non-degree seeking (NDS) students through the STEAM program. They will receive a special academic introduction to their intended major and take courses toward that major.
STEAM students participating in the 2nd summer session develop knowledge of the NC State campus and develop critical networks with other students, faculty, and staff.
Majors and Courses
Students who applied to and plan to pursue the following agriculturally-related majors offered by the College of Agriculture and Life Sciences are eligible to participate in STEAM.
Click on each major to view a sample of coursework you would take during your freshman year and the equivalent courses at NC State.
Summer Session II
Overview
STEAM Students are strongly encouraged to participate in Summer Session II in the summer between high school graduation and their freshman year. Summer Session II provides the opportunity for STEAM students to take 6 hours of coursework at NC State, live on campus, and learn what it means to be a member of the Wolfpack. During the summer sessions, STEAM students will have the opportunity to build lasting relationships with each other, connect with NC State faculty and staff, and learn to navigate campus, its resources, and our surrounding community. Activities are offered as a thorough introduction to the STEAM program and NC State.
Coursework
Summer Session II is a five-week summer session. STEAM students take 2 courses which each meet every day. Courses are carefully selected to ensure students receive an introduction to NC State level coursework. STEAM students take courses in the College of Agriculture and Life Sciences which will ultimately count toward their NC State degree. The STEAM Coordinator will place students in their courses for their first summer session.
Housing
STEAM students must live in University Residence Halls during the summer session when they are enrolled as non-degree students at NC State. This is a program requirement intended to provide a supportive community and strong foundation for making a smooth transition to the University.
Estimated Costs
The estimated cost of Summer Session II is $3,300, which covers tuition, fees, and housing. Parking, meals, and books are additional costs. STEAM students do not pay an additional fee for the summer session; they pay the same tuition and fees as all NC State students.
Farm to Philanthropy Scholarship
Thanks to a generous gift from Dr. Joseph K. and Deborah Kapp Gordon, the Gordon Family Farm to Philanthropy Program was established in the College of Agriculture and Life Sciences to aid in "transforming access to an NC State education for students from rural communities."
Dr. and Mrs. Gordon…You are giving students like me the opportunity to achieve our educational and career aspirations. …

Taylor Rhodes

STEAM student and first recipient of the Gordon Family to Philanthropy scholarship.
The award benefits students admitted to CALS as part of the STEAM Spring Connect program who are participating in Summer Start 2021 and living on campus.
Check back for details on the application process.
Have specific questions about financial aid and scholarships? Contact Ravyn Kingsberry, CALS student services specialist.
Ready to Connect?
We know you and your family may have questions as you navigate the next steps in your educational journey. Watch our overview video to learn more about your new college and what it has to offer CALS students – from what makes us unique, what opportunities and resources are available, to how we support students.
In spring, we offer a variety of opportunities for students to connect with STEAM Coordinator Maeve Coakley, our departments, and other STEAM Spring Connect students to learn more about the program.