The Horticulture Certificate is a non-degree, is designed to increase personal knowledge and skills for current or future employment in the horticulture industry. Earning the graduate certificate requires completing only 15 credit hours of coursework via the web. The Graduate Certificate requires a minimum of 15 credit hours, equaling 5 courses.
Eligibility
Participants must hold a bachelor's degree to enroll in this program. Online Horticulture Certificate applicants should have majored in horticulture, crop science, plant science, or agricultural education with a concentration in plant science, or another closely related degree.
Students may begin taking courses for the certificate in Summer, Fall, or Spring. All certificate coursework must be completed within four years of enrollment.
Cost
Visit NC State's Graduate Online and Distance Education Tuition rates page for detailed information about graduate tuition and fees.
The total Online Certificate in Horticultural Science cost estimate (North Carolina residents) beginning Spring 2020 is $6,928.20 for all 15 hours of coursework.
Financial aid eligibility is determined by the Financial Aid Office. We encourage you to contact your financial aid adviser in the Office of Scholarships and Financial Aid. Criteria for funding is based on academic merit, demonstrated financial need, and enrollment in multiple Online and Distance Education courses per semester. For additional information, please visit NC State's Office of Scholarships and Financial Aid website, or call (919) 515-2421. NC State also offers a monthly payment plan.
Curriculum
Enrollees must complete a minimum of five (5) courses resulting in at least fifteen (15) credit hours. The student and his or her advisor will select the courses that will constitute the student's certificate requirements. No thesis or dissertation is required. A minimum of nine (9) credit hours should be from Horticultural Science courses. The remaining six (6) credit hours may be selected from the following areas:
Agricultural and Resource Economics
Agricultural and Extension Education
Biological and Agricultural Engineering
Crop Science
Entomology
Food Science
Plant Pathology
Soil Science
Up to twelve (12) credit hours of courses taken during post-baccalaureate studies (PBS) may be used in the certificate program if approved by the student's advisor.
Advisor
Certificate students are assigned an academic advisor from the Horticultural Science graduate faculty. The student and advisor reflect on the student's personal and professional goals to design an individual course of study.
After starting or completing the Online Horticulture Certificate, students may wish to count their earned credits toward a Master of Horticultural Science degree. To transfer credits from the Certificate program to the Master's degree, the following conditions must be met:
The course number must be at the 500 level or higher
The course must be letter graded
The student must have earned a B or better in the course
Courses
Below is a list of courses that may be taken as part of the certificate program. To learn more about each course, click the course number. Credit hours for each course are provided in parentheses after each course name.
Policies & Procedures
Horticultural Science has a list of policies and procedures for desk assignments, working hours, vacations, mail, telephone use, photocopying, computing, supplies, requisition orders, purchase orders, travel, etc.
Frequently Asked Questions
Select the questions below for more information.
Undergraduate Programs Director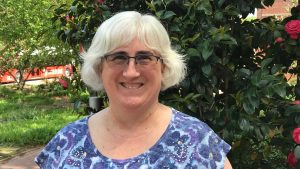 Dr. Helen Kraus
Undergraduate Programs Director and Professor
Department of Horticultural Science
114 Kilgore Hall, Campus Box 7609
North Carolina State University
Raleigh, NC 27695-7609
Phone: 919-515-1208