Corpse Flower at NC State
A rare plant puts on a spectacular show --- and makes a big stink.
What's All The Stink About?
Fortunate we are! Since 2016, we've experienced three bloom cycles of the rare titan arum (Amorphophallus titanum). 2016, 2019 and most recently in 2021. This special plant, also known as the corpse flower, smells like rotting flesh as it blooms. On all three occasions the plant grew to be more than five feet tall and it unfolded into a magnificent flower around three feet wide.
Lupin 2021
Everything You Wanted to Know About a Corpse Flower …
And More …
Facts About Corpse Flowers and Our Own Dear Lupin
Scientists at NC State watched a tropical plant closely as it bloomed in late September 2016, sending out not just a big flower — one of the biggest in the plant kingdom — but a big stink as well.
Fun Fact
The titan arum typically takes 7-10 years of vegetative growth before it blooms for the first time.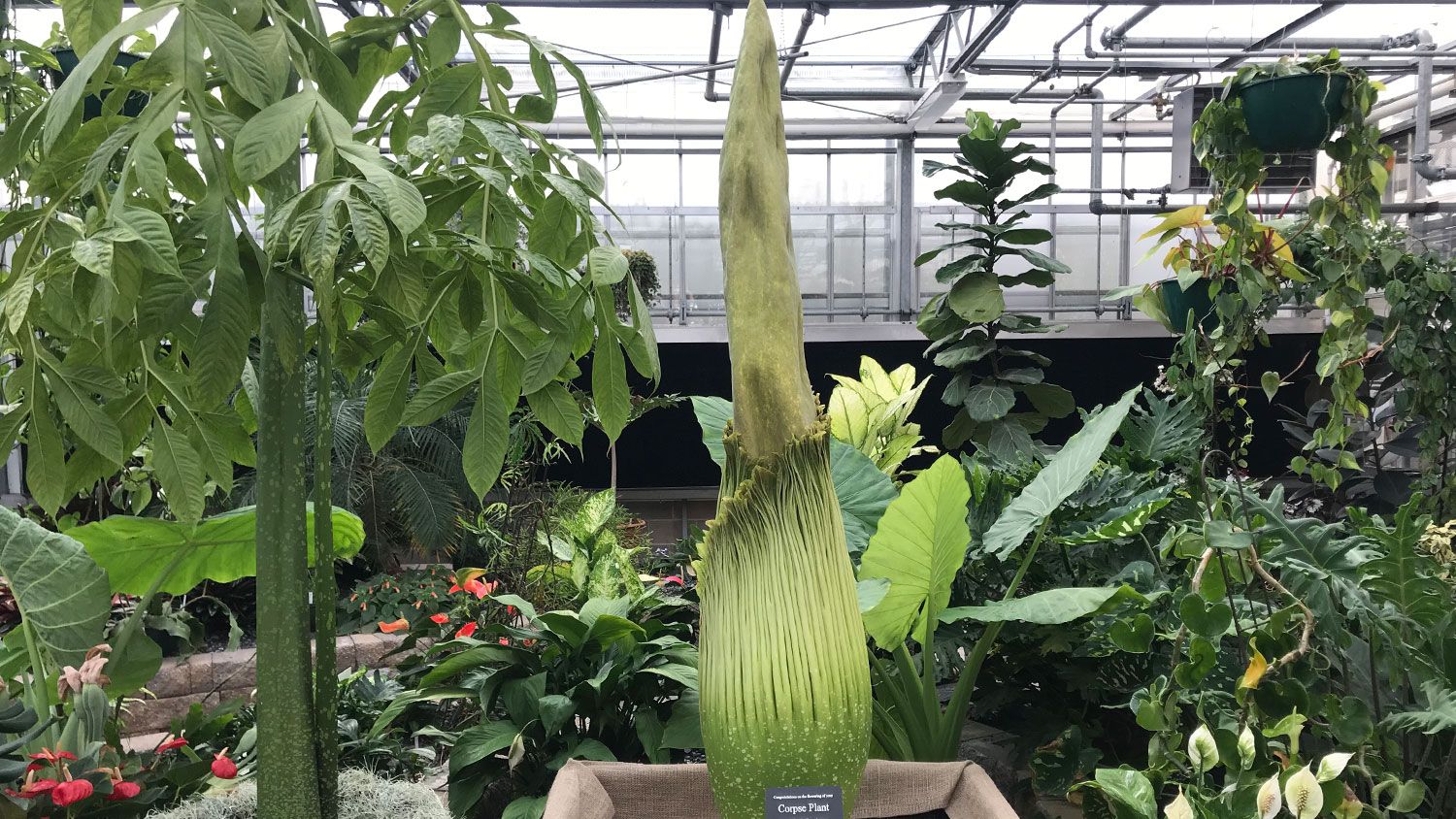 Support Our Horticultural Science Students
Through classroom instruction and hands-on learning in our greenhouses, field labs and community gardens, our students prepare themselves to support economic development and environmental sustainability wherever they may go!
Support horticultural students and the mission of the Department of Horticultural Science by making a gift to the Horticultural Science Enrichment Fund.
Funds supporting the Horticultural Science Enrichment Fund are collected and managed by The North Carolina Agricultural Foundation, Inc., a 501(c)(3) organization, tax ID #56-6049304.
Keep Up with the Corpse Flower
You can continue to follow Lupin's progress on Twitter and Instagram at #Lupin2016 – named for its original bloom year.
NC State Department of Horticultural Science
Additional Information
Visit Brandon Huber's photo gallery for more images of Lupin's evolution.