When N.C. State University's summer veterinary camp, or VetCAMP, was launched last summer, 35 high-school-age students participated in the five days of activities related to modern-day veterinary medicine. Apparently word got around about the compelling sessions, workshops and other hands-on experiences introducing campers to veterinary medicine and associated careers. This year there were more than 172 applications for 36 available spots, so the camp was expanded to a second five-day session.
"The program just expanded beyond expectations," said Dr. Shweta Trivedi, director of the Veterinary Professions Advising Center (VetPAC) in the College of Agriculture and Life Sciences (CALS), who founded and hosts the camp. "I got inundated with applications from January 2012 onwards, so my VetPAC interns and I decided to offer two weeks of VetCAMP this year."
The applications came from all over the United States, including California, Texas, Indiana, Florida and New York, as well as Puerto Rico, Trivedi said. Overall, participants from 16 states attended this summer's VetCAMP.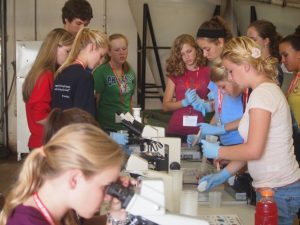 The annual summer camp is designed for youngsters who are interested in becoming veterinary healthcare professionals and provides a preview into the real and vast fields of veterinary medicine. Sessions offer in-depth presentations, demonstrations, laboratories and site visits, along with hands-on veterinary practice activities.
"We also included some changes in our schedule, such as lab modules at three animal education units to make it an even more hands-on experience than last year," said Trivedi.
Among their many camp activities, the teens visited N.C. State's Equine, Dairy and Small Ruminants education units. At these facilities, campers painted muscles on horses, observed artificial insemination of cows, de-wormed the goats, and did ultrasounds on pregnant sheep. They also later performed dissections on pig hearts and sheep brains under Trivedi's supervision.
The five-day sessions also featured a tour of N.C. State's College of Veterinary Medicine, an introduction to veterinary surgery by Dr. Sandy Albright of Crossroads Veterinary Hospital, a suture lab led by DVM students in the Surgery Club, a visit from CARE Inc. volunteers, a trip to the Reptile Rescue of Carolinas and an overview session on CALS zoology and animal science major programs.
"The feedback from the campers in both weeks has been overwhelmingly positive with many wanting to return back in 2013," Trivedi said, noting that the evaluations indicated that the sheep and goat education unit was the most popular lab. It was run by Heather Glennon, a technician in the animal science lab of CALS' Dr. Charlotte Farin, and animal science graduate students William Farmer and Callie Barnwell.
Among comments from campers: "I loved the dissections and the trips to the different animal education units. This really helped broaden my spectrum on animal science opportunities. Also, it showed me the different jobs we can get"; "I do not get much experience with animals besides companion animals, so it was great to gain experience with farm animals"; and "I wanted to learn more about vet med in general but also came out learning about the different job and experience opportunities available."
Trivedi praised the work of her Animal Science Department colleague Dale Miller, who helped her in organizing the Dairy unit lab and in demonstrating sheep and goat restraint, as well as driving the campers to the units while interacting with them. She also had laudatory comments for her VetCAMP team: "It would be nearly impossible for me to offer this high-quality camp if it were not for the wonderful help from my pre-vet students who served as VetCAMP counselors," Trivedi said.
She mentioned the contributions of Philip Mzyk (student coordinator), Danielle Lindquist, Courtney Collishaw, Matt Movassaghi, Abriana Johnson, Elizabeth Hyde, Heather Brown, Oriana Yost, Kristina McLamb, Charles Jones, Ashley Cobb, Catherine Bartholf, Daniel McKeithan, Caroline Chang, Paige Harrelson "and many others."
The campers were also enthusiastic in their praise of those who led the camp sessions, noting, "The camp counselors were always happy and respectful to everyone, and Dr Trivedi is so nice and easy to approach and talk to"; "Everyone was so friendly and I could tell that they were excited to be there, which really made a great atmosphere for learning"; "All of the camp counselors very friendly and helpful in explaining pre-vet track, and Dr Trivedi was also a big help in explaining what to expect as a pre-vet [student] at N.C. State"; and "The camp was excellent, and I would recommend it to anyone interested in veterinary medicine."
With such endorsements, it should be little surprise if next year VetCAMP needs to add a third week. – Terri Leith