VetCAMP 2023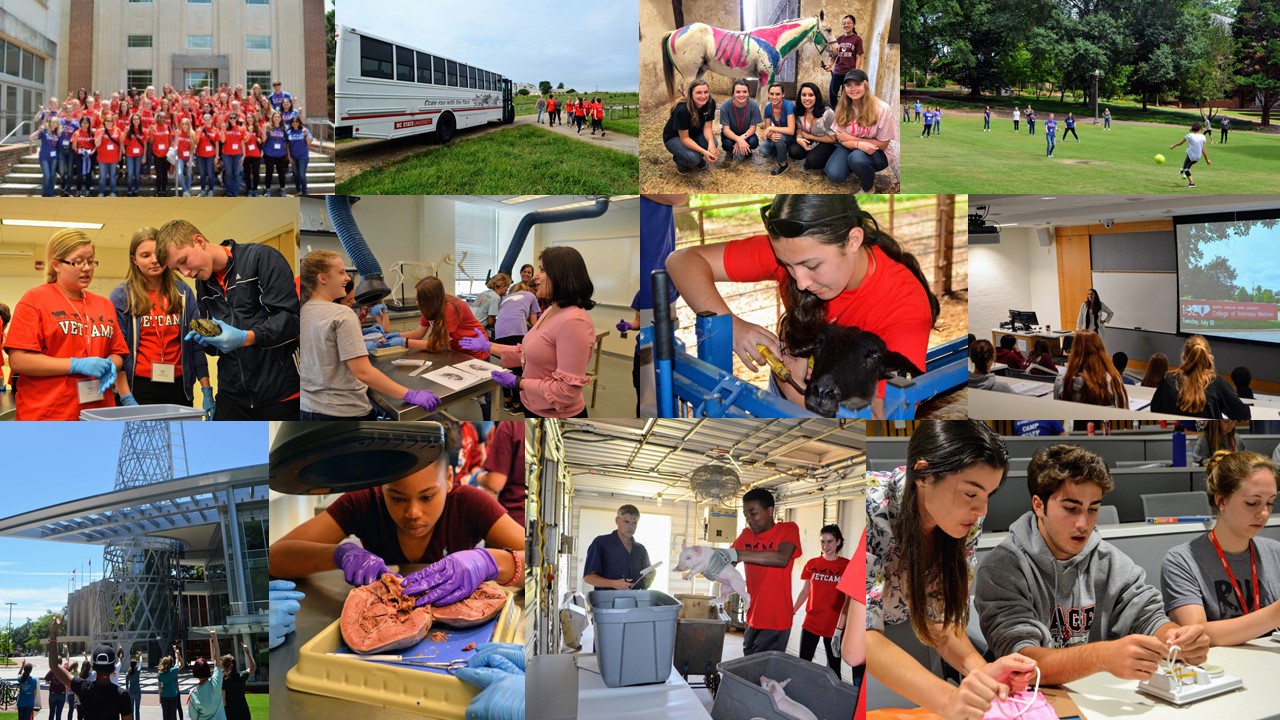 VetCAMP is a 5 day summer camp hosted by the Veterinary Professions Advising Center (VetPAC) at North Carolina State University. Since 2011, this camp has educated students about careers in veterinary medicine and the various opportunities within the field. Camp activities include a tour of the College of Veterinary Medicine, basics of a small animal clinic, hands-on experience with horses, sheep and pigs at the NC State Animal Education Units,  suture and dissection labs, learning about NC State majors and more!
VetCAMP 2023 Camp Dates
Virtual:
Week 1 June 19 – June 23 2023
In-person:
Week 2 June 26 – June 30 2023
Week 3 June 10 – June 13 2023
Application Opens
Friday, January 27th 2023 at 9:00am EST
Application Closes
Friday, April 7th 2023 at 5:00pm EST
Pricing
Please note that pricing for VetCAMP 2023 has not yet been determined- the pricing for VetCAMP 2022 was as follows:
Option 1: Day Campers*
Day camper rates are $600.00

for the week. This rate includes lab materials, camper shirts/binders/backpacks, transportation, program materials, and lunch everyday.
Option 2: Overnight Campers*
Overnight camper rates include the base rate of $600.00 + overnight accommodations + required breakfast package. This total includes lab materials, camper shirts/binders/backpacks, transportation, and everyday lunch, a single occupancy room, and breakfast for Monday-Friday. To reduce the potential risk for COVID-19, VetCAMP will only offer single occupancy rooms for overnight campers. 

A breakfast package is required for overnight campers at $34.10 for Monday – Friday morning.

Dinner is not provided by VetCAMP. Campers are responsible for purchasing their dinner for each night of camp. Overnight campers will be escorted by Overnight Camp Counselors to restaurants within walking distance of their housing accommodations each evening after camp.

Overnight accommodations selections:

Camper rate for a single occupancy room (1 full bed) at University Towers is $171.20 for 5 nights ($600.00 + $171.20 + $34.10 =

$805.30 total

)

A linen package (

2 flat sheets, blanket, pillow, pillowcase, bath towel, 2 wash cloths)

can be added for an additional $27.00.
*Prices are not final, and have the potential to change
VetCAMP 2023 Schedule
The VetCAMP 2023 schedule will be announced in January 2023. To view the VetCAMP 2022 schedule, click here.
Check out VetCAMP on Instagram- @ncstate_vetcamp
Application Deadline
Applications for VetCAMP 2023 will open January 27th, 2023 at 9:00am EST. The application link will be available at the bottom of this webpage.
Application Review
VetCAMP applications are reviewed as they are received. Final decisions regarding acceptance will be sent in mid- to late-April via email to the student and parent/guardian emails provided in the application.
Unofficial High School Transcripts must be emailed to vetpac_camp@ncsu.edu.
Typically, a maximum of 5 candidates per week are wait listed. In this case, we will contact you by late May in regards to a final decision.
Eligibility Criteria
In order to be eligible for this program, the following conditions must be met:
Student must be a rising high school sophomore, junior, or senior. Rising college freshman are also accepted.

The student must be 15 years old by June 1 2023

Student application must be completed and payment must be received by the deadline (see above).
Application Information
Application tips and requirements:
The application will open as a small pop-up window on the right side of the computer screen.
The application cannot be saved and therefore must be completed once started.
All fields containing an asterisk must be completed and cannot be left blank.
The entire process can take upwards of 30-45 minutes to complete as you will be asked questions about your personal information, academic information, extracurricular information, and required to provide short essays.
The application uses a 500 character limit per box that counts the total number of spaces, letters, numbers, and symbols.
Applications that surpass the character limit will generate an error code upon submission, and erase all previous answers.
Applicants are encouraged to write out their essay answers in a Microsoft Word or Open Office document to check each answer's character count prior to submission.

You can provide an application fee for more than one week for an additional $26.00 fee. If your availability allows for this option, you may choose to do so and increase your chance of acceptance.
Refund Policy
Application Fee
The VetCAMP application fee is nonrefundable
Camp Fee
VetCAMP camper fees can only be refunded within 15 days of payment. Once the cancellation deadline has passed, no refunds will be issued.
Additional Information
Any additional questions or comments can be sent to vetpac_camp@ncsu.edu
To learn more about VetCAMP and pre-veterinary life at NCSU, sign up to chat with VetPAC during a Spend A Day At State session.
The VetCAMP Application is closed!