Sunflower Season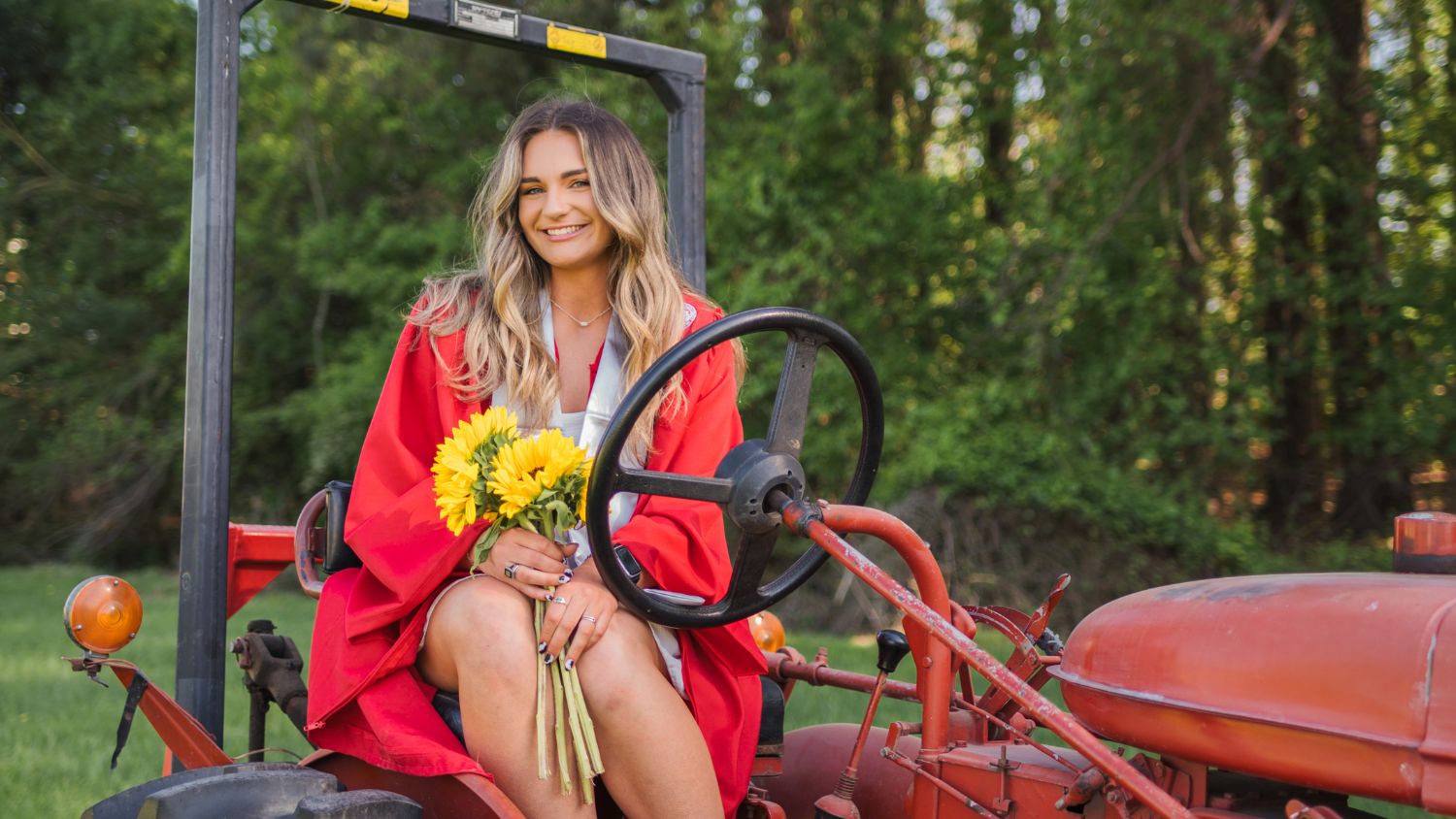 Sunflowers are a sign that summer is in full swing. The bright blooms are lining landscapes and gardens, and visitors are flocking to the popular sunflower fields at Dorothea Dix Park, where a panorama of yellow petals complements views of the downtown Raleigh skyline.
Abby Pleasant's sunflowers are blooming, too, but hers are new to North Carolina. The graduate student in crop and soil sciences at North Carolina State University is raising organic black oilseed sunflowers — predominantly grown in North and South Dakota, which are the highest-producing states — with Assistant Professor David Suchoff's Alternative Crops Lab in the College of Agriculture and Life Sciences. The lab focuses on crops that are considered "new and emerging" in North Carolina, and researchers predict these sunflowers could be a promising addition to the state's crop list.
"The black oilseed sunflowers have larger heads than you see on an ornamental flower because we're looking for seed production, and the demand is for sunflower oil," Pleasant explains.
Preliminary trials showed that North Carolina can produce comparable yields to leading sunflower-producing states, so Pleasant is digging into growing strategies to help farmers reduce risk.
"We develop fertilizer, planting date and seeding rate recommendations so that farmers have the resources they need to be successful with alternative crops," she says.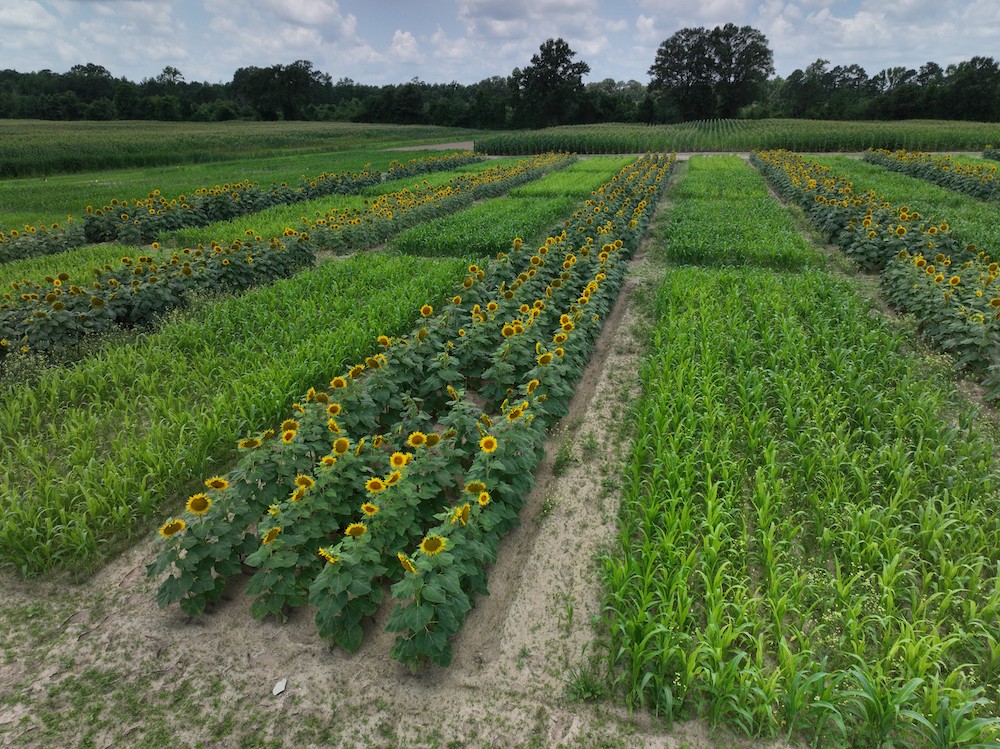 This year, Pleasant is running trials at the Cherry Research Station and the Oxford Tobacco Research Station with a grant from the North Carolina Department of Agriculture and Consumer Services' New and Emerging Crops Program. The trials are testing nitrogen rate, variety performance, sunflower moth management and plant density, all using organic production practices.
"While establishing if the crop is economically appropriate for North Carolina, at the same time, we're figuring out the best way to get the best quality and yield for this crop," Pleasant says.
Much of Pleasant's time is spent in the fields, and she wouldn't have it any other way. In fact, it's why she wanted to pursue a graduate degree after earning her bachelor's degree in agricultural science at NC State in just three years.
"I fell in love with research, agronomy and fieldwork, and I wanted to be a part of it more than just helping other people with research," she says. "I wanted to take on research myself."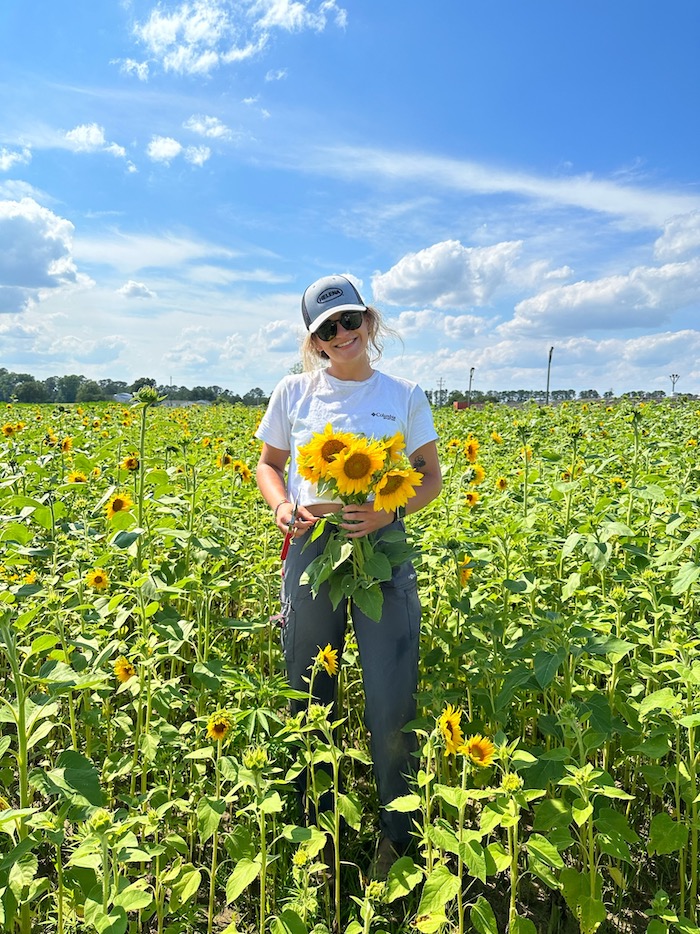 The Clayton native didn't have experience with agriculture until she joined North Carolina FFA in high school. Because she had enjoyed showing animals, Pleasant initially majored in animal science, but she changed her mind after her freshman year.
"I realized that even though I was extremely passionate about animal agriculture and loved being around it, it wasn't something that I could see myself doing as a career," she says.
Pleasant switched her major to agricultural science, which she describes as a "sampler plate."
"I realized that I had a passion for agronomy, and it wasn't just an interest. It was something that I could not stop learning about."
Bob Patterson, a faculty member in crop science, helped her narrow down her interests in his introductory crop science course.
"Dr. Patterson mentored me and helped me navigate what I wanted to do," Pleasant explains. "I realized that I had a passion for agronomy, and it wasn't just an interest. It was something that I could not stop learning about."
Pleasant decided to minor in crop science and agricultural business management. She joined Suchoff's lab in May 2022 to gain research experience in her new field. Though her graduate project focuses on organic sunflowers, she works with other crops the lab is growing, such as fiber hemp, carrots and sesame.
In addition to research, Pleasant is passionate about advocating for agriculture and farmers' mental health, knowing all the hard work that goes into growing crops.
"Farming is an industry that has gone through so many struggles, and a lot of people don't know what all goes into it," she says. "Thank a farmer three times a day and when you put your clothes on in the morning."