Alumni and Friends
Healthy Start: Alumna Virginia Stage Adds Science, Nutrition in Preschool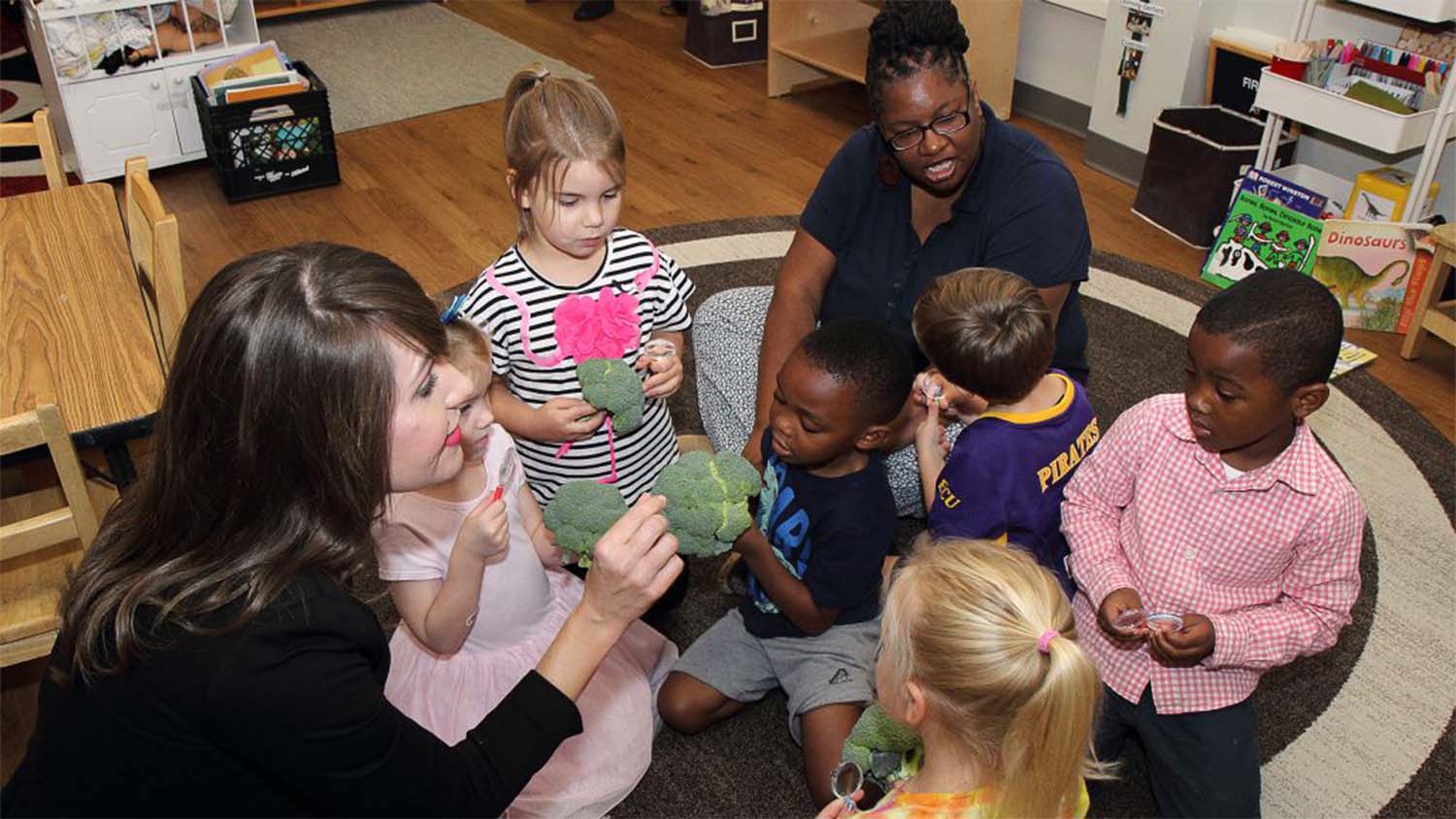 Signs of Virginia Stage's professional calling—helping young children discover science and enjoy nutritious foods—showed up on her plate long before she became a nutrition professor and researcher.
As a child, Stage filled her plate with vegetables at restaurant buffets, to her family's surprise. She credits a grandmother, who taught nutrition as a nurse, with adding a piece of spinach or other colorful vegetable to her plate. Her other grandmother, who had only earned a high school diploma, did on-the-ground research to learn more about the history of her community, writing books about local history in her 60s and 70s.
Stage, who earned a doctorate in nutrition science at NC State in 2013, brings that family inspiration to her work as an associate professor and director of the Food-based Early Education (FEEd) Lab at East Carolina University.
As part of her dissertation work at NC State with mentor Suzie Goodell, Stage created a program to help preschool teachers with resources for engaging young children in the science of healthy foods. More PEAS, Please!, now funded by a National Institutes of Health (NIH) Science Education Partnership Award (SEPA), will provide 150 Head Start teachers and 2,000 preschool children with training and resources over the next three years.
Lessons such as watching basil seeds sprout on a windowsill, reading books about seeds, and having opportunities to see and taste foods with seeds, like cucumbers and apples, introduce 3- to 5-year-olds to science and nutrition.
So has another NC State collaboration: working with the Expanded Food and Nutrition Education Program (EFNEP) to bring nutrition education and resources to Head Start, the federally funded preschool program that prepares young children from limited resource families to succeed in school. Over five years, the partnership has provided food and nutrition education to about 100 Head Start teachers and families in 41 counties statewide.
Those results make Stage eager to partner with NC State.
"When the new tagline, Think and Do, came out, it was like, yes, that just put words to exactly how I feel about NC State," Stage says.
Her journey with the Wolfpack, however, took a few twists and turns.
Return to Raleigh
Stage enrolled at NC State as a freshman. She decided to become a Registered Dietitian/Nutritionist (RDN), but there was no undergraduate major in nutrition at the time. Stage completed bachelor's and master's degrees in nutrition at East Carolina University.
She was working on a NIH-funded project when she decided to pursue a doctorate, focusing on young children's nutrition. "By the time I was ready to pursue a Ph.D., I had spent several years watching our team struggle to change dietary behaviors at elementary age. At the same time, published studies pointed to preschool as the time to introduce new foods. I thought starting younger would give me a head start on changing children's behaviors."
Other universities insisted she quit her job and move to be admitted to their doctoral program. But not NC State, which had added both undergraduate and graduate programs in nutrition science.
Breathing in Wolfpack air makes me feel like I can do anything. It's almost like electricity.
"When I started looking at NC State again, I was like, oh, it would be interesting to actually go back and get a degree that I wanted and be part of the Wolfpack," Stage says. "It ended up being the best fit because Suzie Goodell, who was my mentor, happened to be starting the year that I would be enrolling in the program."
Goodell, who worked with preschoolers as part of community health work, welcomed Stage's involvement with the NIH project, which Stage continued while pursuing her doctorate and working on More PEAS, Please! Stage found the environment inspiring and supportive.
"Other students who were around at the time that I was around are still some of my best friends. We still get together. And Suzie's right in the middle of it, as our mentor. She is one of our best friends, our advocates, our cheerleaders. She continues, to this day, for all of us, to be that sounding board."
Expanded Possibilities
As a new faculty member at ECU, Stage found herself driving all over the state to work on nutrition education projects. The need was great, but her time and resources were limited.
"I'm one person. I don't have the capacity," she remembers thinking. "And then it just occurred to me, why am I trying to do that? Extension is right there in my backyard."
She met with Lorelai Jones, state coordinator of the Expanded Food and Nutrition Education Program, to find ways to collaborate. Though Jones recently retired, the partnership continues with NC State's Lisa Benavente, who brings experience with Head Start.
"I'm so grateful for Extension and everything that they've done to partner and collaborate on partnerships with Head Start across the state. They have been incredibly open and willing to say, Hey, let's work with the Head Start programs to see what we can offer for those families," Stage says. "It's been such a joyful partnership."
The team has also recently begun to work with the Supplemental Nutrition Assistance Program Education (SNAP-Ed) for low-income families.
Energy in the Air
Stage, who was honored as one of the 2021 Outstanding Alumni for the College of Agriculture and Life Sciences, always looks forward to coming back to NC State.
"When I walk on campus, I get this feeling — from the first time and every time since — there is an energy in the air. I don't know what it is, but breathing in Wolfpack air makes me feel like I can do anything. It's almost like electricity."