Academics
Finding a Happy Medium
Undergrad discovers unique certificate program crossing her loves for ag and the humanities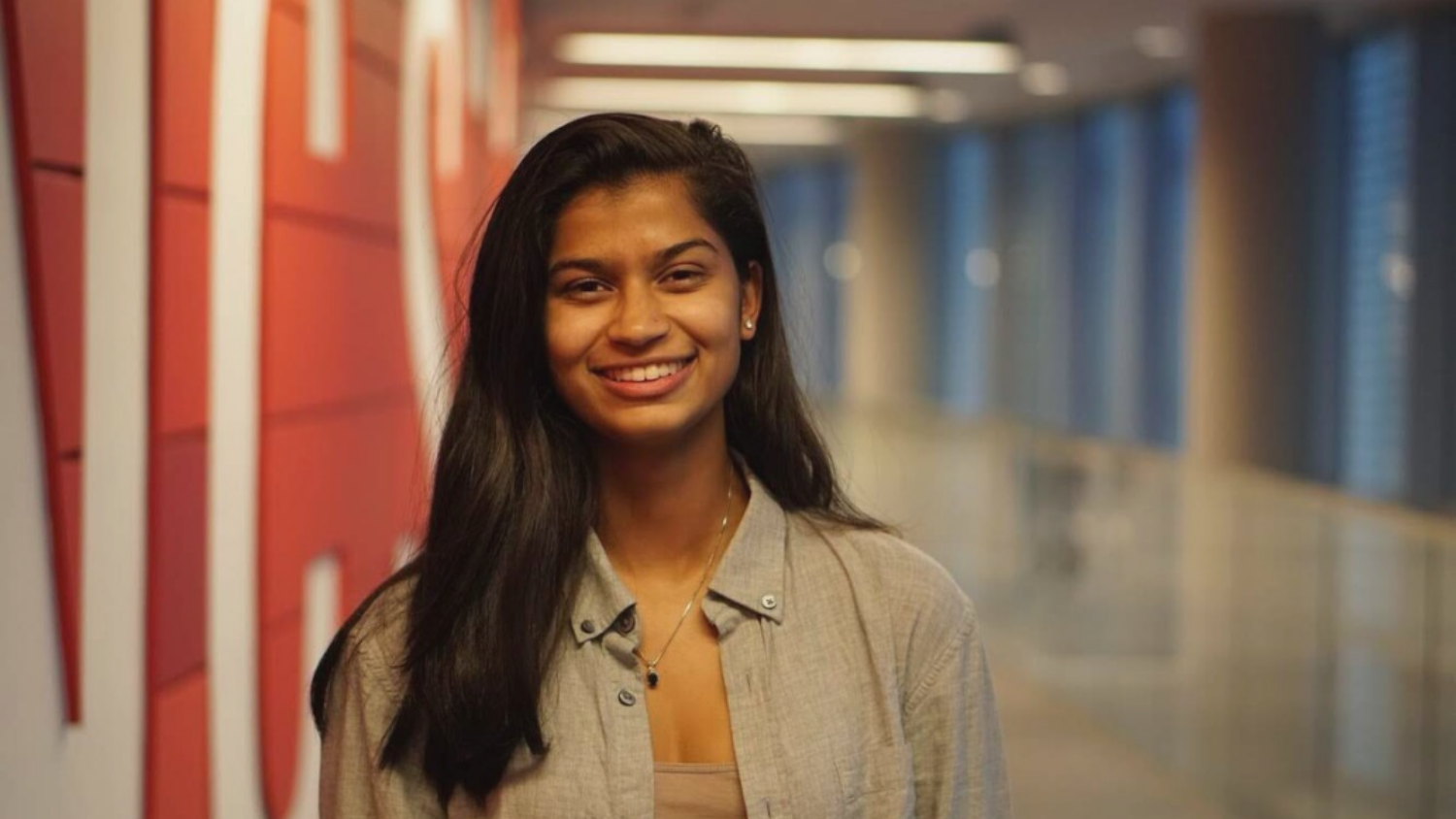 Roshni Panwala was taking regulatory science courses in agriculture to satisfy electives for her dual major in the political and agricultural sciences. She noticed some of these courses had a common 'vibe': There were few tests and quizzes, they constantly included guest speakers, and they offered opportunities for networking.
It wasn't until she took her fourth such class that she learned she was just one course shy from earning the only certificate of its kind in the nation: the Regulatory Science in Agriculture Certificate. The program and its classes were more than an excellent fit for her unique dual major. They were stepping stones to a regulatory science career in the agricultural field.
We talked with Panwala, an undergraduate student who just earned her Regulatory Science in Agriculture Certificate, to learn how the program satisfies her career needs—and her keen interests in the agricultural sciences and humanities.
How did you become interested in the Regulatory Science in Agriculture Certificate program?
I was in a plant biotechnology class with Dr. Chad Jordan. In that class, we looked into policies on the regulation of gene-edited crops, and we had many interesting seminars on the topic. I didn't realize at the time there was a certificate associated with that class. But after I found out there was one, I wanted to pursue it. I was lucky that I already took the majority of the courses required of me because of my political science background. Many of the classes also applied to my dual major. 
This certificate program is known for its guest lecturers. What do they talk about? 
The very first guest lecturers I saw were from APHIS (the USDA Animal and Plant Health Inspection Service). They talked about their role in North Carolina, how to increase consumer understanding of genetically engineered foods, and the future of biotechnology. They went in-depth and kept my engagement throughout. We recently had a day when a guest talked about animal waste and crops, how it's managed on crop lands.  There's been a lot in the news—sometimes accurate and sometimes not—about swine farm mismanagement and the policies around it. 
What is it about the regulatory field that interests you so much? 
I was first interested in policy that affects smaller farmers. As I started seeing broader agricultural perspectives, I saw how critical it is in the field to focus on—and follow—the policies that underlie all sides of agriculture, big to small. I was also a political science major, and I could see the regulatory sciences as a way of combining the two areas of study. I was very excited to know there's an opportunity to intertwine them, to protect the people and the industry.
What aspects of the Regulatory Science in Agriculture Certificate program stand out the most to you? 
It's very different from being in a class with a professor. You get a lot of information about different topics, all under the umbrella of regulatory and agriculture through industry experts. We'd meet with two or three people for each three-hour class. You're able to hear firsthand what they say about real-world work in the regulatory field, as well as ask questions. You get the information firsthand, from someone who works in the position.
This program is also well-known and highly regarded. I once went to a conference in Missouri called Agriculture Future of America (AFA). There was a dinner at the end of the conference where we were able to speak with many recruiters and representatives from various agriculture companies. I told one of them that I was coming from NC State. He said, "So you know about their regulatory program? You should look into it. When you graduate, let me know, and I'll hire you." 
You did not come from a traditional farming background, so how did you become interested in agriculture? 
My high school geography teacher was a homestead farmer, and he got me into agriculture. But I still wanted to please my parents, so I went into agricultural engineering. I realized quickly it was not the area I wanted to be in. Then I took a soil science course in the Crop and Soil Sciences Department with Dr. David Crouse. I loved his course because of the direct connection it had to the field of agriculture. Working with plants, soil, and people has always been my end goal, and his class was the first of many that helped get a step closer to achieving that goal.
What area of the regulatory sciences do you want to work in after you graduate? 
I'm interested in looking at global policies, especially related to gene editing in other countries,  like Brazil, where their policies are looser than ours—and China, where they are stricter. I'm also interested in plant pathology and APHIS, seeing what they do; and traveling the world. I've heard from so many different people that there's a lot of opportunities no matter where I go. Whether I do plant breeding or plant pathology, there's an area of regulatory science that I will fit in. There's been a lot in the news—sometimes accurate and sometimes not—about swine farm mismanagement and the policies around it. 
Would you recommend the Regulatory Science in Agriculture Certificate program to others? If so, who would you recommend this program to and why?
I would absolutely recommend this program, especially for students interested in biotech and the regulatory field. The classes are especially great in person; you can actually meet the experts to get that face-to-face connection, and many will probably remember you in the future. This course isn't for everyone, though. The courses aren't focused on tests and quizzes. There's a lot of information, and you need to see how it all connects. You get what you put into it. People in the course will be successful if they engage and ask questions and get immersed. Otherwise, you're just taking another class.