Alumni and Friends
A Passion for Plants and a Desire to Help Farmers
Alumnus Andrew Scruggs evaluates crop varieties at Bayer Crop Science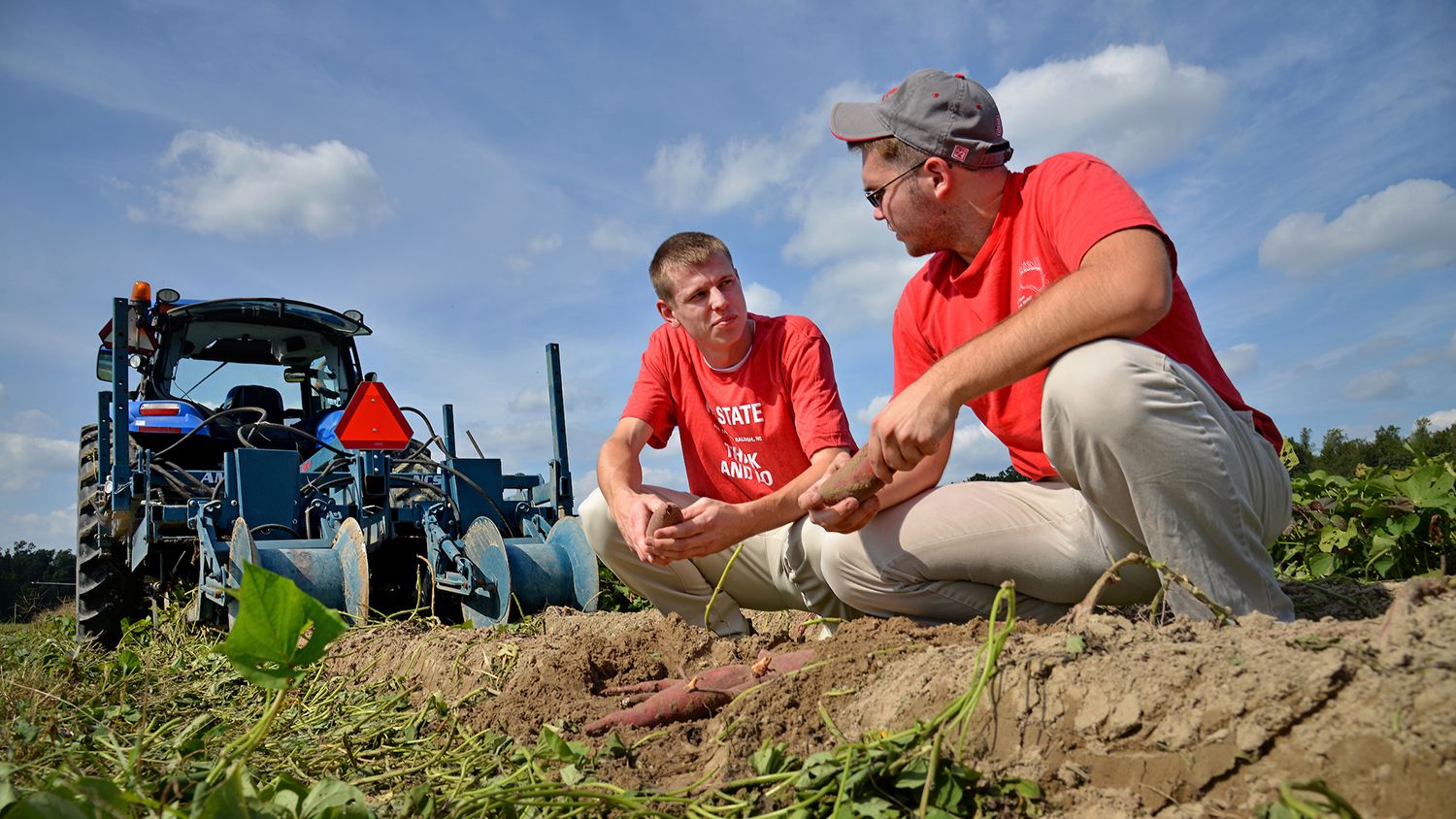 Growing up in a rural town on a small family farm, Andrew Scruggs became fascinated with plants. His childhood love of plants continued through high school and at the College of Agriculture and Life Sciences. Now the alumnus serves as the market development representative for Bayer Crop Science in the Seminis Vegetable Seed division.
"We have plant breeders who are continually developing new varieties of crops like tomatoes and watermelons with improved characteristics such as flavor and disease resistance. My job is to take all of the new potential varieties our breeders create and trial them in small plot research trials across the Carolinas and East Tennessee," Scruggs explains.
Scruggs says he evaluates hundreds of new varieties every year and then helps select the top performers to become new commercial products.
"As we advance new potential varieties through the pipeline and launch new products, one of my key duties is to help create demand for those new varieties with farmers in the area and help drive the commercial success of those varieties," Scruggs says.
Prior to joining Bayer, Scruggs earned his bachelor's degree in horticulture science in 2014 and completed his master's degree in plant pathology in 2016 at North Carolina State University. Then he worked as an Extension agent for row crops in Western North Carolina.
"That's how I started my career. But then this role at Bayer opened up and with my passion and education experience more focused on horticulture and vegetables, joining Bayer was a great opportunity to get back to that side of agriculture and to conduct research in the field," Scruggs says.
Scruggs had never really considered attending NC State; however, his fascination with plants made the decision for him.
"Once I decided I was going to study horticulture as an undergraduate student, NC State was the obvious choice. It has the best horticulture program not only in the state but really one of the best programs in the country. It was a pretty easy choice and NC State was the only school I applied to. It was do or die," Scruggs says.
And his passion for plants and research only grew while at CALS. Distinguished Professor Emeritus Dennis Werner served as Scruggs' undergraduate academic advisor. Scruggs says Werner played a key role in sparking his interest in the research aspect of agriculture and horticulture.
"He took me to his research greenhouse one day and showed me what he was working on, and I was in complete awe. I didn't really know how the industry worked. It was an eye-opening experience to see all the research that goes on behind the scenes to develop the plants we have today," Scruggs says.
Scruggs was one of the Outstanding Young Alumni recognized at the CALS annual alumni awards ceremony on Sept. 18. Scruggs says the award was completely unexpected.
"There's certainly a lot of great alumni out there and it was definitely a shock since I am only five years into my career," Scruggs explains. "I have a desire to help other people. I want to use my passion to drive new innovations and technologies to help farmers achieve better results and then extend that out to consumers."