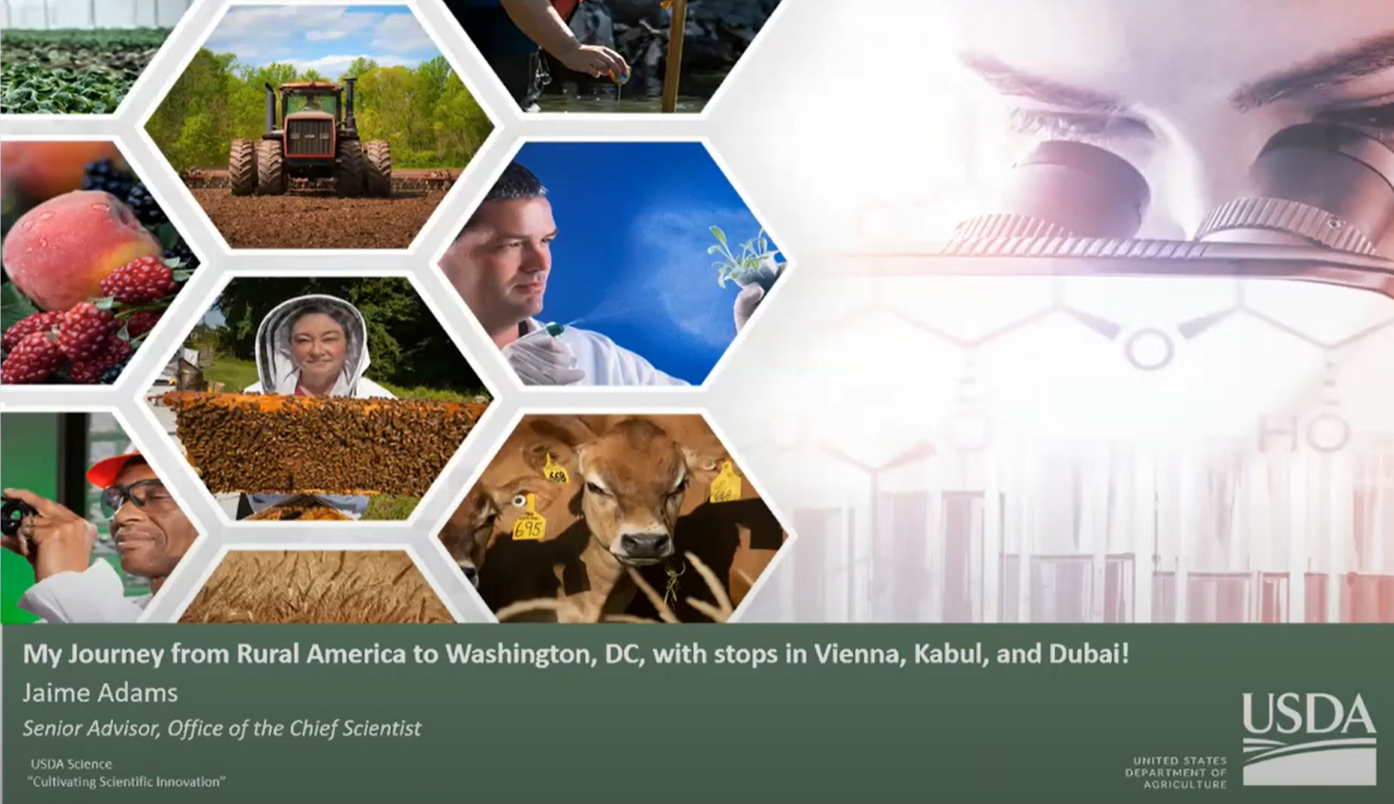 WRITTEN BY: Alex Gordon, tagordo2@ncsu.edu
On March 24, 2022, CALS International Programs and CALS SAIGE were pleased to host Jaime Adams, Senior Advisor for International Affairs at the USDA, via Zoom as part of their monthly seminar series.
Adams' presentation was titled "My Journey from Rural America to Washington, DC, with Stops in Vienna, Kabul, and Dubai!" and it began with the delivery of key points of advice. These were stressed by Adams as the most important bits of information to retain from the presentation, and they were listed as follows–always challenge the norm, explore the unknown, remember that it's okay to feel uncomfortable, keep up a work-life balance, talk with the locals when you travel, always ask questions, and consider working for the United States government.
Adams then discussed her upbringing in rural America, specifically a very small town in central Illinois. After graduating high school she spent two years at community college before transferring to the University of Illinois at Champaign-Urbana.
Later, Adams traveled to Vienna, Austria–her first time traveling internationally. Her reason for traveling was an internship with the U.S. Embassy in the city via the USDA Foreign Agricultural Service. During her time there, she was mentored by Allan Mustard, then U.S. Ambassador to Austria. Adams cites him as her reason for pursuing her Master's degree and subsequently entering work with the U.S. Government.
Mustard described to Adams the differences between the Civil Service and Foreign Service, and his description of the latter piqued her interest. She applied for her Master's program with a letter of recommendation from Mustard and later received help from him on her Master's thesis. She went to graduate school at the same university she received her Bachelor's degree from. She started her program there during the Spring semester, giving her two summers to conduct research for developing her thesis. During this time, she also served as both a research assistant and a teaching assistant.
Adams' earlier agricultural employments were at multiple agricultural institutions, such as the Packers and Stockyards Program, where she served as Budget Officer as well as Economist and Agricultural Assistant. During her time at her current career with the USDA Foreign Agricultural Service, she has travelled extensively throughout the world. She has visited places like Baghdad, Iraq, and Kabul, Afghanistan. At the latter city, she spent over a year working at the U.S. Embassy, during which she took part in the Obama administration's efforts to aid civilians in growing their economies. Also in Afghanistan, she had the chance to work with the U.S. Department of Defense during wartime.
The city of Dubai in the United Arab Emirates was Adams' most recent stop. While in Dubai, she managed the first ministerial of the Agricultural Innovation Mission for Climate, or AIM for Climate.  She was also able to visit Expo 2020, which took place earlier this year  after being delayed by the COVID-19 pandemic. More commonly known in the U.S. as the World's Fair, this event showcased new inventions from across the world and spanned several acres of land. She noted that there is a virtual exposition for the event still available online as well.
Adams concluded the main portion of her presentation by recommending a website, www.usajobs.gov. It is an online resource that lists all open job positions and internships available in the U.S. government.
The rest of Adams' presentation was dedicated to the discussion of the aforementioned AIM for Climate. As noted earlier, its inaugural ministerial was held at Expo 2020 on February 21, 2022.  AIM for Climate's goal according to Adams is "to increase and accelerate agriculture and food systems innovation in support of climate action." She noted that the agricultural sector has traditionally been overlooked to a degree, but some reasons why it needs attention with regards to climate change are that over 25% of the world's population is employed in it, and that it is both a contributor to climate change and is relevant to solutions for it.
Next, Adams laid out the objectives of AIM for Climate. They included increasing investment, enabling coordination and collaboration, and increasing cooperation. She discussed what each of these goals mean at length before introducing the concept of Climate-Smart Agriculture. This concept was defined by Adams as "an approach that helps to guide actions needed to transform and reorient agricultural systems to effectively support development and ensure food security in a changing climate," and its three main objectives are to sustainably increase agricultural productivity and incomes, adapt and build resilience to climate change, and reduce and/or remove greenhouse gas emissions.
AIM for Climate has already raised over $4 billion, the initial amount pledged at COP26, held last November in Glasgow, Scotland. Its new target amount is $8 billion, and those involved hope to reach this amount before COP27 in Sharm El-Sheikh, Egypt, this November.
Adams closed her presentation by offering recommendations for further research on the initiative, including following @aimforclimate on Twitter and visiting its website at www.aimforclimate.org.