Hundreds of pre-vet students travel to N.C. State to attend the largest and most activity-packed ever APVMA national symposium.
In a year of celebrating N.C. State University's history, a bit more history was made when the university's Veterinary Professions Advising Center (VetPAC) and Pre-Vet Club hosted the annual national symposium of the American PreVeterinary Medical Association (APVMA). The 2012 national meeting was the largest and best attended such APVMA event to date. Held in March – just before the university's March 7 Founders Day kicked off the celebration of N.C. State's 125th anniversary – the symposium drew 650 pre-vet majors representing 80 schools from coast to coast and from as far south as the University of Puerto Rico and as far north as Canada's University of Guelph.
APVMA is a national association of students who help promote and stimulate interest in veterinary medicine. The APVMA Symposium, which is held each year at different colleges in the United States, highlights opportunities of the different and diverse careers offered in veterinary medicine.
And this year at N.C. State, visitors had access to the largest variety of labs and lectures ever offered at the annual symposium, with the help of more than 100 volunteers from NCSU's College of Agriculture and Life Sciences (including faculty and students in animal science, zoology and poultry science) and the College of Veterinary Medicine, according to Dr. Shweta Trivedi, director of VetPAC in the CALS Department of Animal Science.
"CALS and CVM worked together to make this happen, through the leadership of VetPAC, which is now 600+ students strong," said Trivedi. "I am extremely proud of the pre-vet students and our two colleges who helped make it a reality."
Trivedi said that the planning and execution of this year's symposium began just as soon as the N.C. State VetPAC group returned from the 2011 event at Mississippi State University. It was there that VetPAC interns Laura Whisenant and Anna McKain presented NCSU's winning bid to host the next event. The two served as co-chairs of the 2012 APVMA planning committee. Also participating in the planning were CALS VetPAC interns Brooke Griff, Danielle Lindquist, Philip Mzyk, Jessica Prittchet, Elizabeth Hyde and Andrea Massa, as well as animal science student Chelsea Trull.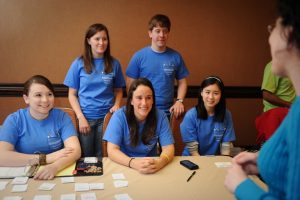 "We have received very positive feedback on how well organized this conference was," Trivedi said, "The vast array of labs and lectures jointly offered by CVM and CALS was applauded by the majority of student attendees. We are deeply grateful to all the pre-vet volunteers from PVMA and other clubs, and to CALS and CVM faculty and staff who contributed towards making the symposium a roaring success."
What they made happen was a jam-packed schedule that began Friday, March 2, at the North Raleigh Hilton with registration, an evening reception and banquet, and Pre-Vet Olympics – a student/faculty mixer with veterinary-themed competitions.
Among noteworthy speakers during the three-day event were Dr. Paul Lunn, the new dean of CVM, keynote speaker Dr. Carmela Stamper of the FDA's Center for Veterinary Medicine, and Dr. Michael Davidson, CVM associate dean and director of Veterinary Medical Services, who gave the pre-vet advisers a tour of the CVM's new Terry Companion Animal Veterinary Medical Center. During the closing awards banquet, Dr. David Bristol, CVM associate dean, and Dr. Ken Esbenshade, CALS director of Academic Programs, addressed the group, with Esbenshade applauding CALS students and faculty, including a special thanks to Trivedi for her visionary approach to pre-vet advising and for bringing the APVMA Annual Symposium to N.C. State.
On Saturday, students were shuttled over to the CVM and other locales, including N.C. State's Lake Wheeler Road units, for a day-long series of lectures and hands-on labs for which the students had pre-registered.
CVM selections included wildlife rehab (anatomy lab), suture lab (clinical skills lab), herpetile handling lab and swine necropsy lab. Elsewhere at N.C. State, the students could attend a theriogenology lab at the Equine Unit and a ruminant lab at the Small Ruminant Unit, take part in a swine blood draw at the Swine Unit, and tour the milking facility at the Dairy Education Unit. Students were also able to tour the Duke University Lemur Center.
Saturday's lecture schedule featured more than 26 offerings from CVM faculty, with topics ranging among species-specific areas in veterinary diagnoses, treatment, surgery, clinical research and career opportunities.
Among those making presentations were CVM's Dr. Greg Lewbart (fish surgery), Dr. Steven Suter (bone marrow transplant) and Dr. Steve Marks (critical cases), as well as CALS' Dr. Jenny Campbell (zoo animal welfare) and Dr. Billy Flowers (swine blood draw).
The critical care lab, the wildlife rehab labs and the lectures on small animal emergency and fish surgery were "wildly popular," according to planning board co-chair McKain, an animal science and poultry science major. "I'm lucky to have been part of this event, and I hope I've impacted someone else's life with this symposium the way it impacted me the first time I attended as a sophomore," she said.
"Wildly popular" was also the description Whisenant, planning board co-chair and animal science major, used to describe the turnout for the critical care lab, fish and cadaver lab, prosthetic implants lab and suture lab.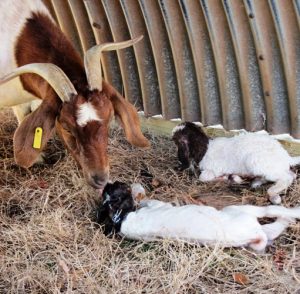 "There were several lectures on Saturday where we had to shut the doors, because the rooms were overflowing with excited students," she said. "Everyone seemed to especially love the labs this year. We created a more hands-on lab style this year than has been done in the past, and many of the students seemed to appreciate having the opportunity to actually draw blood, place an IV catheter or dissect a cadaver."
CALS student Heather Brown, vice president of the N.C. State Pre-Vet Club, said, "Most of the students I spoke to about the labs said they went above and beyond their expectations."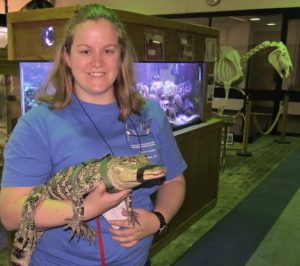 She said she spent the majority of Saturday in the herpetile handling lab, working with the Reptile Rescue of the Carolinas. "This year, the Pre-Vet Club established an internship program for our club members to gain experience with the husbandry and medical care of reptiles at the rescue house," said Brown, who eventually hopes to work in a mixed practice and specialize in exotics such as pocket pets and reptiles.
"I have chosen veterinary medicine, because I truly believe that you can do anything with a DVM [degree]," she said.
The diversity of opportunity in veterinary medicine was a kind of theme at the event: One of the registration-day hand-outs was a bag with the legend, "Real doctors treat more than one species."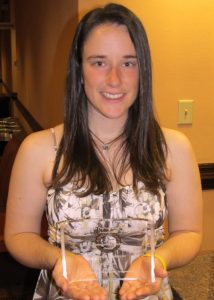 Among CALS students signing up lab participants at registration was Lindquist, zoology major and president of the N.C. State Pre-Vet Club. And she made a bit of history herself during the weekend. Lindquist was named the national Outstanding Pre-Vet Student for the second year in a row.
"I am honored, because here I was, sitting in the same room as hundreds of other pre-vet seniors that deserved it," Lindquist said. "Pre-veterinary students are ordinary people destined to do extraordinary things, and I have loved every single minute of being a leader in this club and in this community. Post graduation, I plan on enrolling in a college of veterinary medicine and make a difference in the public health sector through applied research and veterinary medicine."
In assessing what made this event so successful, she said, "[CVM's] being ranked in the top three vet schools in the country definitely gave us an advertising edge. However, I would like to acknowledge the efforts of the APVMA planning committees in getting the name out there that helped us fill to capacity."
Said Whisenant, "This year we worked really hard to reach out to less-known clubs in APVMA and encourage them to come. We utilized email, Facebook and even Skype to find small pre-vet clubs and draw them into APVMA."
The positive response from participants indicates the 2012 symposium delivered.
"From the many different people I spoke with, the most common reaction was that they were glad to have so many options," Lindquist said. "In the past, the number of lectures and labs was very limited. With the use of CALS education units and on-site facilities [along with CVM], our planning committee used every available space and were able to set up labs and lectures that touched on all aspects of veterinary medicine – from agriculture to zoo animals."
And Lindquist shared one noteworthy piece of feedback from a student from Berry College, who said that she "was completely in awe of the leadership, dedication and pride in veterinary medicine that N.C. State students show." – Terri Leith