The Economic Impact of Microwave Processing: From Greene County to Kenya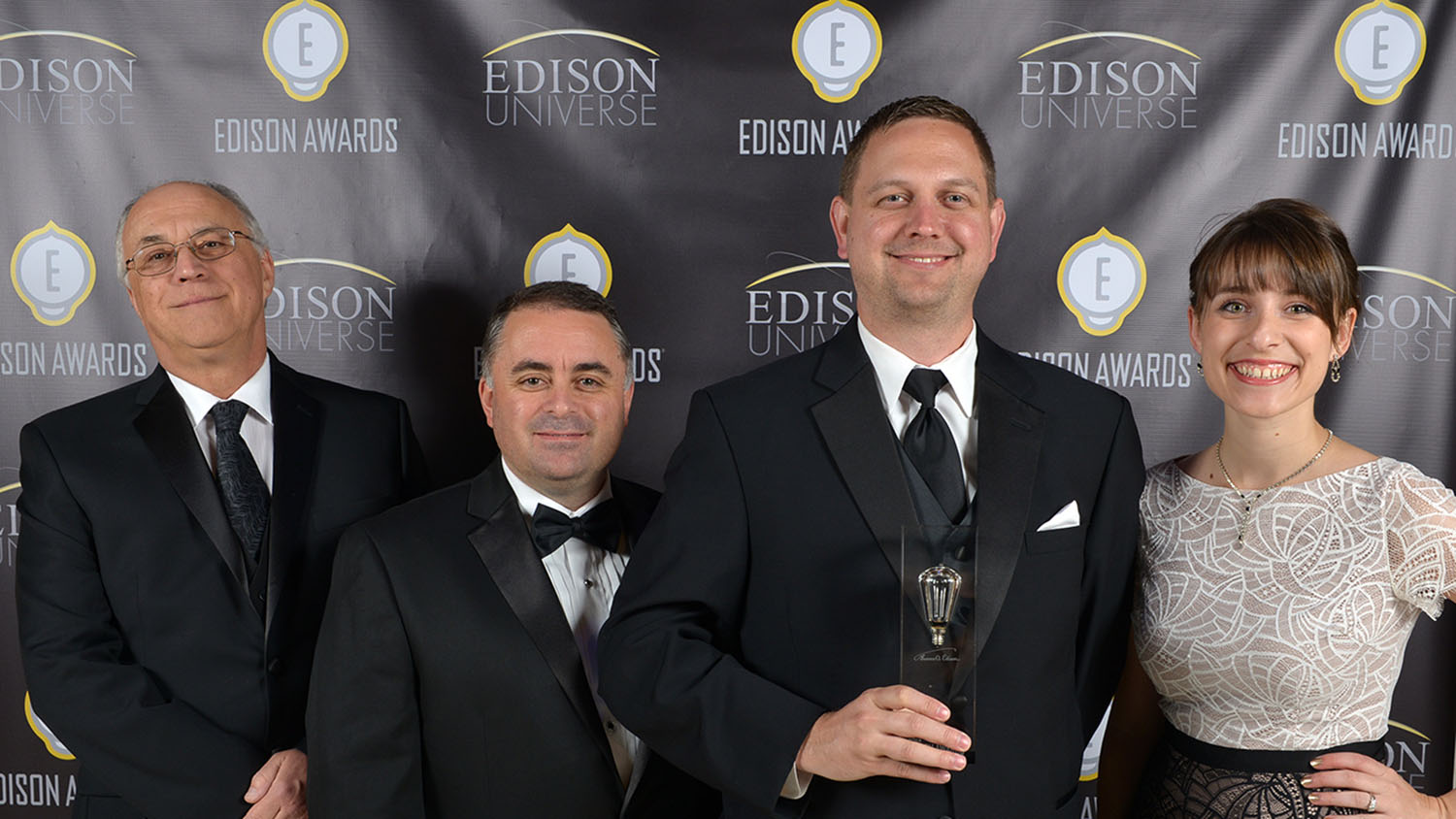 Josip Simunovic has a passion for improving the world. One food product at a time.
"Josip Simunovic collects people and infects them with this idea of microwave processing and how it's literally going to save the world and improve every type of food in it," said Amanda Vargochik, an NC State alumna and co-founder of microwave processing technology company SinnovaTek. "He's collected all of us and I've worked with him since my master's thesis."
Microwaves are a form of energy, which is why you can use microwave ovens to heat food in your kitchen. Microwave processing, also known as "continuous-flow microwave pasteurization and sterilization," uses microwaves to sterilize thick, viscous materials — like sweet potato puree. And Simunovic, a professor in NC State's Department of Food, Bioprocessing and Nutrition Sciences, knows a lot about microwave processing.
Microwave processing gives you a finished product that retains its taste and nutrition, but is shelf-stable and doesn't require refrigeration during shipping and storage, Simunovic said.
Microwave processing also reduces food waste in three ways. First, it provides a good market for vegetables that are too big, too small or too oddly shaped for fresh market sales. Secondly, because the final product is shelf-stable, it won't go bad in the back of someone's fridge only to be tossed out. Finally, because the processing is so gentle, the end product retains all of the vitamins and antioxidants that can be destroyed by other processing methods.
Simunovic's research on continuous-flow microwave processing has led to 19 U.S. patents and dozens of international patents, with more pending, and two highly regarded Institute of Food Technologists (IFT) industrial achievement awards.
However, Simunovic's significance goes beyond patents and great-tasting, long-lasting products; he has mentored dozens of students and launched around ten spin-off companies.
Yamco
Of all the companies Simunovic has worked with or co-founded, he believes that Yamco, based in Snow Hill located in Greene County, North Carolina, has had the biggest economic impact on the state.
Yamco was formed by a group of North Carolina sweet potato growers who licensed some of his patents as a way to use the vegetables that were too big, too small or oddly shaped for fresh market sales. The company has now grown and diversified to processing a variety of fruits and vegetables into nutritious purees for everything from bakeries and baby food producers to Covington Vodka.
Simunovic's partnership with Yamco led to his first IFT industrial achievement award in 2009 and they have maintained a mutually beneficial relationship since. Prior to vodka production, Yamco would send him leftover puree to experiment on.
"Those days were fantastic," Simunovic said. "We built two new generations of microwave systems based on the ability to process a real product, demonstrate functionality, test it, push it to the limits and even explode a few tubes."
These process improvements led to more patents and spinoff companies. Of all of his patents, plants and companies, Simunovic is proudest of SinnovaTek.
SinnovaTek
SinnovaTek was founded in 2015 by Simunovic, Vargochik and Michael Druga, one of Simunovic's long-time collaborators and current CEO of SinnovaTek. SinnovaTek is focused on developing improved microwave processing technology as well as providing research and development (R&D) services to other food processing companies.
"I'm very proud of SinnovaTek. I'm very proud of what we're doing," Simunovic said. "All of SinnovaTek's people grew out of our programs one way or another, a majority of our employees are graduates of NC State. No matter how old you are and which point in your career you are, you end up learning from people who used to be your students."
As the VP of Innovation for a small start-up, Vargochik focuses on directing the R&D team to ensure they are coming up with new product development concepts, collaborating with their business partners and completing trials. But she is also involved in a number of other day-to-day activities she never would have imagined including finance, human resources and marketing.
"I'm really proud of the ecosystem that we're building right now and the environment of being a good company with good values and creating a good team environment," Vargochik said.
SinnovaTek currently has 10 employees and just invested over $350,000 in upfitting a building in Raleigh, outfitted with state-of-the-art processing capabilities. Within the next year Vargochik expects the company will employ 15 more people.
The latest re-addition to SinnovaTek leadership team is Tyler Brown, who brings with him a unique industrial production experience with three generations of patented microwave processing technologies, at Yamco, Wright Foods and SinnovaTek.
Additionally, they are expanding into the export business, sharing their technology overseas with distributors or agents in Europe, Africa and Mexico.
Kenya
One of SinnovaTek and Simunovic's international partners is Tawanda Muzhingi, a food scientist with the International Potato Center and adjunct professor in the Department of Food, Bioprocessing and Nutrition Sciences.
With Muzhingi's assistance, SinnovaTek shipped a microwave processor to Kenya earlier this year. It will be operated by a Kenyan company Burton and Bamber Limited, also known as Sweetunda, and Muzhingi hopes they will be producing shelf-stable sweet potato puree for bakeries and food products by the end of the year.
This is part of the UK Department for International Development's larger effort to support the production of vitamin A-rich sweet potatoes in Africa through economic development and value-added products.
"I see what is working in North Carolina's food sector – what are they doing with sweet potatoes, what kind of products are they making, what equipment are they using – and then I take those solutions to Africa," Muzhingi said. "We don't copy-and-paste, we customize the solutions to fit the country. But at the end of the day, the person we want to see benefit is the small-holder farmer."
By transferring technologies for food products from North Carolina to Africa, Muzhingi hopes to have a huge economic impact from creating new jobs and inspiring entrepreneurs to enhancing food security and improving nutrition.
"In many universities, professors tend to be abstract and very academic, but what Josip Simunovic and his team have been doing, is going from lab to life, lab to shelf," Muzhingi said. "The whole NC State food science team was excited to visit Uganda, and saw that they would be part of something bigger than themselves. And for me, I was excited to be able to tap into the vast network that NC State has. The collaboration has allowed us both to share experiences and tap into each other's strengths."
Sweet potato is just the first highly nutritious crop Muzhingi has focused on to showcase the power of agro-processing for food security and economic development. He hopes to expand the collaboration with NC State to other crops and food processes, innovations coming out of the Plant Sciences Initiative and beyond.
Mentorship
The impact of Simunovic's research, both locally and globally, would not have been possible without his many former-students-turned-collaborators. These include Vargochik; Pablo Coronel, who received his Ph.D from NC State in 2005 and is the director of food processing at CRB in Cary, NC; Prabhat Kumar, who received his Ph.D. in 2009 and is a senior manager for product development at Walmart; and Koray Palazoglu, who received his Ph.D. in 2001 and is a professor of food engineering in Turkey.
"My most recent Ph.D. student, Trisha Bhatia, joined Ripe Revival a couple of months ago as their production and quality control manager," Simunovic said. "For me, there's no better outcome and no bigger source of pride than to see somebody 'suffer' the same fate I did at the hands of my mentor."
During his Ph.D. at NC State, Simunovic's adviser and mentor, Ken Swartzel, now a William Neal Reynolds Distinguished Professor emeritus, took him to the departmental library, showed him the walls of theses and dissertations and asked him how many of those research projects actually made it to the market.
"That was his passion and he was looking for like minds," Simunovic said. "I continue to do the exact same thing to my students. Actually pushing the product out into human hands rather than onto paper and publications? It's a thrill. It's an addiction I don't want to shake."
Our research addresses grand challenges — and overcomes them.
[button]Learn more[/button]