Seeds of Success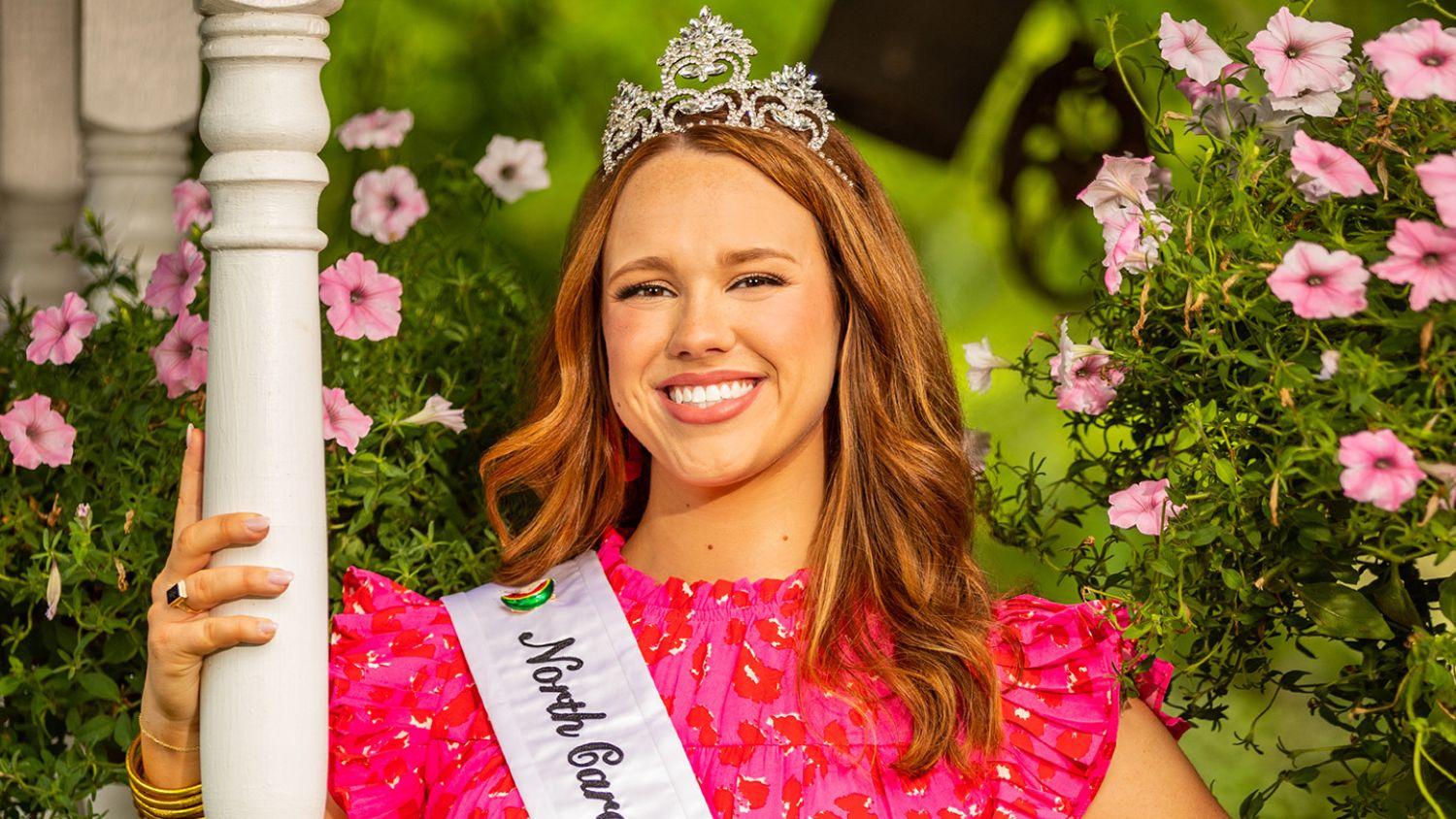 Growing up on a poultry farm in Garland, North Carolina, 21-year-old Gracy Peterson was surrounded by the lively rhythms of farm life. Her love of agriculture led her to become actively involved in FFA, where she held various chapter and regional officer positions. She also served on the North Carolina FFA State Officer nominating committee in 2020.
"Being immersed in the world of agriculture either fosters your love or it doesn't, and for me, it did," she says.
For Peterson, selecting North Carolina State University was a decision that felt natural. It perfectly blended her desire to be close to home while also allowing her to be independent. However, choosing a major was more complex.
"My path to ag business was not traditional. I started majoring in poultry science, but I switched in November, so I am still new to the department," says Peterson, a rising senior.
In addition to majoring in agricultural business management through the College of Agriculture and Life Sciences (CALS), she's minoring in biology, poultry science and Spanish.
"I have a love of the culture and the language, and it's so heavily used in agriculture, so it's a really great asset to have in this career and the area I'm planning on going into," she says.
Beyond being a student at NC State, Peterson has actively immersed herself in various campus activities, making her mark in multiple ways. Having benefited from several scholarships, Peterson is excited to work with CALS Advancement.
"It all kind of comes full circle with that job and serving as Watermelon Queen," says Peterson, who has been in the role since November of last year.
Her primary responsibility is to help with communications to CALS donors, ensuring donors feel appreciated for their generosity.
"Gracy is a wonderful asset to the CALS Advancement team," says Catrina Moretz, assistant director of stewardship and communications. "Her passion for the agriculture industry and the impact she has experienced from donor generosity herself give her a unique perspective. This helps her enhance the work that we do every day to make sure that CALS donors see the impact and importance of their giving."
Drawing inspiration from her own experiences with agriculture and its impact on her life, Peterson hopes to extend her passion to inspire others during her time as the 2023 North Carolina Watermelon Queen. Her journey to the crown was anything but ordinary.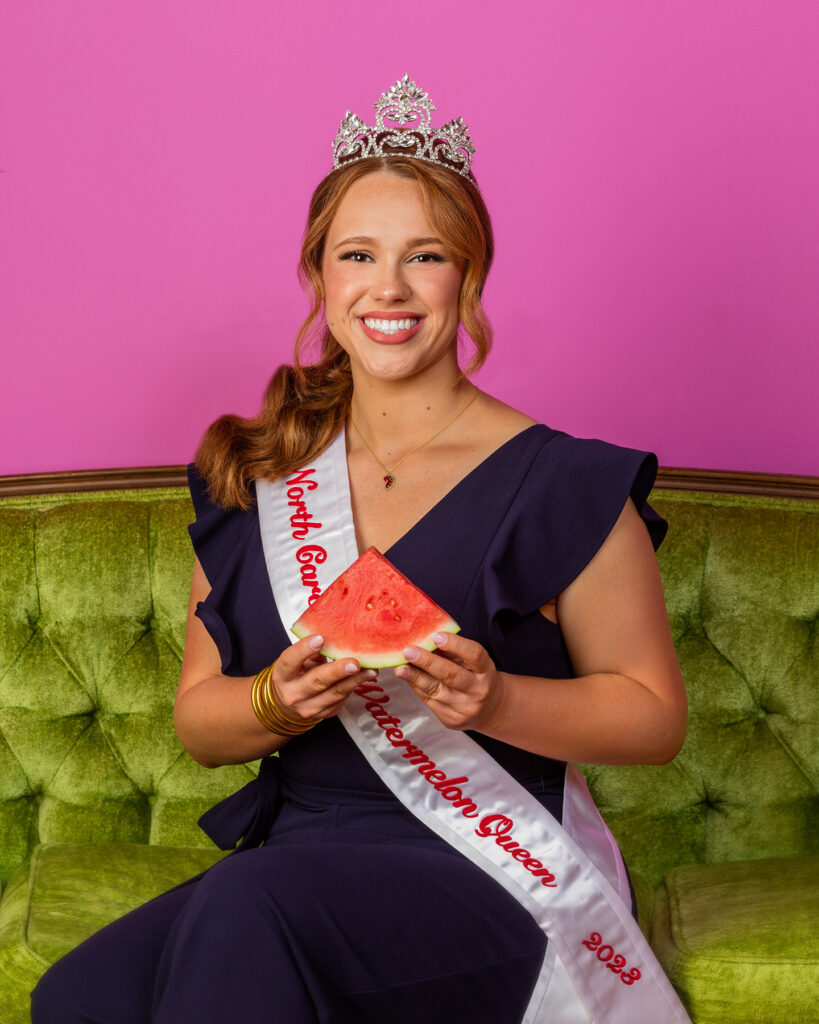 "It can be confusing for people because when you think of a queen, you think crown and sash, or it's just another beauty pageant, but it's hardly that because if it was, I would not be it!"
As Watermelon Queen, Peterson promotes the consumption and production of watermelon by traveling across the state to grocery stores, festivals, schools and farmers markets.
"If you could just see the way a little girl's eyes light up when they see a crown on someone's head, you would know the impact that this position has on those around you," Peterson says.
"If anything, I think the queen role is a conversation starter to people who just don't know."
When asked what has surprised her most about her time as Watermelon Queen, Peterson says the tremendous respect that comes with the role. She says that every role in agriculture looks different, but each is valuable. Something she appreciates most about the agriculture industry and her role is the community that stems from it.
"If anything, I think the queen role is a conversation starter to people who just don't know," Peterson says. "I think there's a lot of outreach and community development just in those questions that they ask you. The parents of the kids and the older generations respect you because you're doing something for the betterment of agriculture."
Along with her responsibilities as Watermelon Queen, Peterson is putting her ag business skills to work as an intern with AgCarolina Farm Credit. She says that she had always heard of the company, but she didn't truly understand all that their business entails. Since starting her internship, Peterson has gained an appreciation and love for the lending process.
In the future, Peterson hopes to work for AgCarolina and maybe even grow watermelons and produce of her own. But above all, she wants to secure a job in agriculture where she can continue to make a difference in the lives of others.
Peterson says that anyone interested in forming connections in agriculture, meeting people across the state and taking part in a tradition that has stayed strong since the 1960s should consider applying to be the next Watermelon Queen.
"I cannot begin to explain to you all the opportunities I have had just since March," she says. "I got on my first airplane this year, all because of the North Carolina Watermelon Association."