Newswire
Nutrition Grad Finds Ways to Promote Wellness, from Virtual Reality to YouTube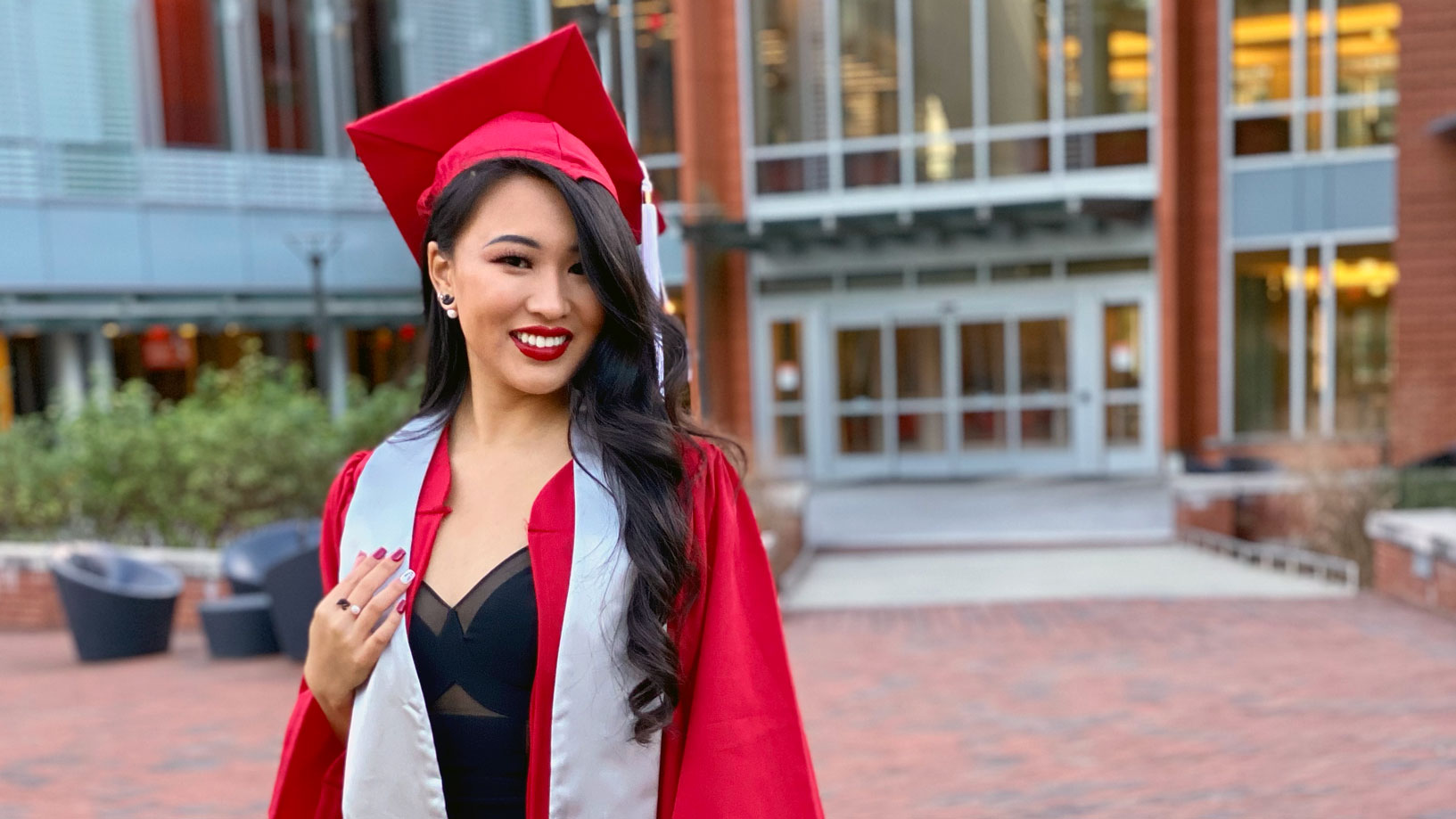 Talking with Yue "Gabby" Xiong about wellness, even during a pandemic, might just inspire you.
While earning her bachelor's degree in nutrition, Xiong carried out undergraduate research, became an NC State certified fitness instructor and started a social media platform to share traditional Asian cooking techniques and wellness information.
'Food is Medicine'
Xiong's family was up early—4 a.m. local time in Sichuan Province, China—to celebrate her graduation via NC State's virtual ceremony.
From childhood, Xiong has wanted to study nutrition, inspired by her family and culture.
"In China, food is medicine," she says. "My Mom eats a lot of traditional recipes and other food items to nourish the body and promote wellness and health, so that's where my interest comes from."
Xiong chose NC State for its strong nutrition programs and supportive faculty, including Suzie Goodell, nutrition graduate program director, and Gabriel Harris, food science undergraduate coordinator in the Department of Food, Bioprocessing and Nutrition Sciences.
Academic mentor Natalie Cooke, nutrition undergraduate program coordinator, helped Xiong connect her interests and experience.
"Dr. Cooke has inspired me and helped me find my passion for food and culture through my undergraduate honors research project," Xiong says. "This is a lifelong impact and motivated me to engage in this area in my future study and career."
For her project, Xiong researched and explored foods from Korea, Mexico and China. She took photos and created descriptions for a pre-filmed 360-degree field trip to an Asian grocery store.
"The main idea is to show how does the cultural store look different than traditional American stores, to highlight items in a way that helps future nutrition educators and health professionals, including registered dietitians, increase their cultural competency," Xiong explains.
"It was an amazing experience that also helped me to realize the importance of growing in cultural competency as a healthcare professional," she says.
Her experience will help equip her to work with clients of all backgrounds as a registered dietitian, one of her career goals.
Xiong is applying to graduate school. NC State prepared her to attend a dietetics program by providing required coursework. To become a registered dietitian, she must also complete 1,200 hours of supervised training and pass a national exam.
As an undergraduate, Xiong has volunteered with registered dietitians, learning entrepreneurial skills like social media promotion.
Fitness Focus
To add to her wellness toolkit, Xiong stepped out of her comfort zone to become a certified fitness instructor through Wellness and Recreation.
"I wasn't confident about my English skills, generally communication skills, but this opportunity pushed me to grow and improve a lot," Xiong says. "It was not just helping me to grow my professionalism in fitness but also in skills that are so important in my future nutrition counseling career as well."
She served as a personal trainer and group fitness instructor, leading high-intensity interval training (HIIT) as well as functional training known as F45.
"My favorite memory would be the moment of receiving appreciation from my clients as a personal fitness trainer at NC State," she says. "I realized my value and strength by utilizing the knowledge and skills I have to help promote others' health and wellness, reach their fitness goals and make a positive impact on their lives."
Xiong excelled in her fitness role, winning recognition as NC State's 2019-20 Trainer of the Year.
Pandemic Platform
When the pandemic halted in-person classes this spring, Xiong felt the loss of social contact.
"I missed seeing my professors, classmates and clients, and teaching fitness classes with positive energy among the Wolfpack community," she says.
True to form, she used the time to find virtual ways to promote wellness.
She decided to teach high-intensity interval training (HIIT) over Zoom and sent the link out to her friends, hoping it would help people stay physically active and mentally healthy.
"The pandemic actually gave me an opportunity because I was at home and had more time," she says.
"I started to cook and experiment with recipes using some traditional Chinese cooking methods with items that are in the supermarket here."
To share those, she created her own YouTube channel and used Chinese social media platforms as well.
"I love the idea of using knowledge to help my family, my friends—in the future, clients and patients—find the natural source of nutrition to help them live a better life," she says.
"I am really happy I made the choice to complete my undergraduate education at NC State because NC State provided such comprehensive resources to help me explore my interests, my passion."