Alumni and Friends
Full Circle: Food Scientist Katie Maloney's NC State Ties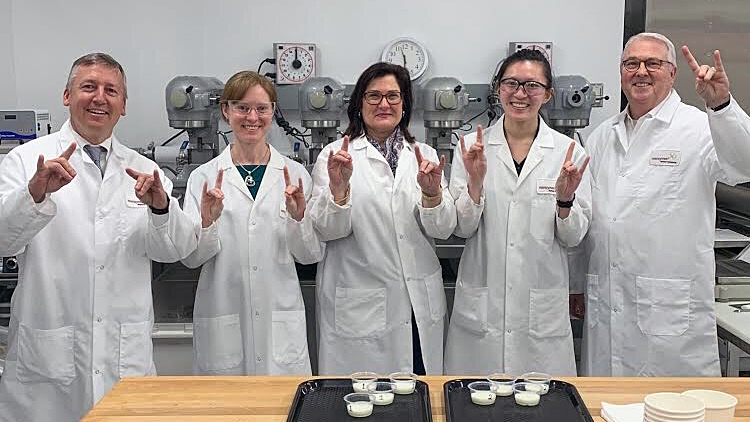 NC State students who learn from alumna Katie Maloney are in for a treat. Maloney, an enzyme expert who helps develop new food products, draws on her work with 30 different food and beverage applications, including sandwich bread, French fries, frozen pizza, pet food, plant protein, juice, milk and beer.
As a technical business development manager with Novozymes, Maloney uncovers ways that biology can improve food quality and sustainability. To explain what she does to those unfamiliar with food science, her go-to example is lactose-free milk, a familiar product that depends on an enzyme.
"You have the lactase enzyme in your body when you're a baby, and some adults still have it," she says. "You can take that same enzyme and put it in regular milk to hydrolyze the lactose so that it's predigested, and then people who don't have the enzyme in their bodies anymore can drink it without problems."
A lifelong Wolfpack fan with bachelor's, master's and doctoral degrees from NC State, Maloney mentors students in the Department of Food, Bioprocessing and Nutrition Sciences. That's where she took the class that inspired her career: Introduction to Nutrition with Professor Sarah Ash.
"She really was able to communicate well with the students and get everyone excited about the topic. I had no idea it would be something that interesting to me until I was in the class," says Maloney, who enrolled as a business major. "I started looking at what I could do to take more classes like hers and found my major, biological sciences with a nutrition concentration."
Biochem Bonding
Some of Maloney's favorite NC State memories involve her biochemistry study group.
"We would all get together and bring homemade desserts and other snacks and make study sheets for biochemistry, which really helped," Maloney says. "We bonded, and I'm still friends with a lot of the people that I met in undergrad."
With the Food Science Club, she scooped ice cream at the State Fair and served as vice president.The camaraderie continued in graduate school, where she worked in a close-knit lab.
Her graduate research with Professor Jon Allen involved finding uses for sweetpotato peels and leaves left after processing, a project funded by the North Carolina SweetPotato Commission. Maloney isolated protein from sweetpotatoes and investigated the nutraceutical properties of the extracts.
"We found a similarity in some of the extracts to an antidiabetic supplement that was being sold from Japanese sweetpotatoes," she says.
With Ash, her mentor, Maloney participated in the Graduate School's Preparing the Professoriate program and taught a section of Introduction to Nutrition, the same class that fed her interest in nutrition and food science.
Career on the Rise
Maloney worked part-time for the company while writing her dissertation. She earned a master's in nutrition and food science in 2008 and a doctorate in food science in 2011. Since landing a job in the baking group where she'd been an intern, she has worked in technical, innovation and business development roles at Novozymes.
A regular guest speaker at NC State and an adjunct faculty member on graduate committees, Maloney offers students this advice: "Make as many connections as possible and make them early. Use LinkedIn to ask people for informational interviews and get to know what they do well before you actually need a job so you can figure out what you like and don't like and have connections when it is time to look for a career."
Multigenerational Pack
Maloney was honored as one of the 2021 Outstanding Alumni for the College of Agriculture and Life Sciences. Daughter of an avid alum, she maintains strong family ties to the Wolfpack.
"We're such an NC State family that my dad, on the way to visit me in the hospital from having my son, the day he was born, registered him for the Junior Wolfpack Club," she says, laughing.
"I think before I had even filled out all his paperwork to name him, he was a Junior Wolfpack Club member."
Now 8, her son already says he'll attend NC State. In the meantime, his mom uses her baking skills to make gluten-free foods to meet the family's dietary needs, another example of Maloney's food science connections coming full circle.