A Love for Agriculture and Science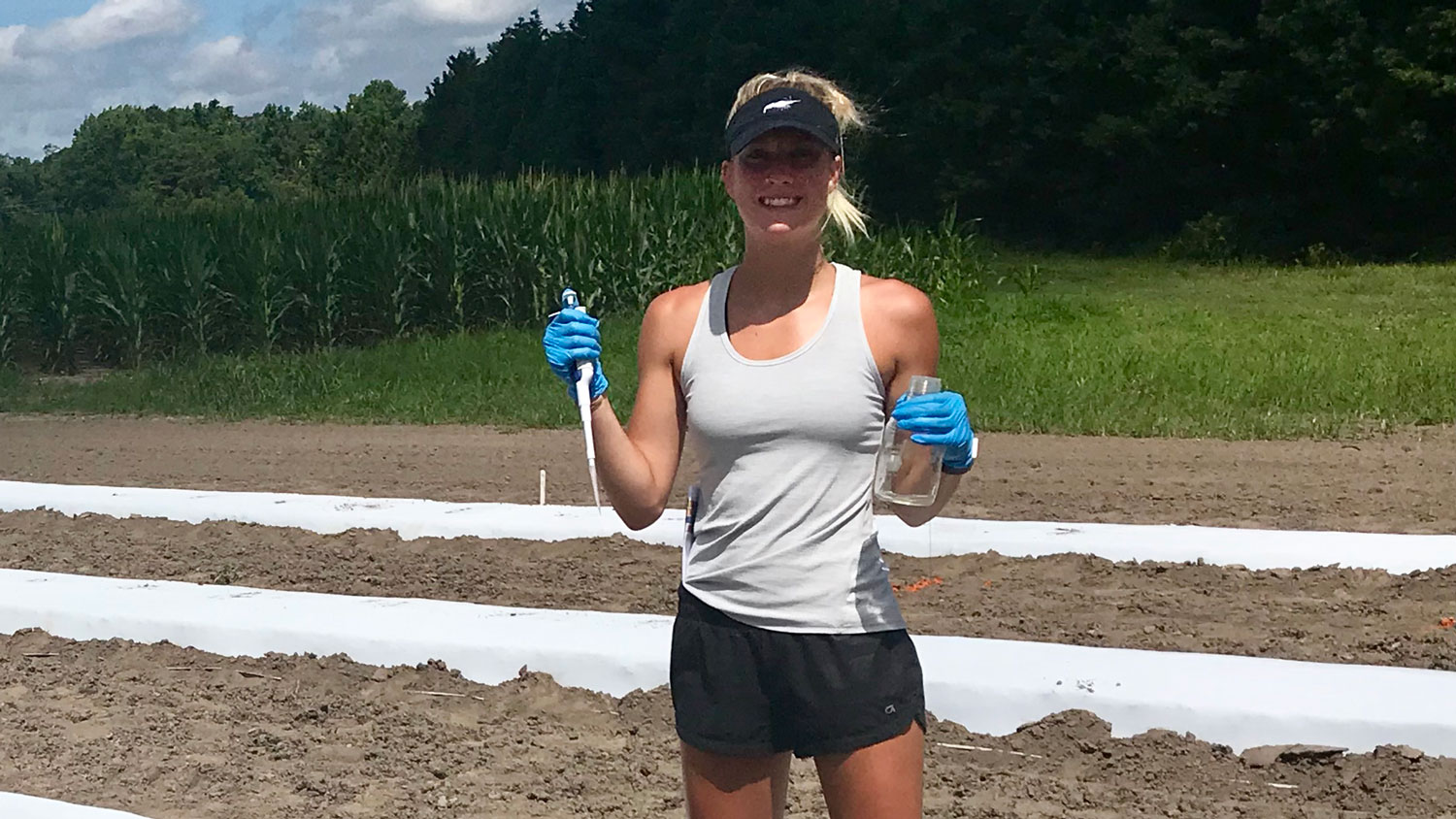 Felicia Shepard's time as an undergraduate student in the College of Agriculture and Life Sciences (CALS) has come to an end but she's not quite done with NC State.
After earning a bachelor's degree in food science and a minor in horticultural science she'll be moving to the College of Sciences to earn her doctorate in genetics. Her path to genetics is interesting and unexpected.
"I originally wanted to go to culinary school," Shepard said. She also loved science. "One of my teachers in high school did food science at NC State, and that's how I got involved and fell in love with it."
[pullquote align="right" color="red"]I've always been in love with agriculture.[/pullquote]
In her first two years in CALS, Shepard tried to find a job in one of the food science labs, but she couldn't find anything available. She had also declared her minor in horticultural science, and that's when she learned about a unique opportunity in a plant pathology lab.
"I've always been in love with agriculture. I thought I wanted to do indepth research and development in food sciences, and after working in the plant pathology lab, I realized I enjoyed plant sciences research more," Shepard said.
When it came time to figure out what she wanted to do in Graduate School, she wasn't sure if she wanted to focus on plant pathology. While working in Lina Quesada-Ocampo's vegetable plant pathology lab, she learned that some of the post doctorates had completed an undergraduate degree in plant breeding.
"I started looking into that a little bit and thought it was interesting. I reached out to Dr. Hudson Ashrafi at the beginning of my senior year. I started working with him, and I wrote a research proposal on using CRISPR to increase the firmness in blueberry skin," she said.
What really sparked Shepard to do the project was the current lack of migrant workers and the fact that blueberries are very delicate and typically need to be hand harvested or picked.
"There is a need for increased firmness in the skin during the harvesting period. If the skin was firmer, farmers could mechanically harvest their blueberries," Shepard says. "The first step is to identify genotypes with desirable characters that make them amenable to mechanical harvest, such as plant architecture and fruit attributes. The second step is to design a project to map the genes underlying these traits. The third step is involved in characterization of the genes and pyramiding them into new elite cultivars."
Shepard said it was Ashrafi who encouraged her to apply to the doctorate program in genetics. He felt her work with blueberries would be very in depth and could possibly require longer than two or three years to complete, the average time to earn a master's degree.
"Dr. Ashrafi has helped me immensely with writing this proposal and applying to graduate school. He's really worked hard to help me succeed, and I really appreciate that."
Discover more amazing CALS students like Felicia Shepard.
[button]Student Stories[/button]