Selma Okyere-Badoo: Champion for Health Equity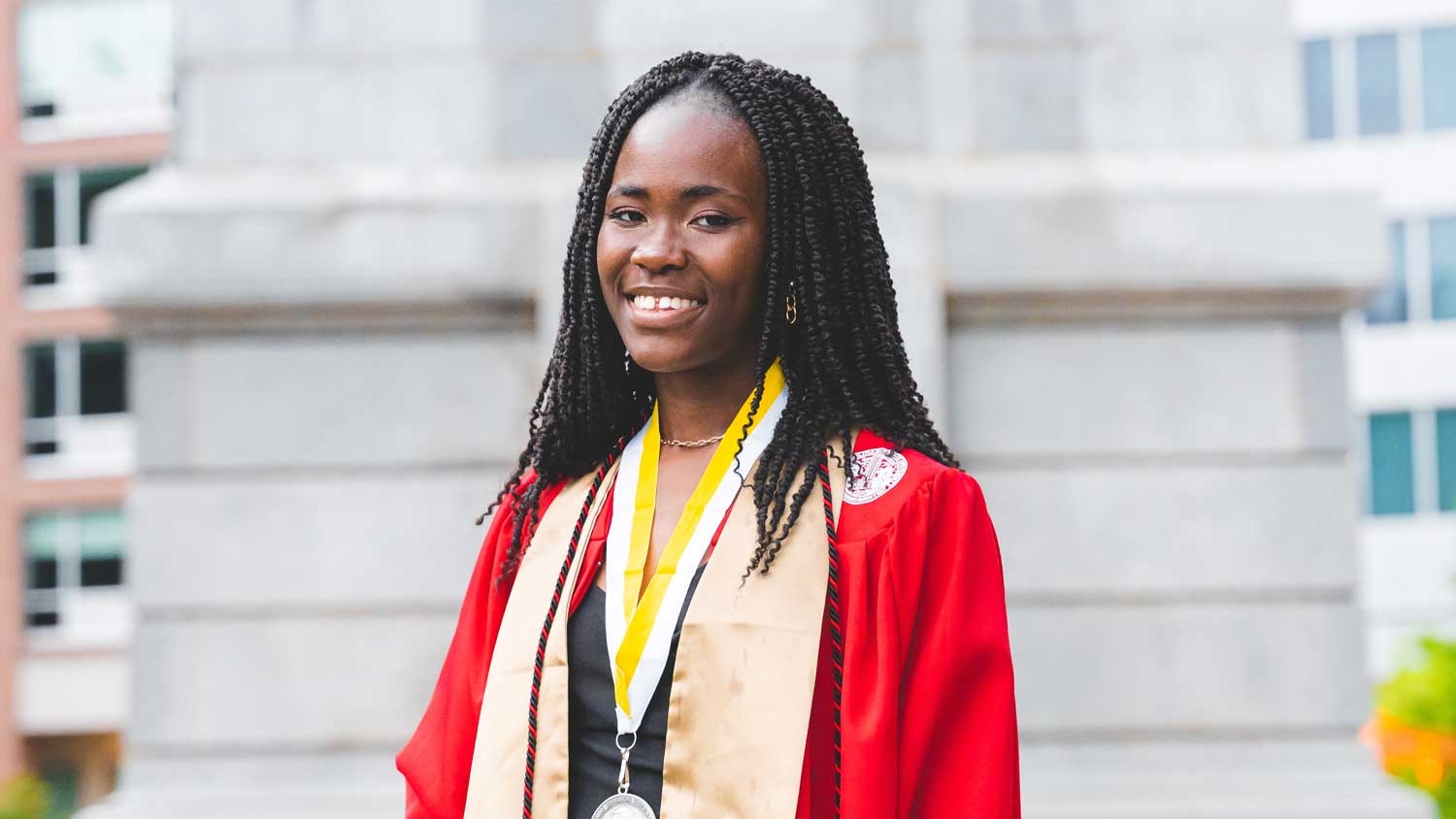 Before coming to North Carolina and NC State University, Selma Okyere-Badoo spent much of her childhood learning about and understanding new cultures and languages.
"My mom worked in foreign affairs and that's how we were able to move around a lot and experience so many different cultures," said Okyere-Badoo. Before her family settled in Cary, North Carolina, the College of Agriculture and Life Sciences senior was born in Ghana and lived in Japan and India for a few years.
"I had an early appreciation for different languages and cultures," something she'll continue to have and use throughout her career upon graduating this spring. Okyere-Badoo will graduate with two degrees: a bachelor's in biochemistry and Spanish. The Thomas Jefferson Scholar and Goodnight Scholar hopes to use her knowledge to decrease the current communication and language barriers in the healthcare industry.
"Earning both degrees has given me a chance to mix my love of science and STEM with the humanities side," said Okyere-Badoo.
But NC State wasn't initially on Okyere-Badoo's radar. She had a misconception that if she came to NC State, she'd have to earn a degree in engineering.
"I didn't want to go into the engineering field and I didn't know what other majors were offered. My dad thought we should check out the school since it's a good university and close to home. I also think he secretly wanted me to do an engineering major," Okyere-Badoo joked.
And for someone who wasn't quite sure what she wanted to do, Okyere-Badoo quickly learned that NC State was full of choices.
"I wanted to do a science major and biochemistry had a little bit of everything, from chemistry to biology. I was able to take every science class possible," she said. But ultimately, it was the sense of community that drew her in and helped her decide on NC State.
"When touring the campus, everyone was very genuine. I didn't feel a sense of competition that I felt at some of the other universities I visited. I realized that a sense of community and having the support system that NC State offered was what I really wanted in my college experience," the CALS student shared.
Okyere-Badoo said she felt supported even before her first day as an NC State freshman and that was largely due to Trino Ascencio-Ibanez, an associate professor in the Department of Molecular and Structural Biochemistry.
"I was interviewing to be a Goodnight Scholar and he reached out to me that day to congratulate me on being a finalist. He told me he was proud of me and wanted me to know that he was a resource I could use to help make my decision easier. He said, 'I want to support you regardless of what you want to do.' None of the other colleges I applied to did that," she said.
Upon graduation, Okyere-Badoo will participate in a MedServe fellowship through AmeriCorps. MedServe's mission is to improve the health of the medically underserved communities of North Carolina and promote health equity.
"I'll be working in a clinical and community health role at the Cherokee Indian Hospital for the next two years and then I'll apply to medical school," she said.
Okyere-Badoo is excited about this unique opportunity to serve in a medically underserved community and care for patients. She's also excited to learn about a different community of people and continue her love for learning about new cultures.
This post was originally published in College of Agriculture and Life Sciences News.