NC State University is pleased to have Anne Njoroge from Kenya working on campus with Dr. Jean Ristaino as her mentor.  Anne was selected in the Borlaug Fellowship Program, a very competitive program that matches mid-career scientists from developing and middle-income countries with  faculty mentors at U.S. universities. The Borlaug Fellowship Program, is named after Norman E. Borlaug, Nobel Peace Prize laureate, "Father of the Green Revolution", and plant pathologist who dedicated his work to fight world hunger.
Anne Njoroge, a Kenyan, is a Research Associate in molecular plant pathology at the International Potato Center (CIP) sub-Saharan Africa regional office in Nairobi, Kenya. "I do research in agricultural plant science and my specialty is on pathogen population studies. I am currently using the potato – P. infestans pathosystem to study the population structure and dynamics of the pathogen in eastern Africa and, how the phenotypic characteristics of the resulting pathogen genotypes, can be used in late blight management guidelines for the region. " Anne reports.   Anne connected with Dr. Ristaino as they conduct research on the same pathogen. "Late blight is a global problem and different regions have networks where researchers working on the pathogen share findings. Through such platforms, Jean's lab has shared protocols and advice with me in the past and I was able to  implement and validate a platform for Phytophthora genotyping with the support of the Biosciences eastern and central Africa-International Livestock Research institute (BecA-ILRI) Hub in Nairobi, Kenya. These validated protocols to genotype and phenotype the Phytophthora pathogen can now be used by African scientists."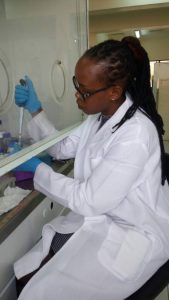 During her three months at NC State, Anne is conducting research to understand the genetics of the pathogen that attacks potato and tomato plants in eastern Africa. "I will conduct RNAseq analysis on two US-1 clonal genotypes that are specialized on each of the two hosts but whose differences cannot be found using neutral markers. By inoculating these US-1 isolates on their original and alternative host and studying the differences in the effector expression profile, we might be able to pick out pathogenicity genes that are responsible for host-specialization within the US-1 lineage".  Through her research , Anne's goal is to make the AfricaBlight network a reality for the African region. "We have world-class research facilities at the BecA-ILRI Hub in Nairobi, Kenya and the research hub can act as the main node for the AfricaBlight network." The hub can serve a repository for Phytophthora data gathered from around Africa. The data can then be accessible through a website by growers, agrochemical companies, pathologists and breeders to design or modify the existing late blight management guidelines.  "I wish to invite partners who are willing to collaborate or act as possible financiers for the AfricaBlight mission."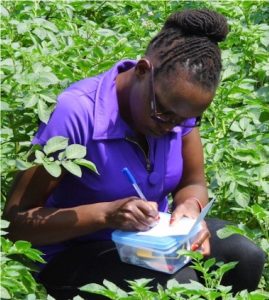 At the end of Anne's 3 month fellowship at NC State, she will return to Kenya and finish her doctoral studies in plant pathology.  She is scheduled to defend her Ph.D. dissertation at the Swedish University of Agricultural Sciences (SLU) in January 2019. Anne also has an MSc. in Crop Science from Makerere University (Uganda) and a BSc. in Biomedical Science & Technology from Egerton University (Kenya). She was based in CIP-Uganda for three years prior to her relocation to CIP-Kenya in April 2016. In addition to her current Research Associate position at CIP in Kenya, Anne has also held the position of Research Assistance for the Rwanda Agricultural Board (RAB) in Rwanda.
Anne's research collaboration with Dr. Ristaino does not end after she leaves NC State.  As part of the Borlaug Fellowship Program, Dr. Ristaino will then have a 10-day trip to CIP in Nairobi, Kenya to visit her and continue their collaborative research program.