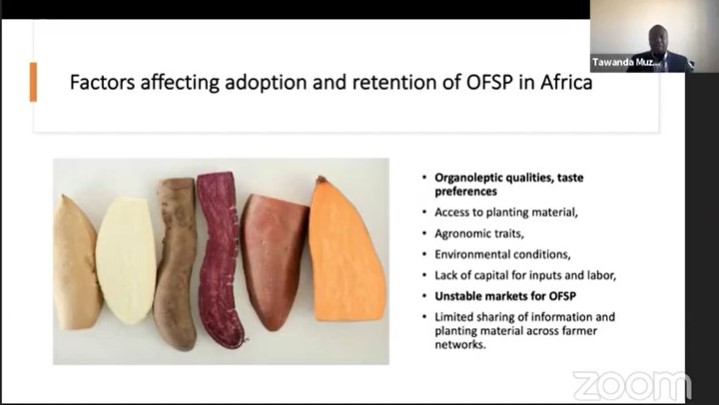 Dr. Tawanda Muzhingi rounded up the fall portion of the CALS SAIGE International Seminar series with his seminar titled, "Sweetpotato, the Poor Man's Crop and the Rich Man's Food: a story of international collaborations turning neglected crops into gold" on November 18.
Dr. Muzhingi, who is a senior scientist at the International Potato Center (CIP) Regional Office in Nairobi, Kenya, has a long history of international collaboration, especially with researchers at NC State.  All of which focus around expanding high vitamin A content orange flesh sweetpotato production and adoption.  Although sweetpotato is native to Latin America, it is one of the most important crops grown by smallholder farmers in sub-Saharan Africa.
Dr. Muzhingi pointed out that with climate change, soil moisture is decreasing while plant diseases are increasing in locations where the world's population who are the most vulnerable to malnutrition populations live.  Through Dr. Muzhingi's collaborative research career, there exists more opportunities for smallholder farm entrepreneurship, which in turn strengthens food safety in these vulnerable areas. 
One critical partnership is with RTP based SinnovaTek, which is a startup company resulting from research by CALS Food, Bioprocessing and Nutrition Sciences faculty, Josip Simunovic, and former research assistant, Amanda Vargochik.  The continuous flow microwave technology Simunovic and Vergochik developed at NC State is used in SinnovaTek to develop shelf-stable purees of different flesh color sweetpotatoes.  In collaboration with the Kenyan based agro-processing company, Burton & Bamber, the microwave technology was tested in Africa and adapted to develop a smaller product to be shipped and be used in Kenya starting in January 2021. Shelf stable sweetpotato purees can be incorporated into African street foods and breads to provide additional nutrition in previously low nutrition foods.  
The Sweet Gains program funded by the Bill and Melinda Gates Foundation is another high-impact collaborative project, which focuses on sweetpotato breeding.  Dr. Suzanne Johanningsmeier, USDA-ARS scientist at NC State, along with Dr. Craig Yencho, Horticultural Sciences faculty, are working in collaboration with CIP and Dr. Muzhingi to breed for both sensory and quality traits of sweetpotatoes.  Thus addressing the users' preferences for taste and texture as well as agronomic qualities of yield, disease and drought tolerance.
"You cannot have food security without food safety".  Dr. Muzhingi further emphasized the importance of food safety in ensuring food security for low-income countries like Kenya, Uganda, and Malawi.  He indicated that farmers from these countries could learn about good agricultural practices, as taught by the North Carolina Cooperative Extension Service, so they can ensure a safe environment free from contaminants, as "if the environment is contaminated, they cannot realize the nutritional potential or economic benefit of the foods they're growing."
 Through visiting scholar opportunities and undergraduate and graduate research programs, we are "training a new generation of leaders."  By hosting visiting African scholars at NC State, they can become champions and leaders who impact food safety and security policies within their country, which would ultimately impact economic development. Additionally, NC State graduate and undergraduate students in the Departments of Horticultural Science, and Food, Bioprocessing and Nutrition Sciences have contributed to research gains and will continue to further the advancement of sweetpotato variety research. 
Looking forward, the opportunities for collaboration are plenty including two Dr. Muzhingi highlighted, NC State's Plants for Human Health Institute and the new NC Food Lab.  Both of these entities can provide additional training opportunities for future and current international agriculture and food science scientists and researchers.  As Dr. Muzhingi said, "working in an international team is one of those rare and exciting opportunities one can ever have".  It is through international collaborations that we learn the most, appreciate the diversity, and have the opportunity to have a greater impact than if we work alone. 
Dr. Tawanda Muzhingi's seminar is available below.  Additional recorded seminars are available on the CALS SAIGE website.