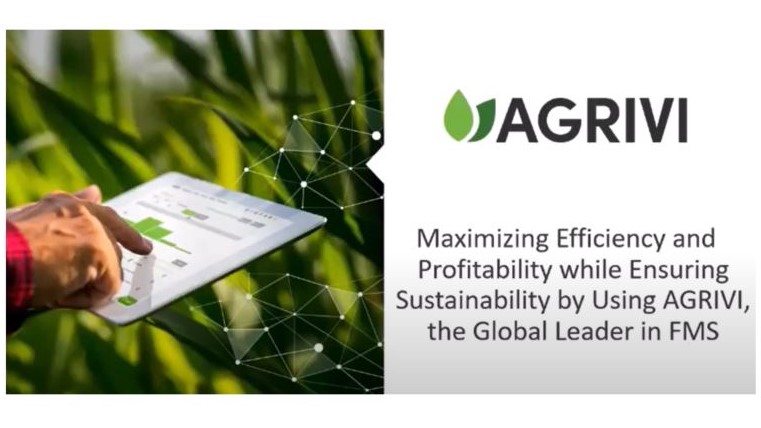 WRITTEN BY: Alex Gordon, tagordo2@ncsu.edu
On September 9th, CALS International Programs and CALS SAIGE were pleased to host a virtual seminar via Zoom with Ines Hajdu of AGRIVI. Faculty members, research assistants and even agricultural company representatives were in attendance, as were both graduate and undergraduate students. CALS SAIGE's monthly International Seminar Series focuses on invited speakers sharing their experiences with international research as well as offering tips for graduate students who wish to become more involved in international agricultural initiatives, and this month's seminar certainly lived up to the description. The bulk of the presentation was made up of information about AGRIVI–its purpose, goals, services offered, and impact, with attention also being brought to Hajdu's own experience with agriculture and with the company itself.
Hajdu, joining the seminar from Croatia, opened her presentation–titled "Maximizing Efficiency and Profitability while Ensuring Sustainability by using AGRIVI, the Global Leader in Farm Management Software"–with why she originally chose to work with AGRIVI. When she was a student, Hajdu searched for a purpose-driven career, and went with AGRIVI because they had set clear goals on changing the way food was produced. Now Agrisuccess Manager at the company, it is not hard to see why she stuck with it, given the company's accolades. One such accolade is that they are used by Driscoll's, the largest producer of berries in the world.
AGRIVI is a global company focused on delivering software solutions for the agricultural value chain. As a global company, it accepts all global currencies and supports 10 languages. It was founded in 2013 and has offices in the United Kingdom, Croatia, Romania and Poland. Its mission is to help clients–consisting of anyone from individual farmers to large agri-food companies–reach economically and environmentally sustainable food production by providing them with digital agricultural solutions. According to the presentation, the company vision is "Changing the way food is produced, positively impacting over a billion people." To fulfill its mission and vision, AGRIVI offers an integrated platform for clients to use to obtain accurate data, as well as to record their own data. It is available on web and on mobile (both iOS and Android), and it features both an online and offline mode. The latter is notably important because much of the company's clientele is made up of farmers and other onsite workers who do not have constant access to an Internet connection.
AGRIVI offers planning and field operation management technologies. One key technology is scouting that utilizes satellite imagery. This is used to detect threats to crops such as pests and severe weather as well as damage caused by these threats. Photo evidence is provided for these problems, and they implement automated alarms for said problems that are defined by customers. These alarms can show up both in-platform and via email. Another important feature of the platform is that data tracking is customizable for every single crop. This is especially helpful to large companies receiving crops from farms, as they can see accurate information about said crops–for example, the company can see what exact pesticides were used on a crop and determine how long until it is safe to use the crop after spraying. This data tracking can also help determine when, if at all, pesticides are necessary, so that no unnecessary spraying is conducted. Agriculture is responsible for 23% of global gas emissions, and this is just one of the ways that AGRIVI aims to help clients reduce their environmental footprint.
Upon outlining the company's overall purpose and its extensive strengths, Hajdu recounted a short tale of how Driscoll's came to employ the usage of AGRIVI for their agricultural endeavors. Driscoll's is, as was mentioned earlier, the largest producer of berries in the world, and has been for quite some time. They had farm management systems in place becoming a client of the company, but they used multiple non-integrated platforms such as Microsoft Excel and others. This proved inefficient, and AGRIVI provided their centralized platform as a remedy. In addition to this, they also provided valuable business intelligence.
Hajdu closed the presentation with a rallying cry of "Let's make an impact, and let's build the future together."