Until We Meet Again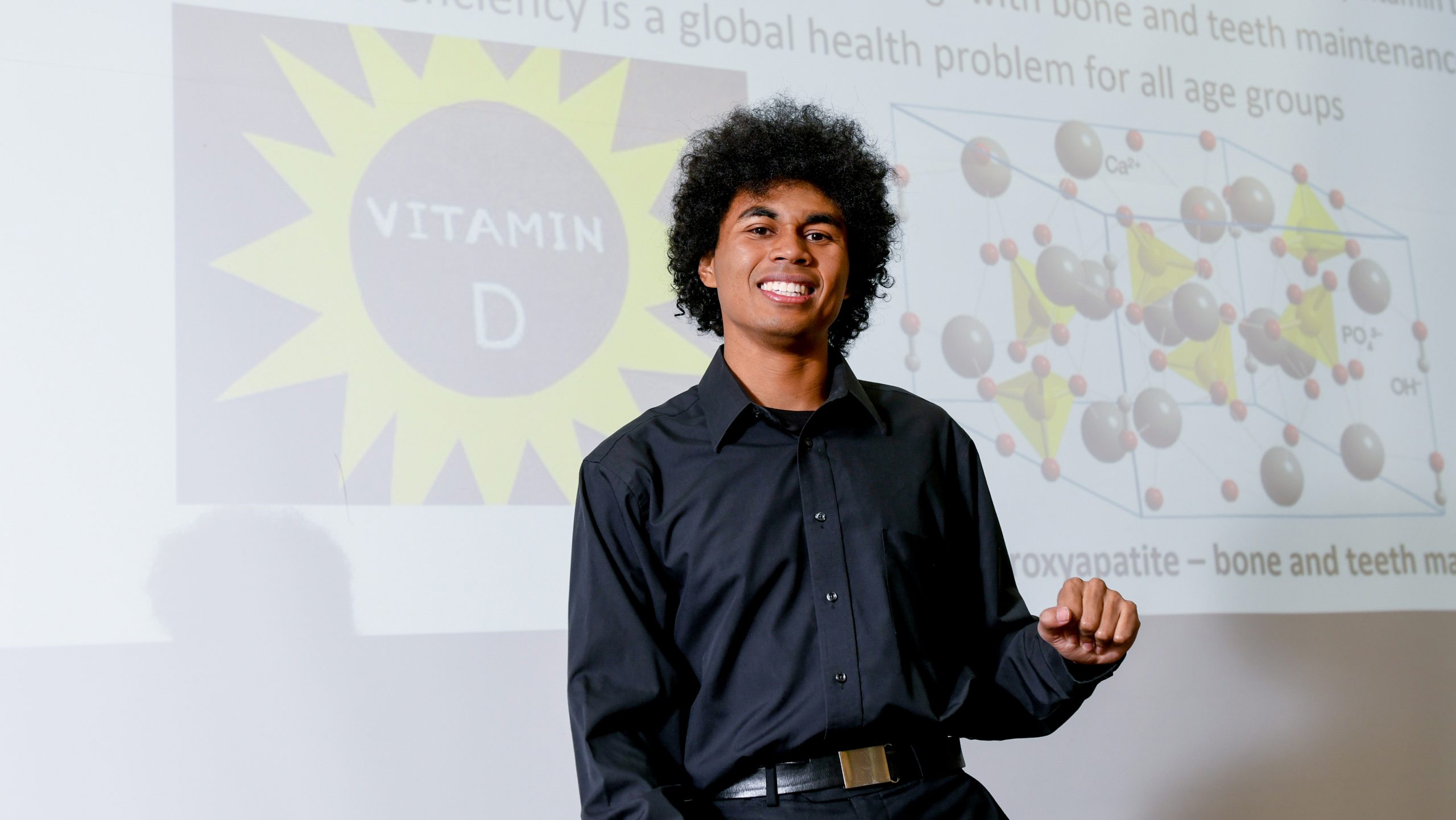 Matthew Warren's homestretch to earning a doctorate in nutrition at NC State didn't turn out quite as he'd imagined. For one thing, he had to incorporate social distancing and Zoom into his dissertation defense.
But with a postdoctoral position and challenging research ahead, Warren took it in stride. His educational journey has taken him from community college to a Ph.D. program, from coast to coast, and from struggling student to published researcher and leader of a peer mentoring program in the College of Agriculture and Life Sciences at NC State.
Inspiring professors motivated Warren to set a goal of becoming a faculty member himself.
"The only thing I did not expect was traveling across the country to get a Ph.D.," he says.
West Coast Beginnings
Warren hails from Lemoore, a small town in Central California's San Joaquin Valley. His dad is a Navy veteran and his mom, a U.S. citizen, is originally from the Philippines.
He earned two associate's degrees at West Hills College Lemoore before studying animal science at the University of California, Davis.
"I remember struggling a lot, actually," Warren says. "I had to work really hard at trying to study and keep up with my classmates. But I loved it. I loved learning at that level."
And he was inspired by how much his professors cared.
"That nurturing was phenomenal, because it made me realize, 'I want to be just like these people someday,'" Warren says. "Back then, I didn't think I was really worth their time, because I was just an average student. There were much better students who could really benefit from them, but they were willing to reach out to me, and that had a powerful impact because it made me realize that they really cared about my education.
"They knew I had something in me, even though I didn't recognize it at the time."
Warren learned about Minorities in Agriculture and Natural Resources Related Sciences (MANRRS), a professional organization that would later help him with networking, public speaking skills, and leadership.
He got his first experience doing research, mostly with chickens and a few dairy cows, and studied cockatiels and their immune system development.
Culture Shock and Connection
Warren was ready for his next step, a master's degree. He moved to Auburn, Alabama, a "culture shock."
He found his way – and his friends – among fellow graduate students in biological sciences, who formed a close-knit peer group.
Instead of working with poultry, as he had in California, Warren did research on the gut and milk microbiome in rats. Although the little critters were fun to work with, he missed birds.
He was investigating Ph.D. programs when he heard about NC State's Prestage Department of Poultry Science during a conversation at a MANRRS conference. "NC State was on my radar," he says.
Peter Ferket, William Neal Reynolds Professor of Nutrition and Biotechnology, arranged a campus visit in July 2015.
"That was a decisive factor with coming to NC State," Warren says. "He set up a lot of things where I had the chance to meet different grad students and faculty in the department."
East Coast Move
Warren met Kimberly Livingston, a poultry science faculty member who had completed her Ph.D. program with his undergraduate research mentor at UC Davis. After a semester in Ferket's lab, he transitioned to working with Livingston, also serving as her teaching assistant for comparative nutrition class for almost two years. He won a graduate student teaching award from the North American Colleges and Teachers of Agriculture (NACTA) and delved into his doctoral research.
"My entire dissertation basically is trying to look at the overall effects of how we can examine the vitamin D metabolism in the chicken model, so that we could potentially translate those findings to medicine with humans," he says.
Part of the research explored whether feeding high doses of vitamin D to aging laying hens could improve their welfare and bone health. It has implications for human health, with many women taking calcium supplements to prevent bone thinning.
Some of Warren's findings involving a synthetic form of vitamin D supplementation in broiler chicken diets have been accepted for publication in Frontiers in Veterinary Science.
Peer Connection
In spite of his research success, Warren says his "most significant" experience at NC State was discovering the importance of peer mentoring.
The Graduate Peer Mentoring Collaborative – which involves the colleges of Veterinary Medicine, Humanities and Social Sciences, and Agriculture and Life Sciences – aims to build positive peer relationships within departments and a mentoring culture across campus.
Warren piloted a peer mentoring program in his department and matched five students from different research labs, two of whom served as peer mentors. They stayed in touch weekly and took part in monthly group meetings Warren organized, covering topics such as communication styles and problem-solving techniques.
He saw positive changes. A new graduate student established trust with a peer mentor. "It was great to see how she had that connection with someone outside of our lab that she can confide in."
Another peer mentor enjoyed the opportunity to develop leadership skills.
"I built this program to help my peers recognize the importance of being there for each other," Warren wrote in his reflections on the yearlong effort. "Seeing how some of my peers became more open to asking for advice or help illustrates that this program achieved the vision I had for it."
Virtual Goodbyes
Those relationships were vital when graduate students were unable to meet in person due to the pandemic. The final meeting of the semester was online.
Although Warren found learning to use Zoom enjoyable, he felt the absence of a May graduation ceremony.
"I had a lot of family who were excited about this, because I'm actually the first in my entire family to get a doctorate," Warren says. "And it was a bit unfortunate, but you know what? I'm still happy, because I'm thankful that I'm still healthy along with all my family that I know of.
"And I told myself, 'You know what? I've got to keep going."
Which he will, once he boxes up his books at E.S. King Village. Warren has accepted a three-year postdoctoral position in biomedical science research at the University of Wisconsin-Madison, funded by the National Institutes of Health's Metabolism and Nutrition Training Program.
"One of the big projects I'll be involved with, thanks to my background in nutrition and my background in the gut microbiome, is work with selective serotonin reuptake inhibitors or SSRI, antidepressants given to women to help them deal with postpartum depression," he explains. "They've shown that SSRIs prevent bone mineralization, which actually leads to bone loss."
He plans to lead peer mentoring programs both in his new job and in the future, as a faculty member.
While there won't be congratulatory hugs right now, Warren says he's sure he'll return to Raleigh to reconnect with friends and mentors.
"Even though we may be thousands of miles away, there's always going to be an opportunity where we have a chance to meet again."