Student Spotlight
Student Discovers Passion for Pigs at NC State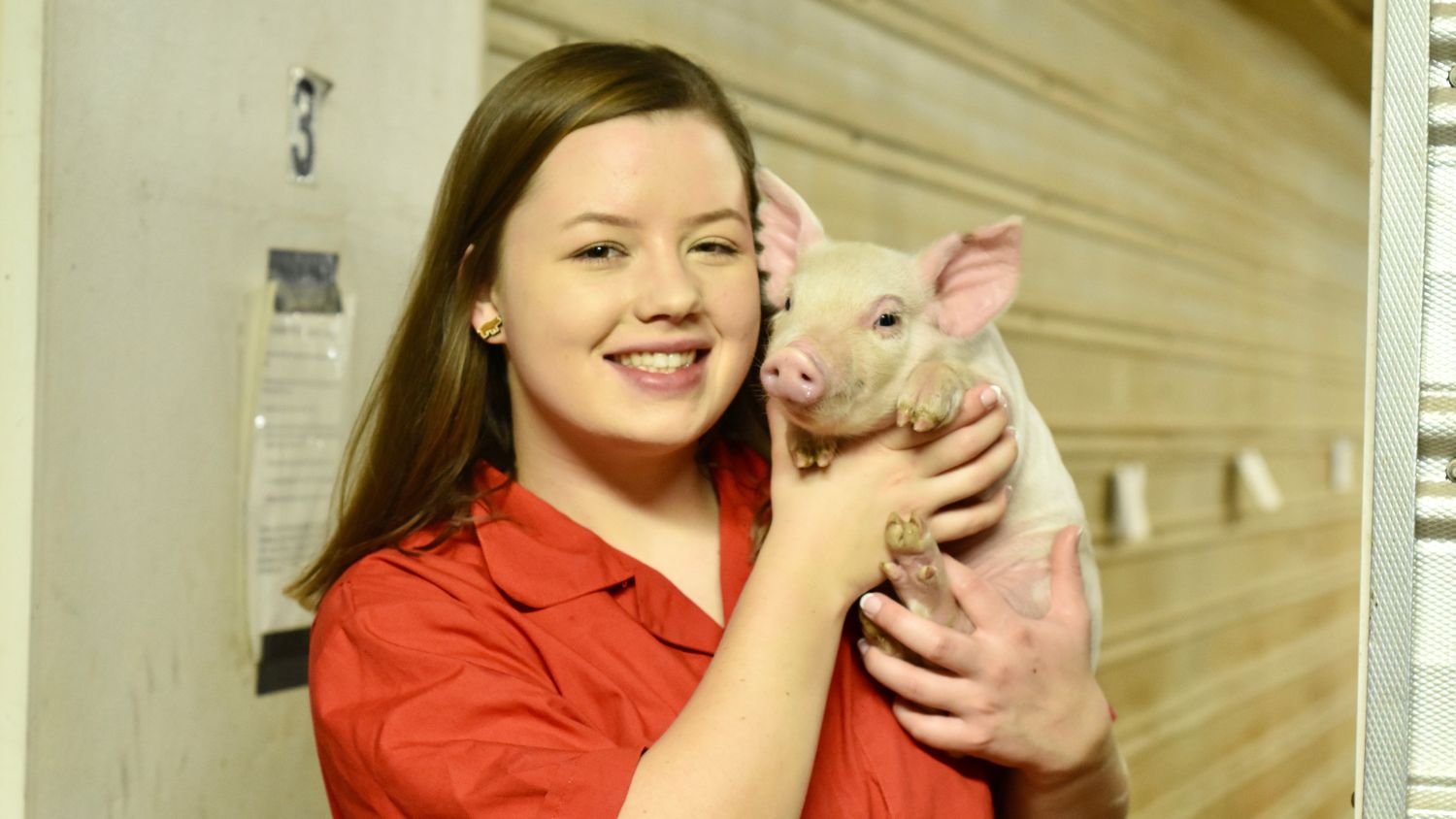 Graduating animal science student Molly Jones has probably spent more time at the Lake Wheeler Road Field Laboratory than on the North Carolina State University campus over the past four years. It's where she's worked, learned, developed friendships and nurtured her passion for pigs.
"I really didn't know about what NC State had on Lake Wheeler Road when applying for colleges," Jones explains. "That's all I could ever want down there, with the dairy farm, beef farm and swine unit. I'm just as happy as can be."
Jones is also a Food Animal Scholar and will start at NC State's College of Veterinary Medicine in the fall with the goal of becoming a swine veterinarian.
Pig Support
A Union County native, Jones grew up with an interest in medicine but didn't realize she wanted to be a vet until she began working more closely with animals on a farm in high school. When she started at NC State's College of Agriculture and Life Sciences, Billy Flowers, a William Neal Reynolds Distinguished Professor in the Department of Animal Science, introduced her to pigs.
"Dr. Flowers does a great job," Jones says. "All the freshmen meet him when they come in. I don't know that he strikes a chord with everyone right away about the pigs, but he got me and several others interested."
Jones' pig education has been supported by many scholarships, including the NC Pork Council Scholarship and the Hanns-Dieter Alhusen Swine Education Endowment.
Learning Beyond the Classroom
Jones continued learning about pigs while working for 3 1/2 years in the Swine Education Unit at Lake Wheeler Road Field Laboratory.
"I love it there. It's the perfect replica of a miniature version of what you see on commercial farms."
She also had three different summer internships throughout college. Last summer, Jones was a research intern at the Swine Vet Center in St. Peter, Minnesota. The summer before, she interned on a farm for Smithfield Foods in Jones County, and two summers ago, she interned with the NC Pork Council on a farm in Concord, North Carolina, with the Porter Family.
Outside of school and work, Jones was heavily involved with the Animal Science Club and worked her way up to president, succeeding Bryson Jacobs.
"As president, I liked to represent my pigs because they don't get a lot of representation," Jones says. "There are not that many pig students, so I was happy to have the chance to be the president of the club that was highly involved in pigs. I'm very appreciative of the opportunity to talk to the younger students because I was once in their shoes, and there's a whole lot for them to look at and try."
"I'm very thankful to have gone to NC State and found my pigs."
Jones also served in other positions within Animal Science Club such as swine species chair and agrilife representative which helped her expand her skills.
Continuing as a Food Animal Scholar
Taking what she's learned during her undergraduate degree, Jones is excited to start vet school in the fall, especially as a Food Animal Scholar. The program is designed to provide a clear academic pathway for undergraduate animal science students with an interest in a veterinary career in food animal agriculture to attend NC State's College of Veterinary Medicine. Six scholars are selected for the program each year, and the designation follows them through vet school.
Jones is grateful to have discovered her passion and future career.
"I'm very thankful to have gone to NC State and found my pigs."