Student Spotlight
Bryson Jacobs: Finding His Fit in Animal Science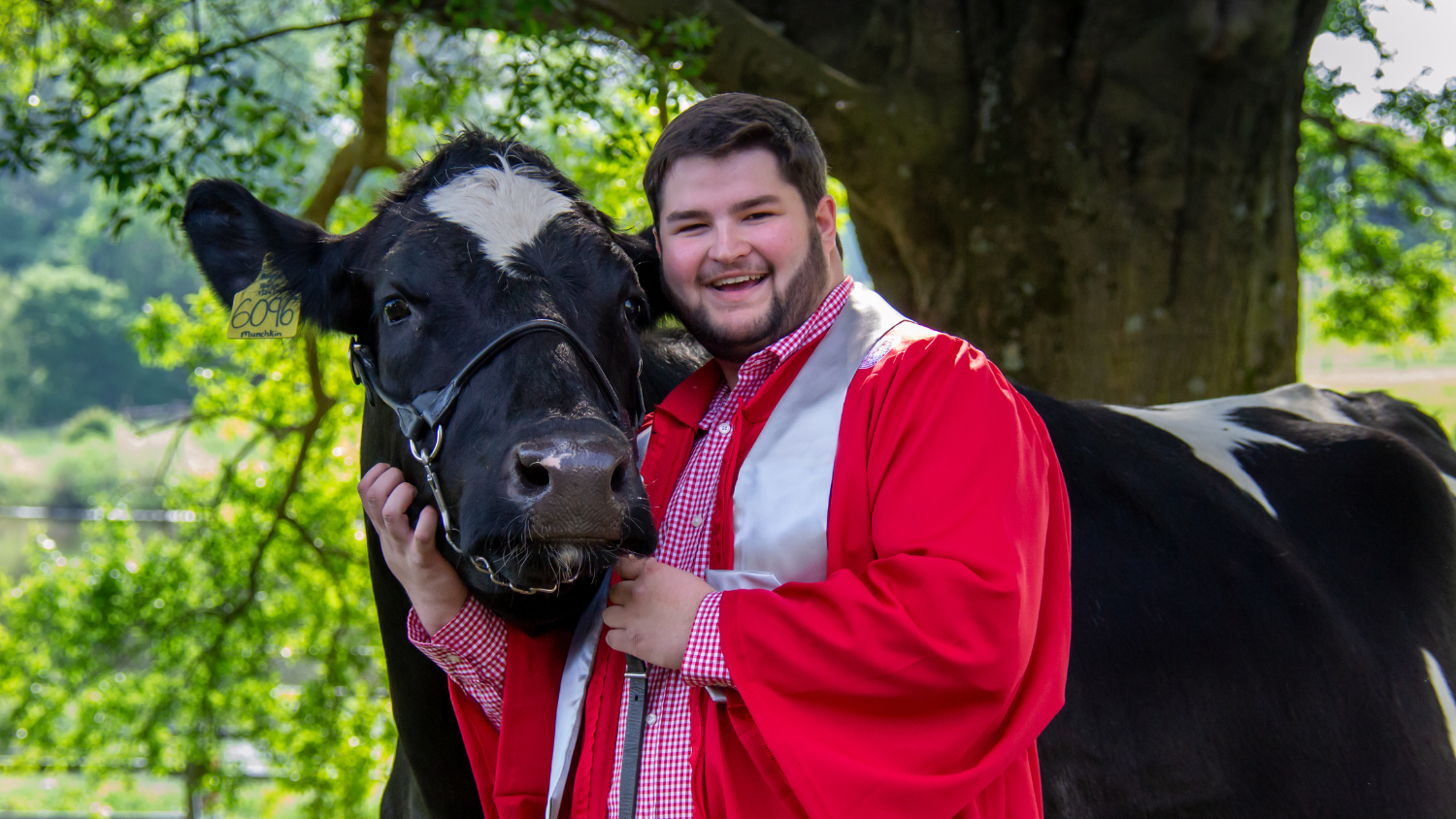 Bryson Jacobs always loved animals, but he never knew his interest could be a career until he started working at a companion animal hospital during high school in his hometown of Greenville, North Carolina.
"I grew up with dogs and a cat, but I didn't really think there were careers in working with them," says Jacobs. "Working in that clinic showed me there are different things you can do with animals, and that's where my interest in animal science was sparked."
Now, Jacobs is graduating with a bachelor's in animal science and a double minor in nutrition and health, medicine and human values with a focus on livestock. He will attend vet school in food animal medicine at his dream school, The Ohio State University, starting in the fall.
A Whole New World
Jacobs initially thought he wanted to pursue a pre-veterinary medicine track focused on small animals, but he quickly discovered how much he loved working with livestock once he started studying animal science at NC State.
"I did not come from an agricultural background, but since coming to NC State, I've fallen in love with animal agriculture, more specifically livestock species," says Jacobs. "I have been really active with dairy since I arrived at State, but I also had the opportunity to work at the Beef Education Unit. I also showed animals all throughout undergrad."
Jacobs even learned to enjoy spending time in the mud.
"Not coming from a farm, it was definitely a whole new world, putting some muck boots on and going out and getting dirty," says Jacobs. "It wasn't something I was used to at all, but I absolutely loved it. I enjoyed being outside and the professionals, professors and researchers in the livestock industry are just amazing. There are some people I will never forget because they've made such important impacts on my life. The people are one of the major drives to animal agriculture for me."
The courses he took helped him discover his passion for livestock, including Reproductive Physiology and Dairy Cattle Management: "Those are some good classes that I really loved."
Additional Opportunities on NC State's Farms
Jacobs was heavily involved in the Animal Science Club throughout his undergraduate career and even became president, giving him the opportunity to spend more time out at NC State's farms.
"I was able to go out to the farms on a regular basis and not just work with animals, but also learn more about the farm management aspect of raising animals," says Jacobs. "I haven't found many schools that have farms with these opportunities. And then getting some Howling Cow ice cream afterward was always the best."
In addition to the Animal Science Club, Jacobs was also involved in research on campus. He worked on several different projects, including a swine ovarian physiology project with associate professor Daniel Poole and a dairy research project with assistant professor Stephanie Ward.
A Move to Ohio
Upon graduation, Jacobs will complete a summer internship at the prestigious Select Sires in Plain City, Ohio. He will then start vet school in food animal medicine at his dream school, The Ohio State University, in the fall.
"NC State has given me all of the skills I need to go out on a farm and know what I'm doing, including how to handle animals, which I think is a really big deal," says Jacobs. "I also appreciate how my education here has made me very well-rounded in different topics in animal science."