Faculty and Staff
Raising Pumpkins in Hues from Orange to Blue
It's the time of year when folks flock to pumpkin patches, farmers markets and roadside stands in search of natural decorations for their porches and homes. And there's an assortment of pumpkins to choose from, some of which trace their roots back to ongoing research at NC State.
Travis Birdsell, NC Cooperative Extension County Director and Extension Agent in Ashe County, and Jonathan Schultheis, a professor and Extension specialist in the Department of Horticultural Science, have been working together on pumpkin variety testing at the Mountain Research and Upper Mountain Research Stations in western North Carolina since October 2013.
There's been an evolution in pumpkins where the weirder the better.
"We've looked at a number of different new varieties because there's been an evolution in pumpkins where the weirder the better for consumers, or that's becoming more of a segment in the market," Schultheis explains. "But your traditional jack-o'-lantern types certainly have the bulk of the market."
Schultheis says about 80% to 90% of the market is traditional orange pumpkins while the other 10% to 20% is specialty pumpkins, or pumpkins marketed as heirloom varieties. And over the past couple of years, Birdsell and Schultheis say there's been more breeding of these specialty varieties.
"Have you ever heard of a blue pumpkin? Several years ago, when we first started looking at blue pumpkin varieties, we found they are more conducive for processing or for baking. They're a blue-gray slate color on the outside but they have a very thick, nice orange-yellow flesh on the inside. They're heavy compared to a jack-o'-lantern," Schultheis explains.
The pumpkins we love to carve into jack-o'-lanterns are part of the species Cucurbita pepo with zucchini and yellow squash. But blue pumpkins belong to the same species as white, stackable pumpkins — Cucurbita maxima, a species that's seeing more attention due to its different fruit characteristics.
"Before, we might have seen only one option of a flat, white, stackable pumpkin, whereas now, we may see four different options," Birdsell says. He adds that research trials are important for these varieties.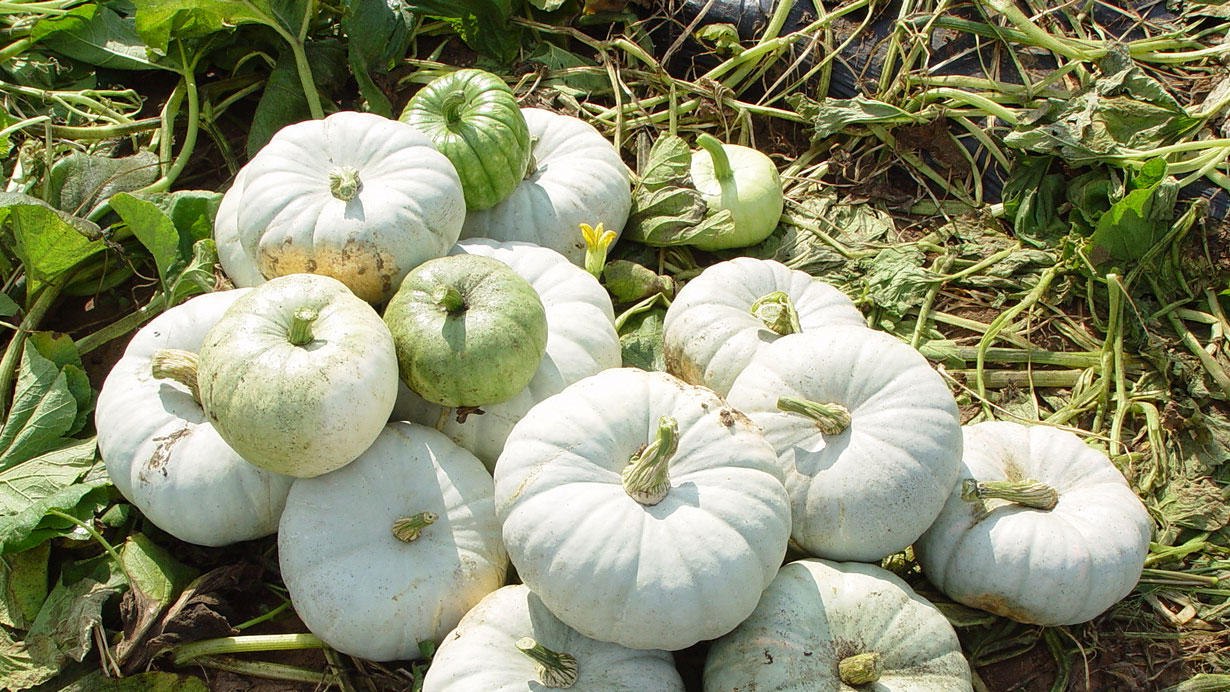 "A grower goes out on a big limb when selecting a new variety. They know how the old one produces, but they don't know how the new one will produce and they're planting acreage based on previous estimates," Birdsell explains. "If we can help them find varieties to plant, so that they can plant fewer acres and get the same amount of pumpkins, that's really our goal, to help growers have fewer overhead costs and labor costs. We're just trying to help the industry be successful." 
In addition to variety testing, Schultheis says NC State is working on postharvest studies as well. Professor Penny Perkins-Veazie at the Plants for Human Health Institute in Kannapolis leads research on postharvest physiology and technology for fruits and vegetables.
"Penny has been working on attachment of the stem to the pumpkin and how that might be influenced and improved by application of some different chemistries," Schultheis says. "We're looking at the use of combinations of bleach and sulphur/copper mixtures in extending pumpkin shelf life from a longevity point of view. There was some initial work that was done last year and we're going to continue that study after harvest is complete."
But their work, like many others' research, was halted due to the novel coronavirus pandemic.
"This is the first year where we haven't had a trial for variety testing," Schultheis said. "It's strictly due to COVID-19."
And it's not just the variety testing that took a hit — harvesting has also been a challenge.
"We don't have enough people to help and were not able to manage the way we would like to," says Birdsell. In the past, Birdsell says they've been able to use Extension Master Gardener volunteers to help harvest because the job is very labor intensive.
"This year, volunteers were not allowed and still are not allowed onto the research stations," Birdsell says.
And COVID-19 hasn't been the only deterrent this season.
"Weather has probably been one of the biggest issues this year with pumpkin quality. But outside of that, the biggest thing that we're trying to do right now is make sure we've got safety protocols for farm workers that are picking pumpkins," Birdsell says. "There's been a large effort in partnership with our local health departments, NCDHHS, the Department of Agriculture and the Department of Labor and the NC Agromedicine Institute, to get proper supplies and PPE to the farms and to make sure farm workers are able to stay safe."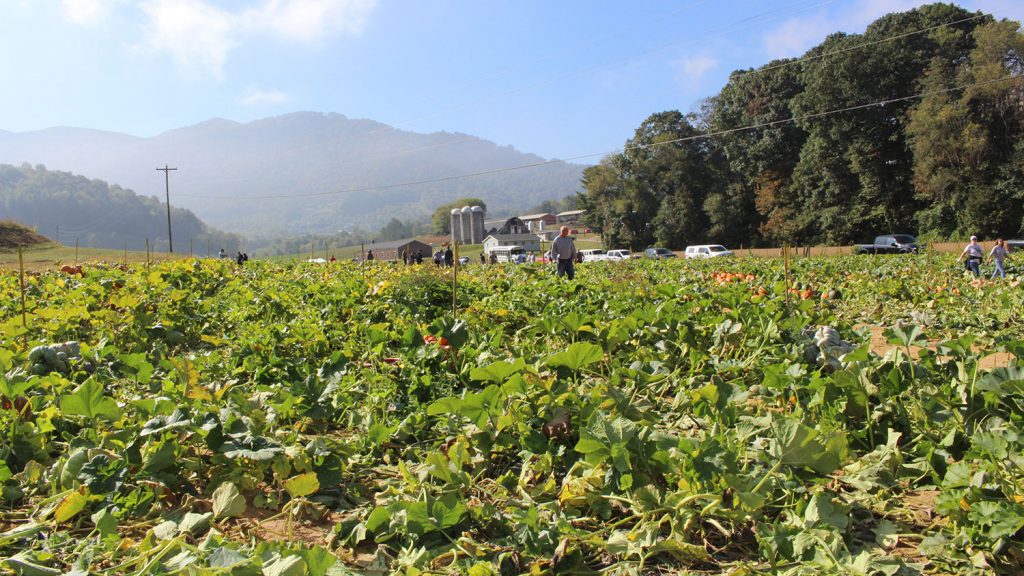 If you choose a pick-your-own patch for your decorative pumpkins this year, Birdsell says NC State has provided guidance to farms on how to stay operational while keeping people safe.
Farmers earn over $20 million in annual farm gate sales annually from pumpkins, but Birdsell says they're anxiously waiting to see how this year's challenges affected sales.
"We're trying to figure out if there are any barriers in the supply stream that might limit sales this year or is it as we actually expect? Folks are home a lot more, they've been landscaping more … they're also going to be decorating their homes a lot more for fall. We suspect to see an increase in demand actually as long as there aren't barriers due to COVID preventing people from buying pumpkins."
Birdsell says there should be plenty of pumpkins to go around since they've still had an above-average growing season.