Ph.D. Student Wants to Fill the Need for Feed Research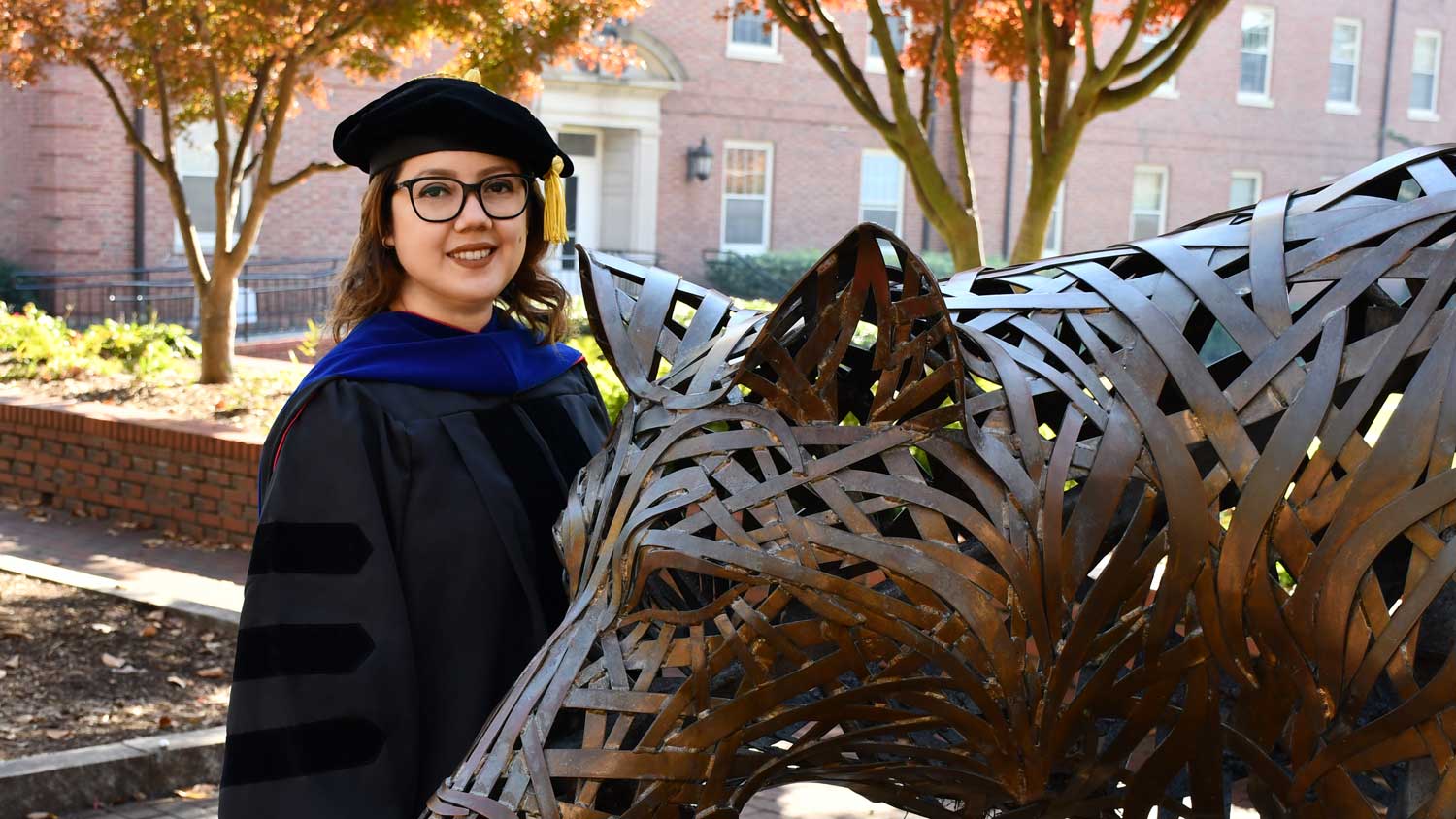 Andrea Rubio has no plans to trade in her dusty T-shirts, pants and boots for more professional attire once she earns her Ph.D. this fall. The Prestage Department of Poultry Science graduate student enjoys working with animals too much.
"If you're in agriculture and working with animals, at some point you realize that it's not going to be clean… but I like it, and I like being in the field instead of the lab or office."
Rubio, a native of Honduras, earned her undergraduate degree in agronomy at the University of Zamorano. Rubio spent her mornings in class and was usually out milking cows or harvesting in the afternoon.
During the senior year of her undergraduate studies, Rubio did an internship at Louisiana State University that introduced her to broiler nutrition and management. She says it was a great opportunity to see and experience the research side of this industry.
It was also during this time that Rubio attended one of the largest poultry industry-related conferences — the International Processing and Production Expo (IPPE).
"My advisor took me to the conference in Atlanta, and I had the opportunity to network. That's where I met a Zamorano alumnus, Wilmer Pacheco," says Rubio.
Pacheco completed his doctorate at North Carolina State University and joined the faculty at Auburn University.
"He was looking for a student in the poultry science and nutrition field, and I was interested in that, so I became his first graduate student," says Rubio.
For her master's degree at Auburn, she focused on broiler nutrition but also began to do more work with feed and feed manufacturing.
"When I started looking at Ph.D. programs, obviously, Dr. Pacheco told me I should look into the program at NC State because they have a feed mill facility. He said if I was interested in learning more about the feed side, that would be a good place to go."
She took Pacheco's advice and contacted Adam Fahrenholz, associate professor and coordinator of NC State's feed milling program.
"I asked Dr. Fahrenholz if he had a spot for me in his program, and thankfully one of his senior students, JT Pope, was graduating. It was perfect timing," explains Rubio.
Rubio started the Ph.D. program in 2018 and, since then, has spent most of her days at the feed mill making feed for swine and animal science faculty. She also assists in much of the feed research for the Prestage Department of Poultry Science.
"I want to be in the industry doing either broiler nutrition or feed milling. Ideally, I want to be in the sweet spot and combine both."
Fahrenholz says Rubio excels as both a researcher and student.
"Many excellent Ph.D. students stop there, but Andrea has also excelled at providing instruction, working as part of a research production team and acting as a facilitator beyond her own projects," says Fahrenholz. He says Rubio routinely goes above and beyond.
"She is very pragmatic about tasks and chooses to focus on what needs to happen and how best to proceed, rather than on the overall situation or any annoyance of picking up the slack for others. She wants to learn, to help, to be involved, to work and to be of service," he adds.
Rubio has also received a few awards since coming to NC State. In 2020, she was the inaugural recipient of the John Thomas Brake Memorial Poultry Science Graduate Endowment Award.
"I felt very grateful and honored," says Rubio. "Dr. Brake was very accomplished in industry and academia."
Rubio also received the North American Colleges and Teachers of Agriculture Award (NACTA). She says earning the prestigious award is a highlight of her time at NC State.
"My doctoral journey would have not been possible without Dr. Fahrenholz's mentoring, patience, enthusiasm and immense knowledge. His advice on both research and on my career have been invaluable. I feel grateful and excited to keep collaborating with him and the feed mill team," she says.
With the semester coming to a close, Rubio is thinking about her next chapter post-graduation. She plans to continue doing research in Fahrenholz's lab but is also applying for jobs in industry.
"I want to be in the industry doing either broiler nutrition or feed milling. Ideally, I want to be in the sweet spot and combine both."