Partner Profile: DSM Strengthens Research Partnership with NC State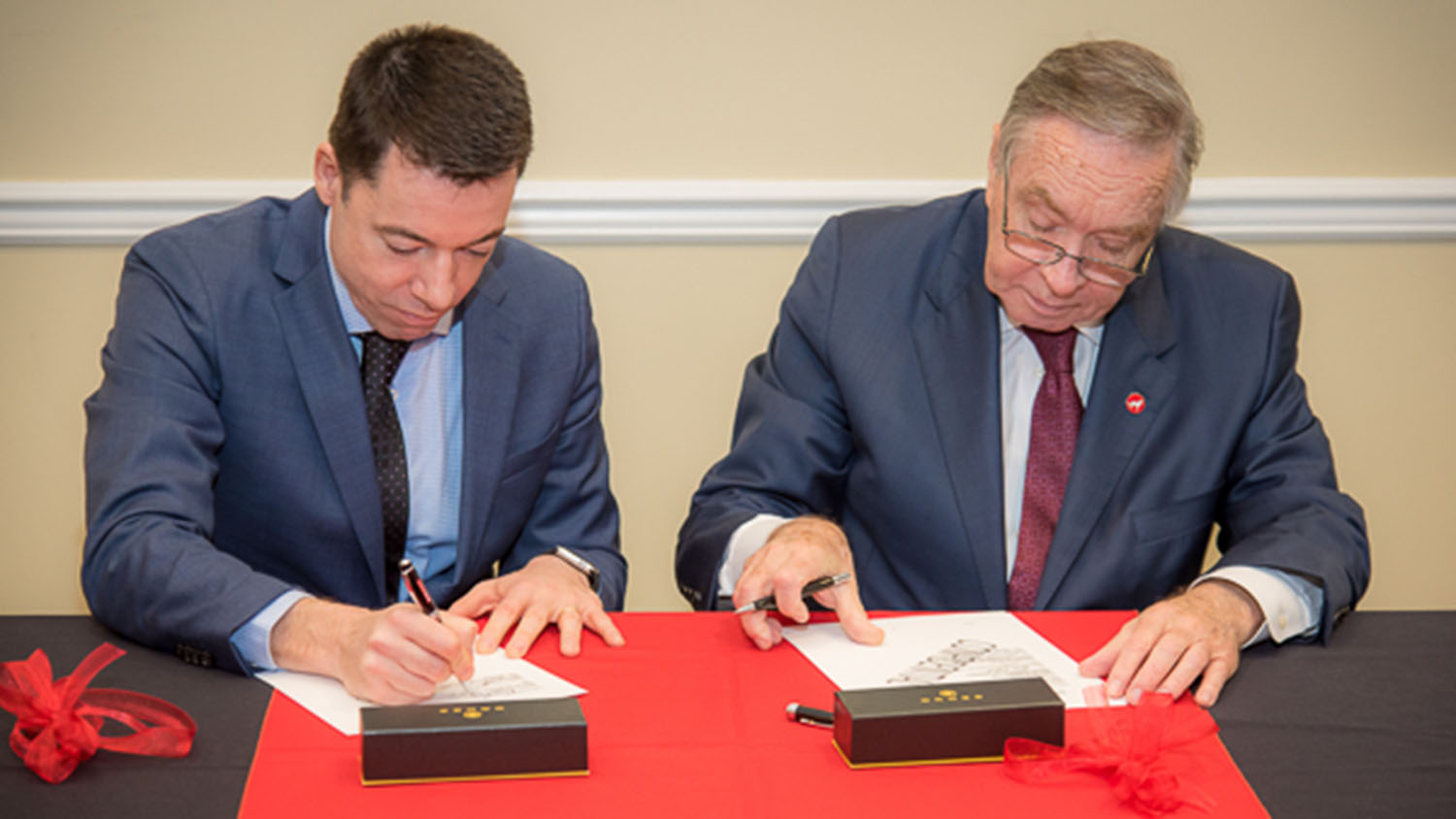 As doctors and scientists are continuing to realize the varied ways the community of microbes that inhabit our gut impact human health, other researchers are exploring the importance the gut microbiome has on the animals in our lives, whether they are the dogs and cats that keep us company or the swine, poultry and cattle we produce.
Two institutions studying animal gut health and nutrition — NC State and DSM Nutritional Products, a global science-based company focused on nutrition, health and sustainable living — signed a memorandum of understanding (MOU) to enhance their research partnership, on February 19.
The MOU serves as a non-binding roadmap for deepening DSM's partnership with NC State University at large, with the College of Agriculture and Life Sciences (CALS) and the College of Veterinary Medicine (CVM) being the specific partners in the area of animal nutrition and health research.
Help CALS grow talent, solutions and the economy by supporting and engaging with our academic, research and extension efforts.
The partnership focuses on three research areas: animal gut health, precision nutrition and data-driven decision making for animal health. Advancements in these three areas will enhance animal welfare, decrease disease prevalence and even improve feed conversion in food animals.
While past research collaborations between DSM and NC State have focused on trials in poultry and swine health, together CVM and CALS have facilities and ongoing research projects in animal health and production for farmed fish, cattle, small ruminants such as sheep and goats, as well as companion animals.
During a ceremony held at the Dorothy and Roy Park Alumni Center on NC State's Centennial Campus, Eduardo Alberto, vice president of DSM North America Animal Nutrition and Health, signed the agreement along with NC State's Mladen Vouk, vice chancellor for Research and Innovation. Paul Lunn, the dean of CVM, and Harry Daniels, the senior associate dean of CALS, were also in attendance.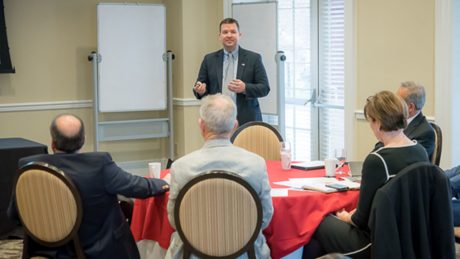 Before the signing, four faculty members presented on their research in the areas of animal gut health, precision or data-driven animal health, and the specialized facilities available at the Lake Wheeler Road Field Lab, CVM and university facilities around the state.
CALS' Daniels talked about progress CALS has made in converting the Lake Wheeler Road facility into a future-ready farm, including installing fiber optic cables to support real-time data collection for everything from soil conditions to heat cameras for watching animals in barns. In order to turn all of that data into actionable items, CALS has expanded its partnership with SAS around data analytics in agriculture.
DSM expects the MOU will lead to an increase in collaborative research projects in the three research areas and strengthened service agreements to access technical expertise at NC State, said Tom Frost, the director of Innovation and Application at DSM Nutritional Products. Furthermore, DSM recognizes the value of university and CALS facilities such as the Feed Mill Education Unit at the Lake Wheeler Road facility and is considering investing in renovating or expanding some of these exceptional facilities.
Frost added that through the MOU, DSM agrees to provide financial support for several Ph.D. students studying animal gut health and precision nutrition and hopes for enhanced relationships with, and recruitment of, the top-notch students from CALS and CVM.
Vouk agreed that the MOU will lead to a productive and enduring partnership for both institutions.
"We have several characteristics that should help us work together very well," said Vouk, "One is that NC State has a culture of partnership. We have a number of successful public/private partnerships like the Prestage Department of Poultry Science and the new N.C. Plant Sciences Initiative. Also, North Carolina is home to a strong agriculture economy. We have an opportunity to create a relationship between DSM, the integrated food animal industry, and NC State where all three can work together to solve problems and create efficiencies that will have positive effects on everyone's bottom-line."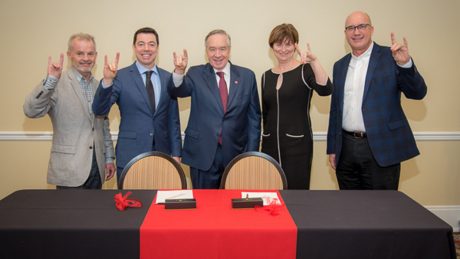 Five Questions with DSM's Eduardo Alberto
Why is this partnership important to DSM?
DSM is an innovation driven company. We believe that we can't tackle the challenge of innovation by ourselves. So, it is important to be part of the ecosystem that wakes up in the morning thinking about innovation. NC State is an outstanding option for us as a leading agricultural university in North America. We believe that this partnership is going to help us to be more innovative.
What does DSM hope will be the outcome of this partnership?
We also believe this partnership is going to bring together more innovative ideas because one plus one doesn't equal three. We're going to be able to tap on this large pool of brains from NC State and combine ideas with the technology we bring from the marketplace. We're sure that the faculty here are going to come and transform good ideas and great ideas and help producers in animal production or companion animals.
What made NC State and North Carolina the best place for DSM to come for this kind of research?
You have an incredible university that has a high reputation, high ranking in the United States and globally. It has an incredible program around agriculture and in animal production in the College of Veterinary Medicine, close to Research Triangle Park. North Carolina has this entire cluster — kind of the Silicon Valley around life sciences —here. Another reason is the Raleigh area, right? It's a booming area in United States and one of the best places to live in America right now. Putting those two together is unbeatable.
How does the RTP community, including our local universities, allow us to build on the newly deepened partnership with DSM?
The Research Triangle Park is one of those areas of innovation that we cannot discount. It's so important to have a group of people thinking about "how do I transform?" and "how do I define problems what are the potential solutions?" Some innovation and transformation can happen in isolation, but a big part of innovation involves finding commonalities on operationally disconnected points. We believe that being part of the Research Triangle Park, being part of a broader space of thinking, innovating and transforming is important. The work we're leading is super important for finding the proper solutions, the ones that are really going to be breakthroughs, that are going to drive the next big step. The challenges are becoming bigger and more complicated, right? This requires us to transform together.
How will this new deepened relationship lead to improvements in gut health, data-driven animal health, precision health, and ultimately the economy?
Those are the core areas DSM is exploring, globally. We are focused on the innovation pipeline around those areas. We think by partnering with NC State, we are going to be able to accelerate the transformation around those spaces. NC State is already exploring those areas in big data, the gut microbiome and gut health. We're think that when we combine the power of DSM and the technology we bring to the table and technology we're developing in our pipeline, with the expertise NC State has, the faculty you guys have, we're going to create a research powerhouse.
Help CALS grow talent, solutions and the economy by supporting and engaging with our academic, research and extension efforts. Connect with us.