Newswire
Pardoned Turkeys Gobble Up Attention at NC State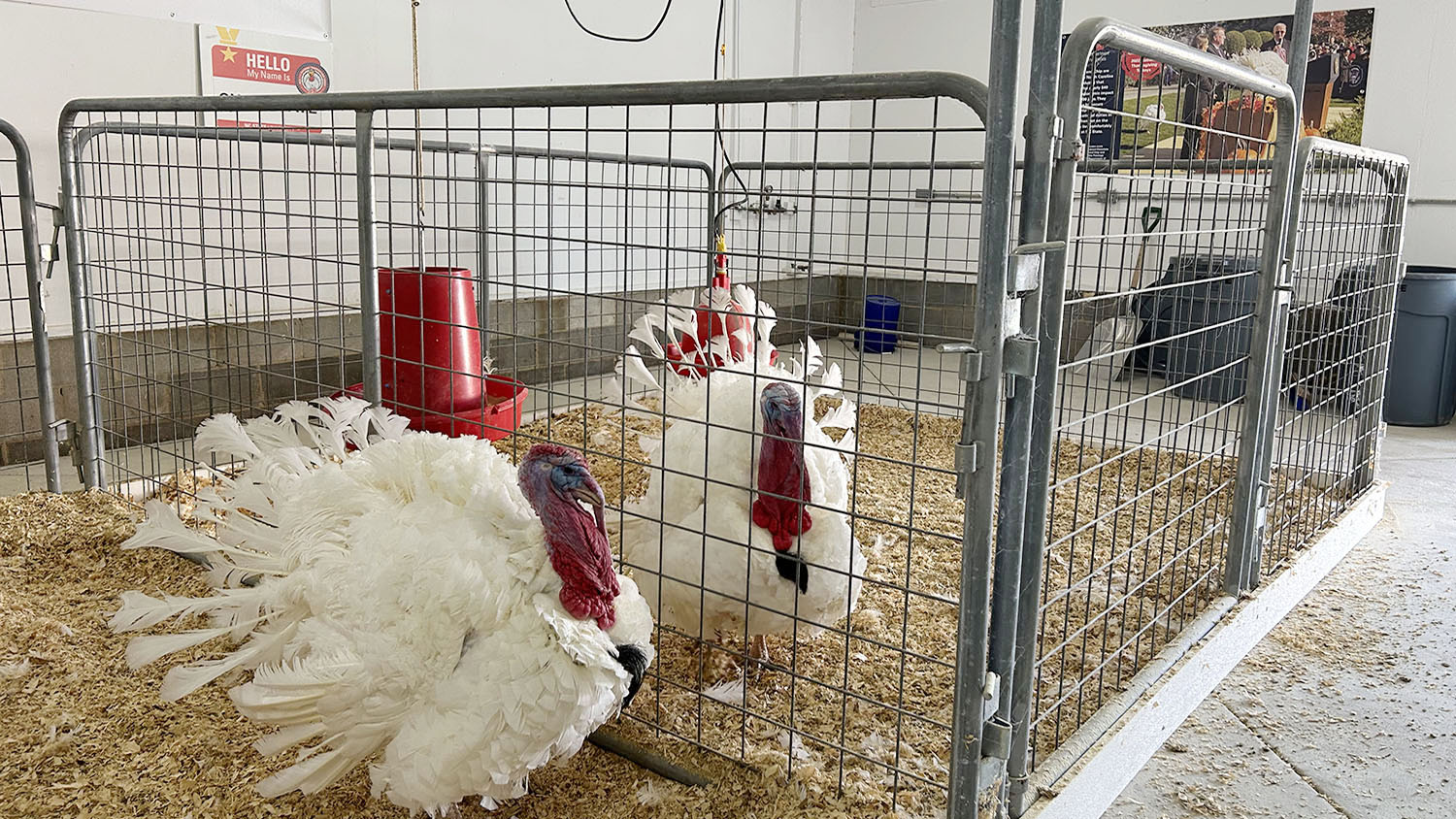 It's been one year since Chocolate and Chip, the 2022 National Turkeys, arrived at North Carolina State University – and they've been living their best lives ever since.
After receiving a Thanksgiving pardon from the President of the United States, the handsome white feathered Toms have made themselves quite at home at the College of Agriculture and Life Sciences' Talley Turkey Education Unit where they have exclusive, climate controlled pens all to themselves.
While Chocolate and Chip are not the first turkeys from North Carolina to be pardoned at the National Thanksgiving Turkey Presentation, they are the first pardoned pair of birds to be housed at NC State University.
"For the National Turkey Federation to ask us to keep the birds that were pardoned by the president, yes, that's an honor and a privilege," says Jesse Grimes, NC State Extension turkey specialist and professor of turkey management. "They are here to enjoy life and get people talking about turkeys."
As ambassadors for all things turkey and agriculture, Chocolate and Chip have thrilled both school-age children and college students alike over the last 12 months with appearances at Ag Awareness Week and the college's Farm Animal Day. They have also greeted researchers during events like the Food Animal Innovation Summit and brought smiles to families who attended the Got to Be NC Festival. The twosome were also tapped to greet North Carolina Gov. Roy Cooper and United States Trade Representative Katherine Tai during a visit in September promoting a new international trade deal for the turkey industry.
Nationally, North Carolina is ranked No. 2 in total turkey production. Overall, poultry is the No. 1 agricultural industry in the state. The poultry industry accounts for nearly 150,000 jobs across more than 5,000 farms in North Carolina.
The Prestage Department of Poultry Science is a key partner for the industry, providing research, teaching and outreach with a fully integrated approach that focuses on turkeys, broilers and laying hens. At the department's education units, such as the Talley Turkey Education Unit and the Chicken Education Unit, students get hands-on experience in all aspects of the industry.
"Chocolate and Chip serve as honorary faculty members," says Peter Ferket, associate head of the Prestage Department of Poultry Science, noting that because the birds were hand raised, they are comfortable in front of an audience. "They're very used to having people around and that really benefits us because it allows us to bring people in. They can actually touch them (the turkeys) and handle them."
The turkeys also provide the opportunity for students and the public to learn more about the animals' personalities and behavior. As the dominant male, Chocolate is eager to display his tail feathers, while Chip is a little more reserved and tends to keep his feathers more to himself.
"It's very valuable for our students to see that," says Ferket.
NC State University produces about one-third of all poultry science graduates in the U.S. with a 95% job placement rate.