Talk Turkey with Chocolate, the 2022 National Turkey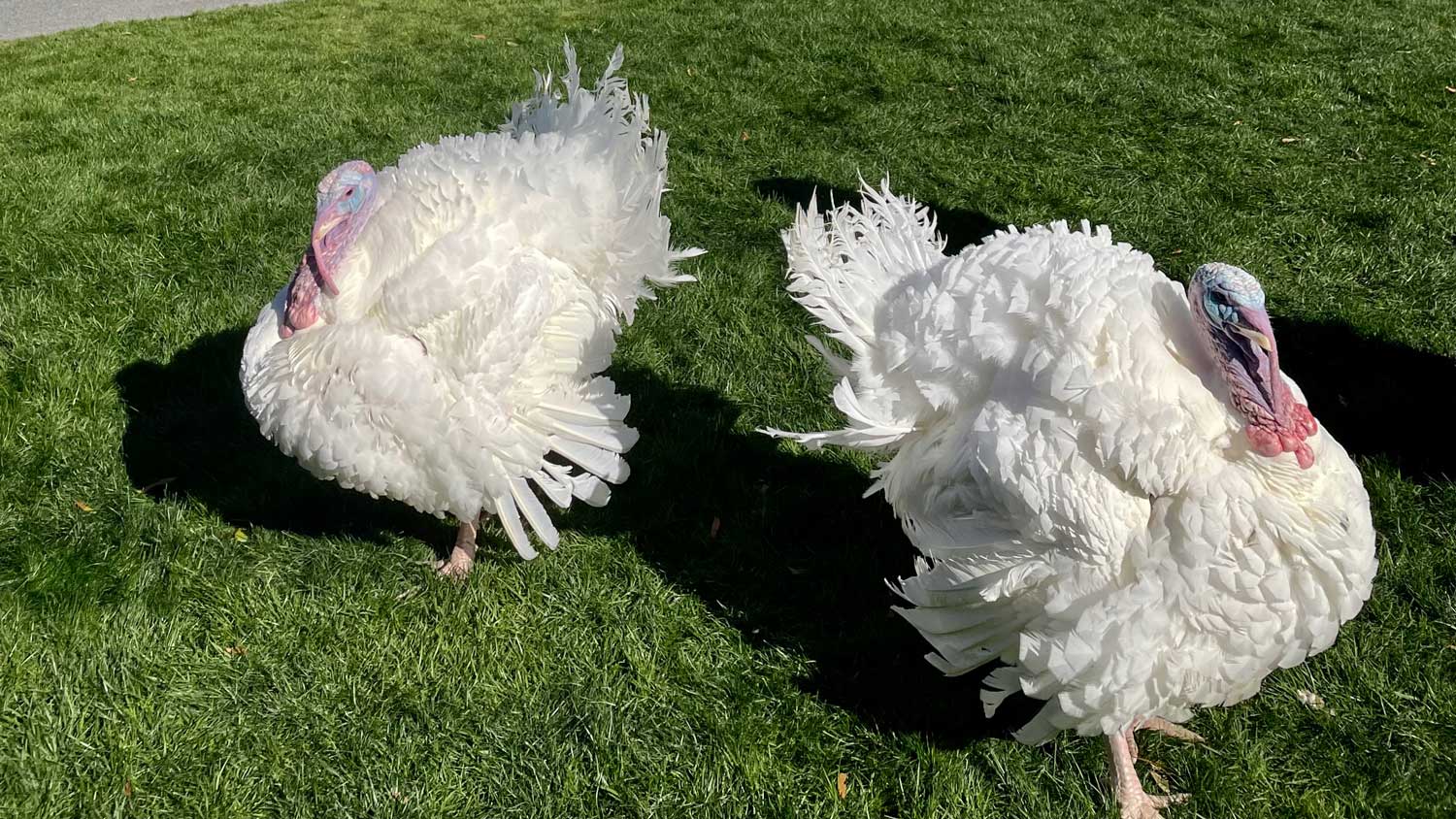 News cameras. A Virginia rest stop. The fanciest barn I've ever seen. Even the President of the United States. My brother Chip and I, known to you as the 2022 National Turkeys, have seen it all in the past week. Now that we're nestled here in our state-of-the-art retirement home at NC State's Poultry Education Unit, I hope you'll indulge me in a little reminiscing.
It all started at Circle S Ranch in Union County. Chip and I had barely sprouted feathers when our caretaker Ronnie Parker – with the help of his grandchildren – picked us out of the flock of 50 and started training us for what would become our greatest honor and saving grace.
We couldn't for the life of us figure out why he wanted us to sit on a table and spread our feathers, but I never minded fluffing my tail and shaking my waddle. Chip thinks we were chosen for our ability to keep calm and carry on no matter what's happening around us, but I'm pretty sure I became the chosen one because I'm so pretty.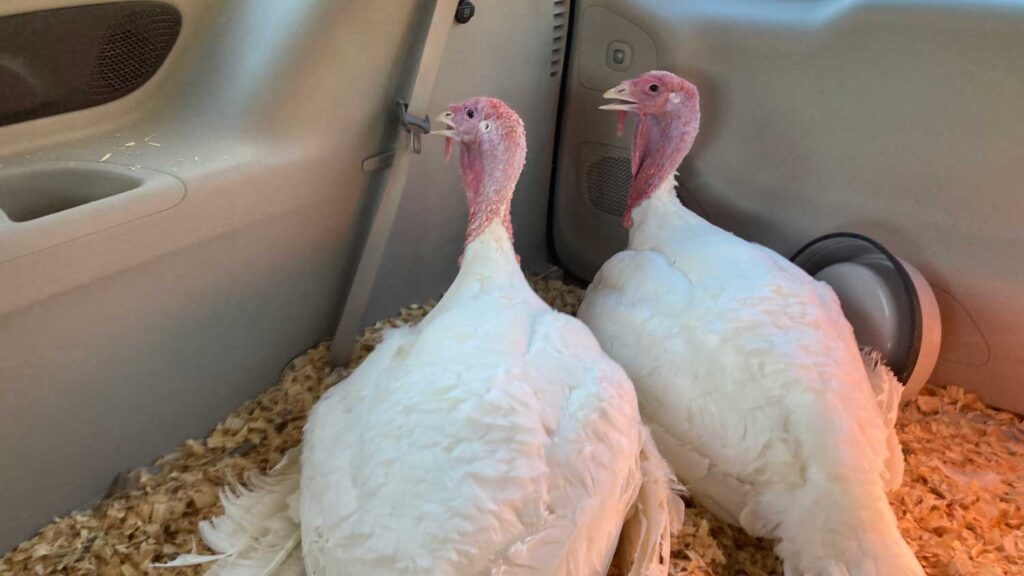 Next thing I knew, we were loaded in the back of a shiny, mobile pen called a "minivan" and set off down the road to Washington, D.C. Mr. Parker and the farmers in the car were fairly excited about showing us off as the National Turkeys, so much so that when we stopped to get some fresh air in Virginia, they let a crowd gather around the tailgate to get a peek at us. We obliged with some gobbles and shaking of our tail feathers.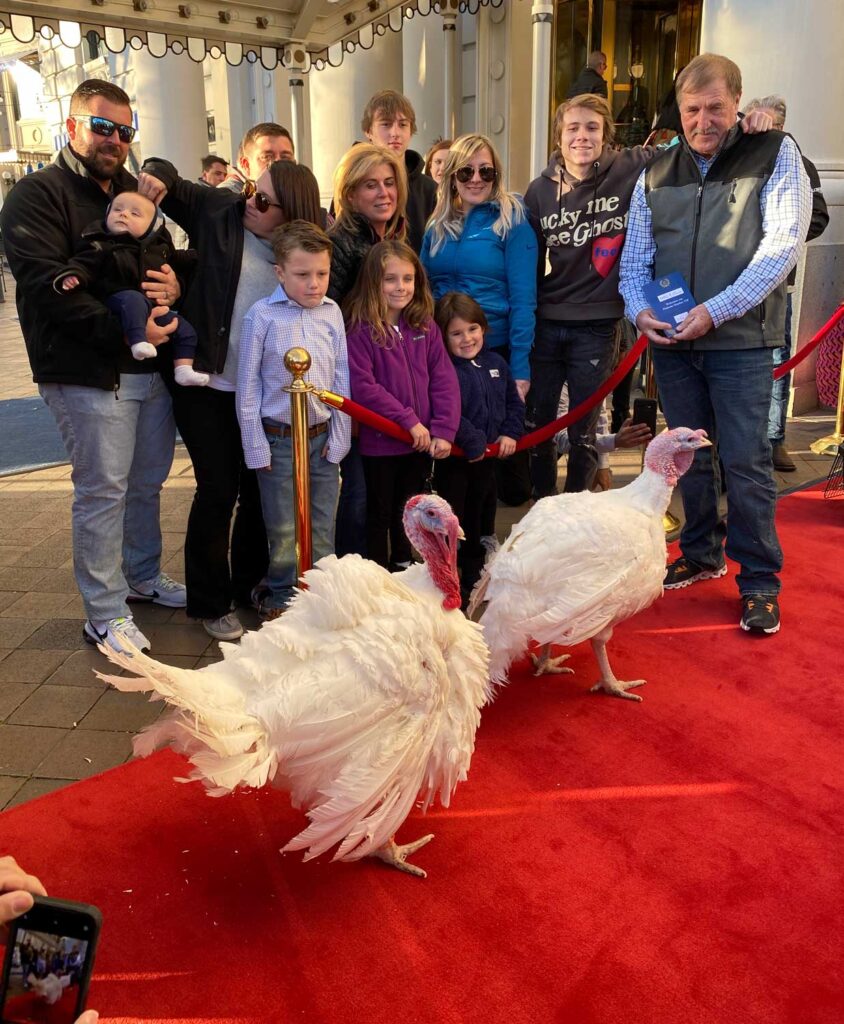 Our car journey ended at the Willard InterContinental Hotel in our nation's capital where we walked down a red carpet and rode an elevator to our own estate room. Mr. Parker and his people with the National Turkey Federation thought it was elegant and luxurious. Chip and I were just glad the people in the fancy clothes knew we preferred down-alternative pillows and plenty of wood chips.
After a good night's roost, we were escorted to the south lawn of the White House where we met President Joe Biden. This was the moment we were trained for. As I stood proud as a peacock on the table and spread my white feathers for the nation to see, he officially pardoned me and my brother.
Being a humble turkey from Circle S Ranch, it was a big moment for me. Chip was chosen as the alternate National Turkey. While I stood proud on the table, he strutted back and forth on the lawn keeping an eye out for Commander, Mr. Biden's German Shepherd, you know, just in case he got any ideas about a game of chase.
It was quite a whirlwind – video cameras, reporters, lots of folks smiling and clapping at us – but we loved the attention.
Now, you'll find us in private quarters at NC State's Lake Wheeler Road Field Laboratory, and I mean this place is nice. Outside, we see rolling green hills and red roofed barns. Inside, we each have plenty of space in our 100-square-foot, climate-controlled pens. The College of Agriculture and Life Sciences (CALS) poultry experts are making us a biosecure mobile coop so that we can continue to perform our educational duties at the North Carolina State Fair and CALS Farm Animal Days.
Chip and I are part of the North Carolina poultry industry that accounts for $39.76 billion in economic impact and close to 150,000 jobs in our state, making it the first in the nation for poultry production. Circle S, where we grew up, is one of around 5,000 farms that produces poultry in the state. Our new caretaker, Professor Jesse Grimes, says we're going to help educate students and inform the public about modern farming practices, North Carolina agriculture and the importance of the poultry industry. This is just my speed for retirement: comfortable accommodations with my brother for companionship, young people to take care of me and I still have a spur in the game giving back to the community.
Yes sir, I couldn't be prouder to be the National Turkey this year. I hope you'll come and see me at special events.