Alumni and Friends
Syngenta Internship Endowment to Strengthen Students' Regulatory Knowledge and Leadership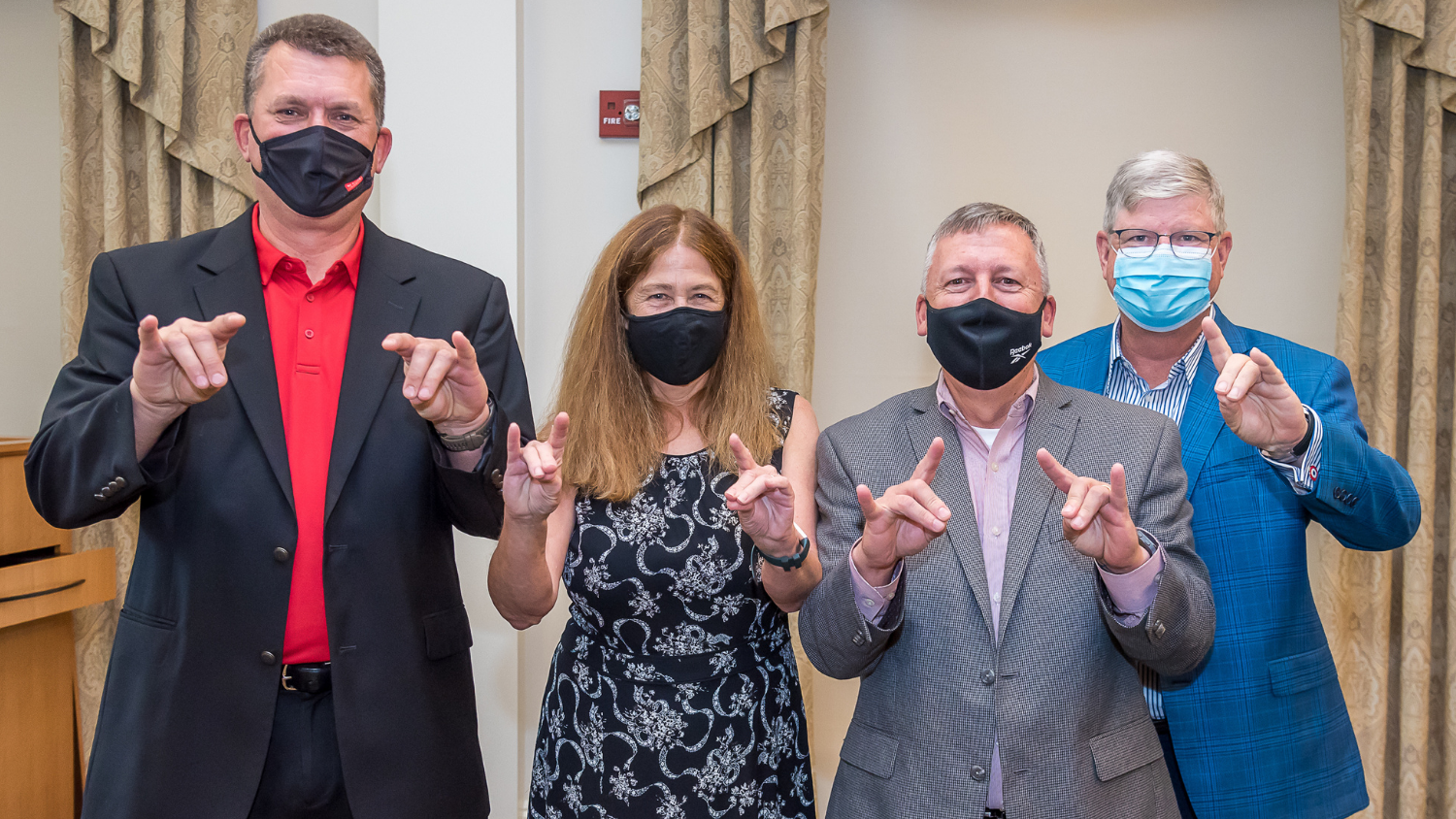 Janis McFarland walked into NC State's Dorothy & Roy Park Alumni Center for what she thought was a meeting on agricultural science and regulatory policy. Instead, she stepped into a major celebration that culminated into one of the biggest surprises of her life: the announcement of a major endowment in her name.
The recent event, hosted by the N.C. Plant Sciences Initiative's Center of Excellence for Regulatory Science in Agriculture (CERSA), celebrated a nearly 30-year partnership between Syngenta and NC State.
The focus of the celebration: the Janis McFarland CERSA Internship Endowment, which supports undergraduate and graduate students enrolled in NC State's College of Agriculture and Life Sciences (CALS) with getting real-world internship experience in the crop science regulatory field.
"I've been overwhelmed with gratitude by this endowment," said McFarland, who recently retired after serving as Head of Regulatory and Stewardship at Syngenta Crop Protection in North America. "Syngenta has been a wonderful supporter of the university and agricultural research, extension and education. This is just one more amazing contribution the company has made, and I'm honored to be associated with it."
The Syngenta-funded endowment, which was designed to help develop future leaders in the ag technology field by strengthening student education and training in the ag regulatory sciences, supports up to five three-month internships for each year over the next four years.
Vern Hawkins, president of Syngenta Crop Protection North America, said that supporting the endowment was ideal for multiple reasons.
"When Janis retired, we were looking for a way to honor her and all her many contributions to the company and agriculture, and this was just a natural fit," said Hawkins. "Syngenta has a longstanding partnership with the university, so this was a great way to support NC State, the Center of Excellence for Regulatory Science in Agriculture and an internship program that will help develop our future leaders, which has long been one of Janis' passions."
A Comprehensive Internship Program
The Janis McFarland CERSA Internship Endowment supports education and real-world training in one or more aspects of the regulatory sciences, including:
Regulatory testing and approval processes for new products;
Methods of assessing and communicating the risks and benefits of new technologies;
The organization and facilitation of dialogue among stakeholders;
The development of scientifically sound regulatory research processes; and
The identification and investigation of research questions in agricultural regulatory science.
Students can choose to apply for these internships from a pool of opportunities sponsored by mentors representing a range of governmental agencies, non-governmental organizations (NGOs), or agribusinesses involved with the regulatory sciences in agriculture. Mentors will review applications and select students based on student experience and expectations. All successful applicants will kick off their internships by meeting their fellow cohorts and mentors at a full-day professional development workshop.
For summer 2022, the Syngenta endowment will support internship projects this summer with ADAMA, Bayer Crop Science, IR-4, Minor Use Foundation, Novozymes, Syngenta and USDA-FAS. Internship opportunities for students will change annually.
The internships are a welcome opportunity for CALS students.
"To see a company like Syngenta take the initiative to give students more opportunities to distinguish themselves professionally, it makes me more confident that my peers and I will not be left without jobs after completing our college degrees," said Wes Turner, a CALS undergraduate student who majors in crop biotechnology and who spoke at the event. "I am looking forward to seeing what this regulatory science program will do for students here at NC State as well as those in the industry."
McFarland says that the endowment and the internships it supports can help unleash the true potential for NC State's students.
"This generation of students has the talent to tackle major issues in agriculture, improving the environment and ecosystems while producing significantly more food for the world," said McFarland. "I believe that these students can tackle issues differently. They analyze data and information-and use technology-in different ways that will leverage scientific advances. They have a commitment to service, and they're the ones that will come up with great solutions for the future; it is important for us to support and empower them."
The first cohort of students are expected to begin their internships in May 2022. After the three-month internship period ends, these interns will engage in service learning activities at NC State's Centennial Campus Magnet Middle School in Raleigh to help improve STEM education and inspire young students to enter college-level STEM programs. If public health circumstances allow, the interns may also present their work at a professional meeting hosted by CERSA.
"This is an incredible program – and timely," said Danesha Seth Carley, Director of CERSA, the entity managing the internship program. "No one has anything like this in the rest of the country, and we are very proud to have the support and interest from all our stakeholders to be able to work to drive transparency and collaboration in the field of regulatory science, especially as it relates to agriculture."
CERSA's Unique Role in Ag Regulatory Science's Advancement
Regulatory science experts across all sectors have traditionally spent months ― and sometimes years ― helping newly hired scientists understand the complexities of regulation and risk assessment to ensure that their research and product development efforts support regulatory standards. This vital training need was a key reason for the creation of CERSA, a first-of-its-kind research center that advances regulatory science in agriculture through education, research and engagement.
CERSA was conceived and developed by a working group of ag regulatory experts from government entities, NGOs, and small and large organizations, including Syngenta.
"Agricultural product regulation is closely intertwined with research and development, and it was traditionally taught through on-the-job training in industry," said Adrian Percy, Executive Director of the N.C. PSI. "CERSA is changing all this through this unique internship program and its undergraduate and graduate certificate programs. Syngenta, through this endowment and their active involvement in our internship programs, is setting up our students for success."
Colleagues say that McFarland is one of the most accomplished and highly respected regulatory science leaders in the crop protection industry, someone who is deeply committed to the continual improvement of the science-based regulatory framework in agriculture. They also said her career-long passion and commitment to her teams; to the research, development and stewardship efforts behind Syngenta's many crop protection products and technologies; and to meeting the needs of growers – was always clear. 
"Janis is such a powerful force for so many of us," says John Abbott, who took over McFarland's role as head of Syngenta's regulatory and stewardship efforts in North America after her retirement. "With so many people retiring and new folks getting hired, it's important to consider how to better train and prepare them. Janis was also involved in the concept behind CERSA, so this endowment is a great way to honor her."
A Model Partnership 
The celebratory event was an opportunity to share examples of Syngenta's longtime partnership with NC State. During his remarks, College of Agriculture and Life Sciences Dean Richard Linton recognized the research collaborations between Syngenta and CALS faculty on pollinator health, pest management, regulatory science and other vital areas of study.
Linton also recognized Syngenta and its leadership for their involvement with the N.C. Plant Sciences Initiative (N.C. PSI), NC State's next-generation initiative that employs interdisciplinary, team-based science to solve some of the grandest challenges facing agriculture and society today.
"We've partnered with Syngenta on equipping the NC State University Plant Sciences Building with four of the world's most advanced growth chambers, capable of simulating literally any environmental or climate condition," said Linton. "Only eight chambers like these exist in the world, and we have four of them. This world-class equipment is critical for us to get the job done right – and to attract and retain star faculty."
"This is the kind of successful partnership that our college and university aspires to replicate with others," Linton said. "All of us at CALS and NC State are deeply grateful for Syngenta's commitment to our joint vision of advancing agricultural sciences in our state, nation, and world."