New Course Aims to Seek, Destroy Pathogens in Food Processing Facilities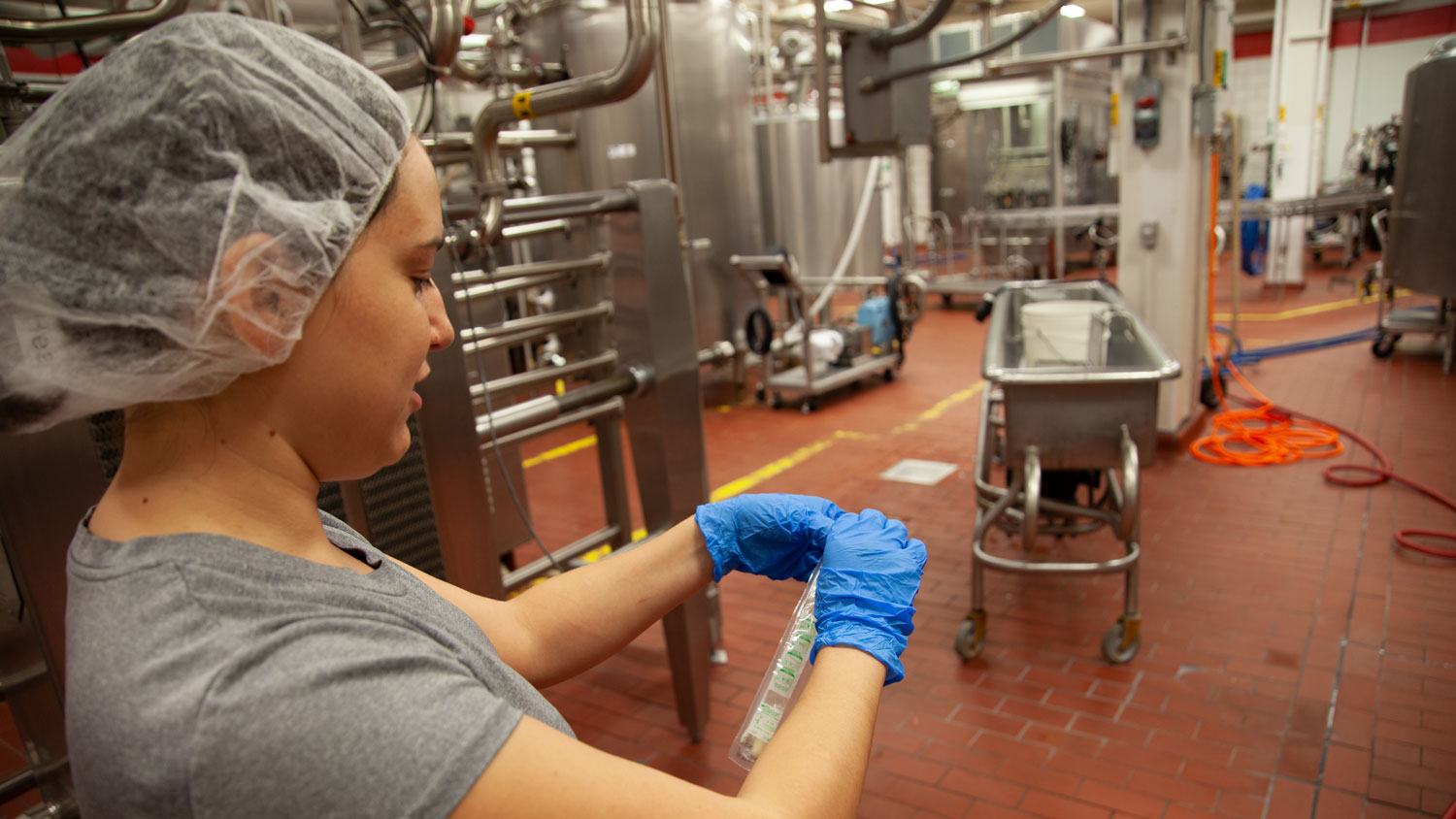 Professionals needing to create and implement an environmental monitoring program (EMP) can do so with ease thanks to a new course being offered at NC State's College of Agriculture and Life Sciences.
The Department of Food, Bioprocessing and Nutrition Sciences launched a new online certification course in November specifically to help dairy processors with developing EMPs. 
In 2017,  the Food and Drug Administration (FDA) linked a Listeria outbreak to a creamery in New York. The company recalled all of its soft, wash-rind raw milk cheeses and the FDA conducted an investigation of the creamery after the multi-state outbreak caused eight people to get sick, two of whom later died as a result of the illness. The FDA took samples and found more than 50 positive results of Listeria monocytogenes, 10 of which were on food contact surfaces. Essentially the FDA determined that the company was not using effective cleaning and sanitizing practices. That's where having an EMP could have prevented the outbreak and the recall.
Who Benefits?
The course is designed for dairy processors. It was funded by the North Carolina Dairy Foundation to better assist the state's dairy industry to get ahead and resolve issues prior to federal investigations. However, the concepts taught in this course can be applied to any field and to anyone in the food manufacturing and processing industry. 
The Need for EMPs
For many facilities producing products that are exposed to the environment between processing and packaging steps, the FDA is requiring them to have an EMP in place to make sure that their cleaning and sanitation practices are actually being performed correctly and effectively. Having an EMP in place helps ensure that products are safe, and it could potentially help prevent costly recalls for businesses. Experts call it a "seek and destroy" program for food safety. In other words, it is a systematic approach to finding niches in food processing where environmental pathogens exist so that you can then reduce the effects of their presence.

The Course
The course itself takes about eight hours to complete and is available to anyone in the food manufacturing industry. The course is online and self-paced, with each lesson taking between 25 to 40 minutes to complete. People can take the course as many times as they need to in order to receive their certification. The final lesson is a case study where students have to figure out the case of the hidden Listeria. 
The process of creating and implementing an EMP takes time, but it is achievable. This course is designed to meet students where they are using adaptive learning, and includes different interactive learning activities that make it relatable for dairy processors. Graduate Teaching Assistant Stephanie Maggio and Associate Professor Clint Stevenson are teaching professionals how to know whether Listeria monocytogenes or other pathogens are in their environment. Essentially, an EMP is a way to help verify that facilities and plants are hygienic and free of pathogens.
Achievable EMP by Example
Maggio actually designed and implemented Howling Cow's EMP. When she first joined the team, they had a basic food safety plan in place and needed to add an EMP program to this plan in order to comply with new FDA requirements.
"I went around and looked for the most appropriate sites to sample based on where Listeria monocytogenes would likely hide in the facility. I'm looking at difficult-to-clean places that get wet and might stay wet for a long time," says Maggio. After developing the plan, identifying sample sites, Maggio wrote the sampling schedule of how frequently to collect samples, the number of samples to collect, and which surfaces to get samples from. Then she implemented her work, collecting 15 samples every two weeks and sending them off to a lab for analysis. Howling Cow doesn't run every day, but Maggio says larger processors who run every day, all day, should collect more samples and more frequently.
Course Discount
Currently, there's a discount code (EMP75) available to save 75% on the course for dairy processors outside of North Carolina. For those in state, there is a separate code to take the course for free. To receive that code, N.C. processors should contact Maggio via email: samaggio@ncsu.edu 
Julie Yamamoto served as the instructional designer and project coordinator and Nathaniel Powers served as the instructional developer. Associate Professor Clint Stevenson and Graduate Teaching Assistant Stephanie Maggio, are teaching the course.