CALS Weekly
NC State Researchers Continue Improving Sweetpotatoes for Africa
Sweetpotatoes are a critical crop for North Carolina, and many places around the world.
People in the U.S. may be familiar with the Covington sweetpotato, which Craig Yencho, a William Neal Reynolds Distinguished Professor of Horticulture, developed with Kenneth Pecota, a Senior Research Scholar in the Department of Horticulture.
But Yencho and Pecota have also developed other varieties with different traits such as different growing seasons and different pest and disease resistance for local and global growers. Having reliable early maturing varieties as well as later maturing varieties help farmers to balance their labor demands.
Yencho has worked in Africa for over 20 years and recently received a three-year, $15-million-dollar grant from the Bill & Melinda Gates Foundation as part of a multidisciplinary team of scientists led by the International Potato Center (CIP), to continue improving sweetpotatoes in Sub-Saharan Africa.
CIP, which is headquartered in Lima, Peru, is leading the overall project called SweetGAINS, or Sweetpotato Genetic Advances and Innovative Seed Systems. Yencho is leading research on new genomic tools to improve sweetpotato breeding.
His team — spread out across 15 time zones — are developing these new genomic tools while also focusing on the needs of farmers in Sub-Saharan Africa. Of the grant's $15 million, $3.6 million will go to NC State.
"The vast majority of the growers we work with in Sub-Saharan Africa are very resource poor, farming a half acre or quarter of an acre, and many of them are women," Yencho said. "A major emphasis of our previous work was introducing orange-flesh sweetpotatoes to Africa to address vitamin A deficiency. In the next iteration of the project, we're also going to improve the white-, cream- and yellow-flesh sweetpotatoes that are African staples, as well as introducing purple-flesh sweetpotatoes."
Vitamin A deficiency in little children can cause blindness and decreases their ability to fight infections including malaria, HIV, measles and potentially fatal diarrheal diseases. The World Health Organization estimates 250 million preschool children, especially those in Sub-Saharan Africa and Southeast Asia, don't receive enough vitamin A.  The team will also focus on traits such as cooking quality and palatability that drive overall acceptance to new varieties of Sweetpotato.
Advanced Genetic Tools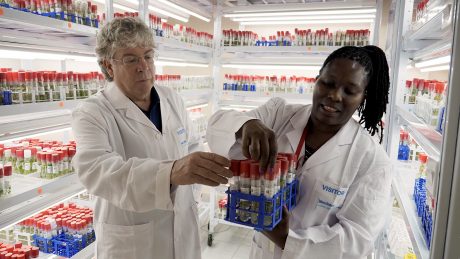 This project builds off of Yencho's previous five-year project, called the Genomic Tools for Sweetpotato Improvement Project or GT4SP. The current team, which is composed of many of the same members of the GT4SP project, will be advancing genomic tools to improve sweetpotato breeding as well as continuing annual meetings and training sessions for African sweetpotato breeders.
One of these genetic tools is building two reference genomes, or maps of all the genetic information for two different varieties — a project similar to the Human Genome Project — but made much more complicated because sweetpotatoes have six copies of each gene rather than the two copies humans have. Zhangjun Fei, a researcher at the Boyce Thompson Institute at Cornell University, is leading this effort. During the GT4SP project, the team sequenced two of the wild relatives of sweetpotato.
These wild relatives known as Ipomoea trifida and Ipomoea triloba, only have two copies of each chromosome and gene. Because of this, they were much easier to assemble into a high-quality genome. These reference genomes are useful for identifying markers and genes. However, Yencho said, having a reference genome of a hexaploid cultivated sweetpotato is still very desirable. All the data is stored in a dedicated database called SweetPotatoBase that is managed by Lukas Mueller and his team at Boyce Thompson.
"Having potentially six or more copies of each gene makes it a much, much more complex task, but we think we now have the analytical tools and the technology to do it," Yencho said. "No matter which way you turn, we're encompassing big data. It all starts with our genome sequencing initiative. We're developing large data sets and trying to wrangle those data sets down to actionable items so that breeders can make breeding decisions on a timely basis. It is complex."
Robin Buell, a researcher at Michigan State University, is leading a study to determine which genes are "turned on" in which parts of the sweetpotato plant. This information will be shared with the sweetpotato breeding community.
Zhao-Bang Zeng, also a William Neal Reynolds Distinguished Professor in NC State's Department of Horticultural Science and a member of the Bioinformatics Research Center, and his team are working to develop a totally new analytical platform for genetic mapping, quantitative trait loci analysis, and genomic selection methods in sweetpotato that promises to benefit not only sweetpotato, but many other crops that have more than two sets of genes such as potatoes, bananas and strawberries, Yencho said.
Andy Baltzegar, the director of NC State's Genomic Sciences Laboratory and Bode Olukolu, an assistant professor at the University of Tennessee who did postdoctoral research at NC State with Yencho, also are critical members of the team who have optimized a new technology to identify single "typos" within the sweetpotato genome, called SNPs, which can be used to identify important areas of the genome, and guide breeders in a more user-friendly format compared to current methods.
International Tests
In addition to developing these genetic tools, Yencho's team will work with teams throughout Africa to test them in proof-of-concept genomic selection studies. Specifically, they will be working with sweetpotato breeders in Uganda, in eastern Africa; Ghana, in western Africa; and Mozambique in southern Africa.
The primary genomic selection proving ground will be in Uganda, at the National Crops Resources Research Institute. NC State has been collaborating with this institute on sweetpotato breeding for more than 20 years, Yencho said. Benard Yada, who received his Ph.D. from NC State under Yencho's supervision, will be leading that effort.
Robert Mwanga, another NC State alumnus who was Yencho's first graduate student, will also be testing the sweetpotato breeding tool, at a CIP research substation located in Uganda.
In Ghana, Victor Amankwaah, who recently received his Ph.D. from NC State with Yencho, will be testing the tools at Ghana's national Crops Research Institute. Reuben Ssali will be doing similar breeding tests at the CIP research substation.
Maria Andrade, yet another NC State alumna, will be conducting tests at the CIP research substation in Mozambique.
"All three of the International Potato Center's research substations in Africa have Ph.D. trained scientists who are alumni of NC State," Yencho said. "Three alumni of our sweetpotato breeding program are principle scientists at CIP. You could say we've had a pretty major role in sweetpotato improvement across the continent."
Hugo Campos, the CIP Research Director who is involved in the SweetGAINS project, said, "Both Andrade and Mwanga have been awarded with the World Food Prize, which has been called the Nobel Prize of Agriculture. This speaks volumes to NC State and Yencho's ability and contribution to develop world-class talent to address the issues of developing countries."
Local Impacts
But the impacts of these international partnerships do not go one way, Yencho added.
In fact, breeding stock from eastern Africa is an excellent source of resistance to the guava root-knot nematode, a kind of microscopic worm that is starting to hurt the North Carolina sweetpotato industry.
"Now, I have a graduate student working here trying to integrate that resistance into varieties adapted to North Carolina," Yencho said. "We never would have had access to that germplasm, had we not had that contact already. And that is a consequence of us being a globally engaged breeding program that is also focused on solving needs at home."
Additionally, all of the genetic breeding tools developed for the SweetGAINS project will be used to assist in NC State's overall sweetpotato breeding program.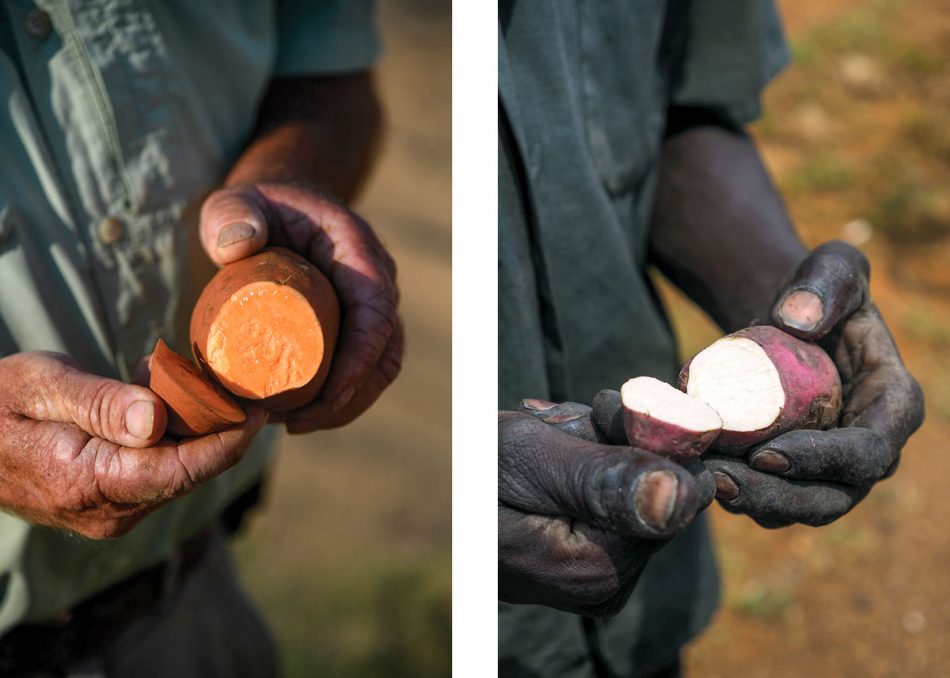 Our research addresses grand global challenges — and overcomes them.