NC State CALS Student Explores Sustainable Agriculture in Spain
Renee Long, an undergraduate student in the Department of Crop and Soil Sciences studying agroecology and sustainable food systems, is a Chicago native with a passion for food and travel.
Before coming to North Carolina State University, Long worked as a professional chef in Chicago, where she discovered her love for food and farming. After years in that role, she moved to central Illinois to work on an organic vegetable farm while earning an associate degree at a community college. Long moved to Raleigh two years ago to continue her education in sustainable agriculture at NC State. She is also a recipient of the 2022-2023 CALS Alumni and Friends Society Scholarship Endowment.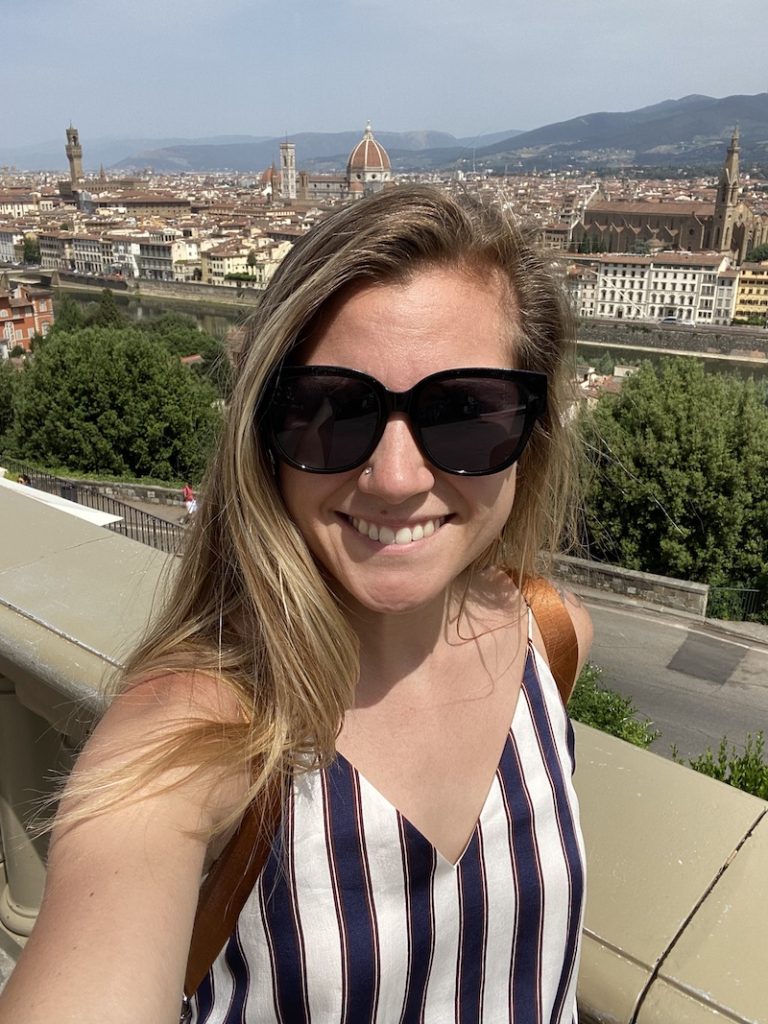 As a program specialist in the CALS International Programs Office, Long assists with international research projects and fellows visiting NC State through the Cochran Fellowship Program.
"I love traveling and hope to add many more to my growing list of the 12 countries I've visited so far," says Long.
One of her recent trips was to Valencia, Spain, with the Sustainable Entrepreneurship study abroad program, combining her interests in food and travel.
Can you tell us more about your study abroad trip?
My trip was focused on learning about different farming operations and how they compete in local markets. It was a short, two-week program, but we packed a lot into each day to get the most out of our time.
Each day, we had a lecture in the morning and then drove to a farm or business related to that morning's lecture. I enjoyed how this program was structured because the lectures gave a good background to better understand what we saw in operation later that day.
We also had lunch with the lecturer at local restaurants related to what we saw that day, which allowed for deeper conversation and relationship building. We had weekends and evenings free, so we could explore the area, get to know others on the team and experience the culture.
What was your favorite part of the trip?
One of my favorite memories was being invited to the home of our Universidad Politecnica de Valencia host. He graciously showed us some historical sites, and then some of his close friends and family joined us at his house. It was an amazing experience to feel so connected to people I had just met. Everyone was welcoming and kind.
I learned how to make a traditional meal called "paella" from his friend and proudly helped serve it to everyone once it was complete. We spent the day playing soccer and pool games, eating delicious food, laughing, telling stories and dancing. That day, I felt like I had truly experienced Spain and the local culture everyone so proudly told us about.
Would you recommend this study abroad opportunity to other students?
Yes, definitely. I believe traveling and experiencing other cultures gives us a broader perspective of life: experiencing how others live, learning what they eat and seeing how similar we all are.
In this program, students experience the local culture without being overly touristy. It is also a helpful way to learn or practice your Spanish-speaking skills. I would tell students that this is a great opportunity to get outside their comfort zones, experience another culture and see how successful businesses operate in Spain.
How did this trip prepare you for the future?
It gave me a different outlook on international agriculture and the possibilities of marketing products. I saw many approaches to food production that were different from what I was used to seeing in the United States. Many of the ideas I had were challenged in a way that made me think more critically about the future of food and the systems we currently have in place. I believe this has given me a renewed vision for my career goal and the motivation to continue doing well in my classes.
What advice do you have for other students considering studying abroad?
My advice would be to find a program and location that really interests you. The more you put into the trip, the more you will get out of it. Ask a lot of questions, be engaged and connect with people.
The networking and connections that come from these trips can be really important if you take the time to invest in them. I would also recommend researching the location of the study abroad program before going to familiarize yourself with the history, culture and food. It is also helpful to know some of the native languages, even just a few sayings.
Ready to travel? Learn more about the study abroad programs available for CALS students.