Diversity and Inclusion
MANRRS Opens Doors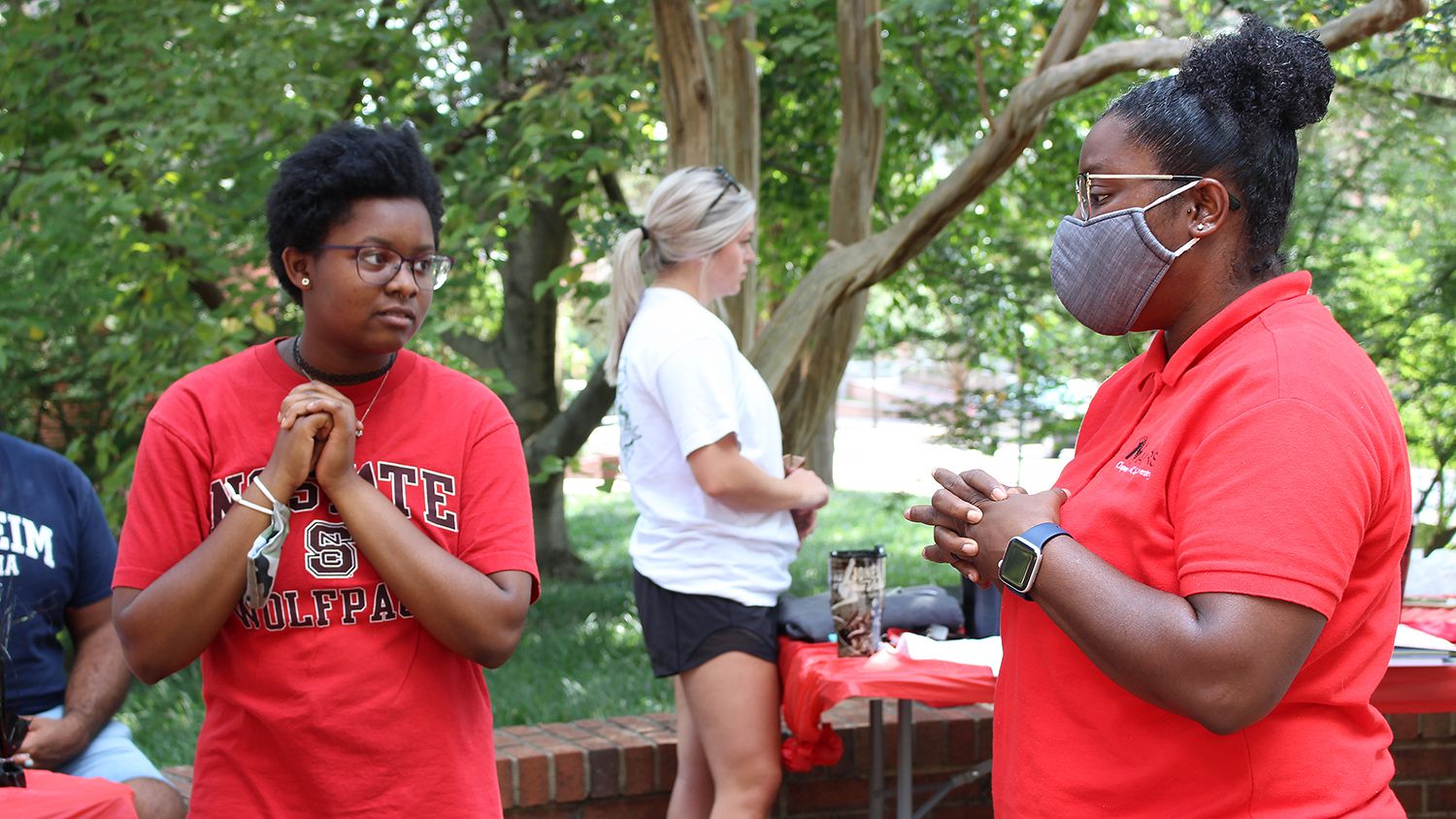 College is more than large lecture halls and midterms. It's also about gaining lifelong professional skills and finding a community of friends. For NC State University students Constance Smith and Catherine Fremaux, they found their community, and more, through NC State's chapter of Minorities in Agriculture, Natural Resources and Related Sciences (MANRRS).
MANRRS is a national society that promotes academic and professional advancement by empowering students who are interested in promoting diversity and inclusion in agriculture and other science-related careers. The NC State chapter is led by Dr. Latisha Judd, a lecturer in NC State's Department of Animal Science. Judd has been a member of MANRRS since joining the organization in 2016 while doing her doctoral program at the University of Maryland.
"Initially I went to join as a graduate student member, but it just so happened that they needed some assistance with student development. I ended up co-advising the organization," says Judd, who is passionate about MANRRS.
In August 2020, the Holly Springs, North Carolina, native accepted a teaching position at NC State.
And one of the first things Judd wanted to do when she joined NC State was connect with the NC State Chapter of MANRRS, but the organization had fizzled out after many former members graduated or left because of the COVID-19 pandemic.
"When I got here, I spent time trying to figure things out and get MANRRS back up and running," Judd says. She went to NC State's Get Involved website and noticed a few pending membership requests. She spoke with Darrius Barrow, associate director for student engagement in the office of Student Leadership and Engagement, to see what she needed to do to breathe new life into MANRRS at NC State.
"My first goal was to reach out to students with pending requests. That's when I met Constance Smith and Catherine Fremaux," Judd says.
Smith discovered MANRRS while trying to find organizations on campus that catered toward minority students. The junior and Goodnight Scholar is majoring in biochemistry and minoring in global public health.
"I'm really interested in healthcare disparities and how they affect minorities," says Smith. "When I came across MANRRS, I reached out to Dr. Judd. She told me the chapter previously existed but had essentially dissolved, and she was trying to get it back up and running."
Judd asked Smith to help with relaunching MANRRS and Smith eagerly said yes.
"I became president just like that," says Smith. "I'm more of an introvert, but I was really passionate about the message and I wanted to step into this role."
Like Smith, Fremaux wanted to get involved at NC State, and as a freshman in 2020, she found that the global pandemic was taking a toll.
"I felt like an aspect of my college experience was missing," says Fremaux, a sophomore studying agricultural business management. "I went to the Get Involved site and expressed interest in a few of the organizations and MANRRS really stuck out to me because I also felt like I was missing out on CALS and that connection with the CALS community."
If there is one message we want to share, it's that MANRRS is not exclusive."
Fremaux was eager to help Judd revive MANRRS at NC State. Fremaux was appointed vice president of the group.
"Dr. Judd is really the heart and soul of MANRRS. The way that she talks about it and her experiences, she inspires us to be passionate about it and it makes me want to involve myself more and put more of myself in MANRRS," says Fremaux.
The three women got to work and immediately began recruiting new members in spring 2021.
"I sent floods of emails to my student advisees," says Judd. She also helped spread the word to her more than 150 students she teaches. Judd connected with Dr. Alex Graves, co-advisor of MANRRS and director of CALS Office of Diversity and Inclusion, to help reach out to students in other science-related fields outside of CALS.
"Our very first meeting as a group, we had 14 students show up and it was amazing! I was hoping for a handful and I was blown away," says Judd. "All of the students who wanted to join said there isn't an organization that gives them the space to be themselves — to acknowledge they aren't the majority," says Judd.
"We don't see a lot of people that look like us in our classes, and it's difficult to find a community of people where you feel like you fit in and belong with, especially in the STEM field. I felt like MANRRS was something that was extremely needed right now," says Smith.
Smith, along with Fremaux and Judd, are now part of that avenue for minority students at NC State, helping them not only succeed academically but shaping them to be leaders in agriculture and other science-related fields.
"If there is one message we want to share, it's that MANRRS is not exclusive," says Fremaux. "We welcome everyone. We want anyone who wants to join, to join. Not only will you benefit from the different things MANRRS offers through professional development, company networking, and friends, but you'll benefit from having new perspectives."
If you are interested in learning more about how to join MANRRS, please email ncsu@manrrs.org or lmjudd@ncsu.edu. The chapter's first meeting for 2021-22 will be held on Aug. 31 at 6 p.m. in Riddick Hall, Room 340. MANRRS meets every other Tuesday at 6 p.m. in Room 340 of Riddick Hall.