Women's History Month
Grassroots Approach to Leadership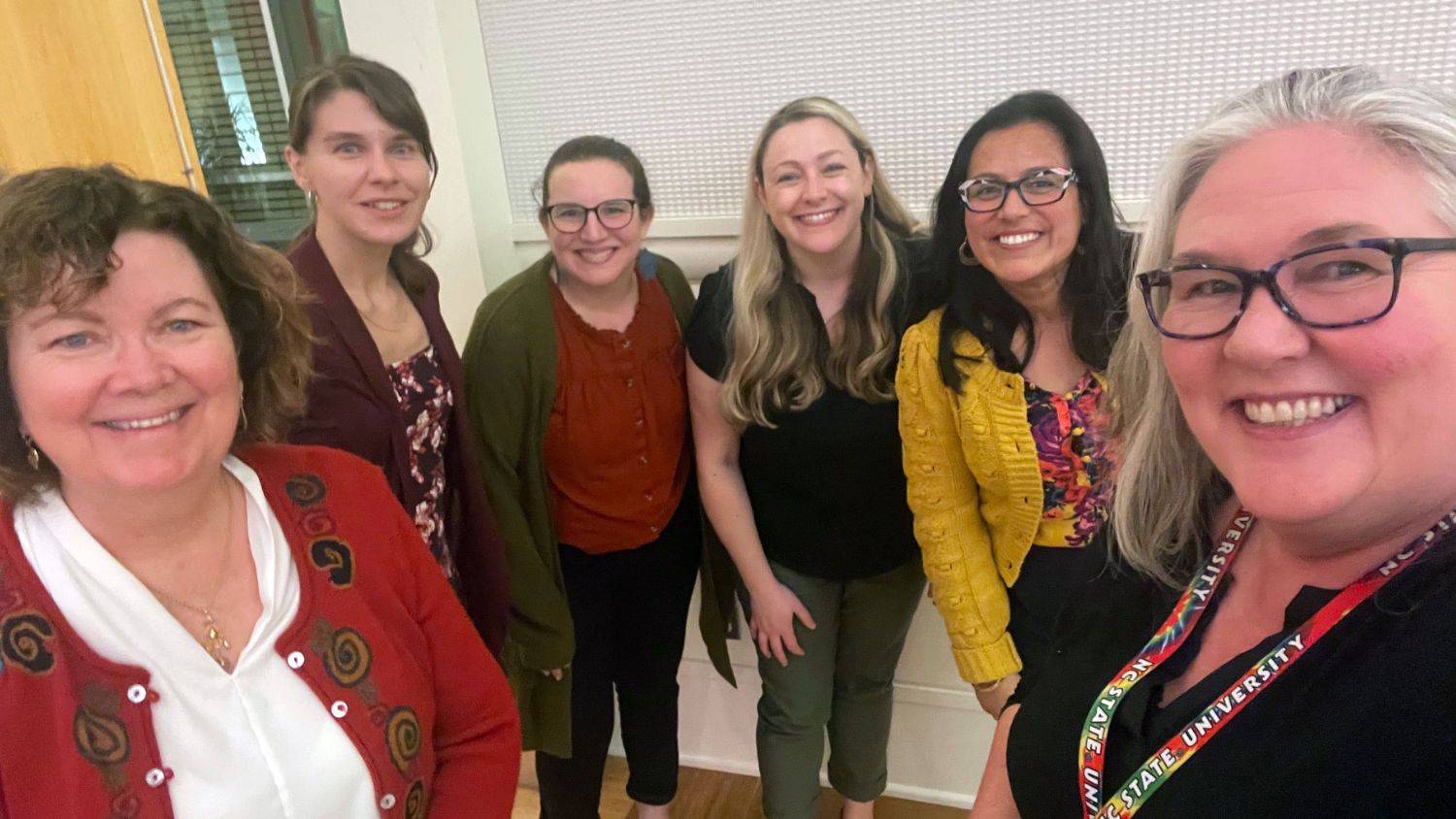 In her first six months on campus, Carolyn Young, head of the Department of Entomology and Plant Pathology, has taken dozens of "usies" – group selfies with smiling faculty, colleagues, students and campus leaders.
The images populate her department emails, brighten her Zoom backdrop and show up on her social media.
"Most of my early goals are really about building community," says Young, whose collegiality and New Zealand accent make a memorable first impression.
A fungal biologist, she came to North Carolina State University after a six-month stint with Nature's Fynd, a Montana start-up company that uses a fungal strain identified at Yellowstone National Park to make a sustainable protein source. Prior to that, she worked for 15 years as a research scientist with the Noble Research Institute, an agricultural nonprofit in rural Ardmore, Oklahoma, halfway between Oklahoma City and Dallas.
Professionally, Young's focus has been on endophytes in grazing systems. These fungi produce compounds that can benefit plants but sometimes pose risks to livestock. Perhaps that helps explain her grounded approach to leadership and her interest in connections.
Throughout her career, Young says employers, colleagues and students have inspired her to take on roles she didn't expect, from first-generation college student to department head.
"I had some fantastic mentors in my life," she says. "None of it was official — we didn't use the word then. But how do I pay that forward?" (Hint: She's talking with a student mentee right after her interview.)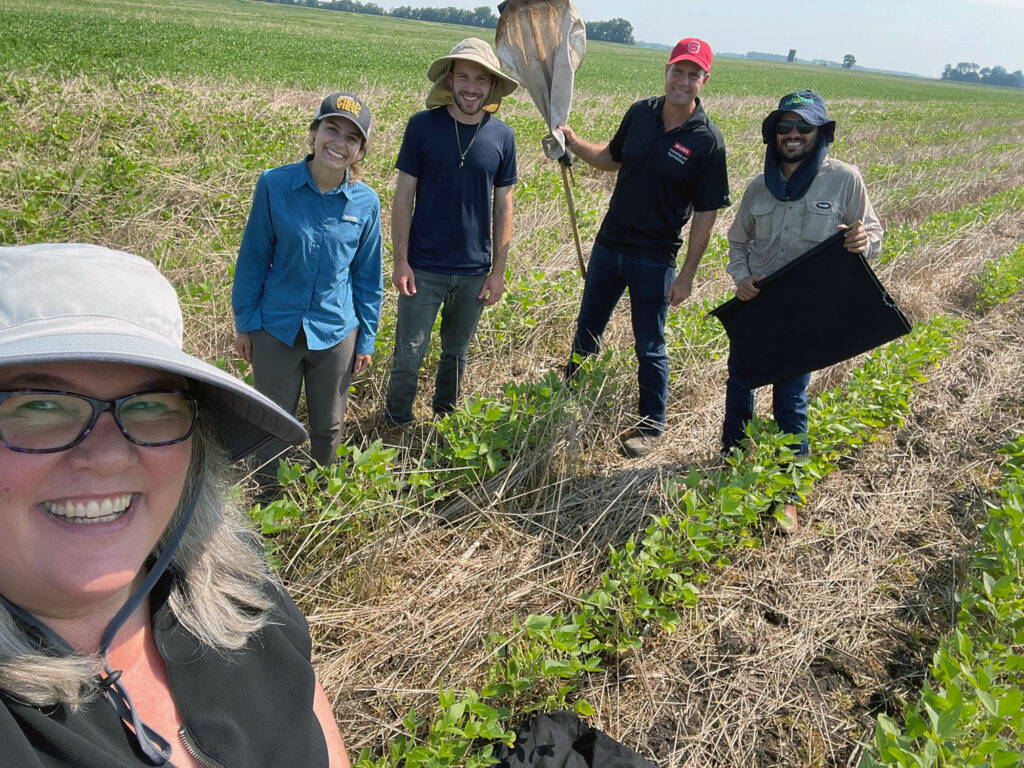 College Found
Young didn't follow a conventional path to an academic career. In fact, a college degree wasn't in her plans when she was growing up in New Zealand.
"My father was a butcher. My mother used to help him. And then my father ended up buying a country pub in a small town in New Zealand. I didn't know what a university was for," Young says.
"When I went to university, I went there because I got a job at the university."
However, faculty and staff where she worked encouraged her to pursue a New Zealand Certificate in Science, which combined lab employment with college coursework.
"It was kind of like an associate's degree with a good heap of internship, but I was being paid as a full-time staff member," Young says.
A hands-on approach suited her active, visual learning style. Over 17 years, Young completed the certificate and her bachelor's and master's degrees in genetics at Massey University.
"Each time I achieved something, it was the time to say, 'Well, could I do that next thing?'"
During this time she married and had two sons, the first at 24 while working on her bachelor's degree and the second at 35 as she began her doctoral work.
I had some fantastic mentors in my life. None of it was official — we didn't use the word then. But how do I pay that forward?
On a three-month fellowship at the University of California, Berkeley, as a master's student, her American colleagues assumed Young had already earned a doctorate.
"That kind of lit the fire of, well, could I?" she recalls.
She plunged in. "At the level of a Ph.D., actually, that was the first time I became a full-time student. The rest of the time I was studying and working full time."
U.S. Bound
After completing her Ph.D., Young moved to the U.S. to take a postdoctoral position with the Ohio Agricultural Research and Development Center, affiliated with Ohio State University.
The advent of new genome sequencing techniques made it an exhilarating time to work in genetics. "The idea was that I would do a three-year postdoc and I'd come back to New Zealand with new skills and lots of wonderful new ideas," she explains.
She worked in the lab of Sophien Kamoun, who was sequencing the complex Phytophthora infestans genome and using functional genomics to dissect the pathogen-host interactions. "I really felt like I'd won the lottery by having that opportunity."
Fourteen months later, another opportunity came calling. The Noble Research Institute, which she'd learned about during a researcher's presentation in New Zealand, was looking for someone with her background.
Over her 15 years at Noble, Young advanced from assistant to full professor, leading the research-focused mycology program and working on pecan pathogens and grass endophyte research.
When a reorganization closed several divisions, including hers, Young organized coffee klatsches where colleagues could encourage each other as they made the transition to new jobs.
She moved on to Nature's Fynd. Between jobs, she was asked to apply for university leadership positions but initially hesitated. To her surprise, a former Noble postdoc mentee sent her another posting for a department head position.
"I was somebody she saw who had leadership qualities she would like in a department head," Young says. "And sometimes you need somebody else to tell you these things."
After interviewing at NC State, Young was elated with the possibilities, spending the return flight making notes about what she saw, what people said and what she could do in the role.
"What really stood out to me was the caliber of the faculty and congenial atmosphere across the college." 
Before her move last July, her new colleagues invited her to join them at research and extension events. At her first, the 2022 NC Tobacco Field Day, she convinced Rich Bonanno, CALS associate dean and Extension director, to take a photo at the edge of a tobacco field. One of her first usies was with a beaming Steve Lommel, associate dean and director of the NC Agricultural Research Service.
The leadership team and her colleagues "made me feel like I belonged from day one," Young says. "What really stood out to me was the caliber of the faculty and congenial atmosphere across the college."
She's eager to champion the new faculty members who are coming on board and to build the community of a department whose faculty are scattered across 15 locations on campus and four research stations.
She can't stay longer right now. It's time to meet a mentee across campus. But we did take an usie before she left.