Alumni and Friends
Product and People Development Has Sweet Reward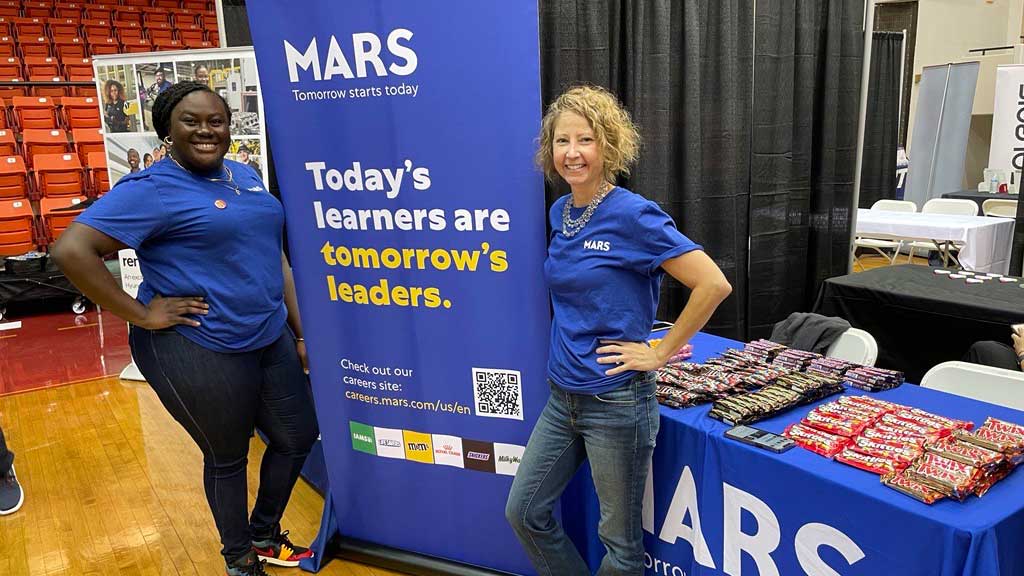 Written by: Alice Manning Touchette and Kristin Sargent
College of Agriculture and Life Sciences alumna Mandy Taylor has had a sweet career that all began thanks to an amazing high school chemistry teacher.
"She really got me interested in science, which didn't come naturally to me, but she was willing to put in the work," says Taylor. "As a kid, I was always interested in playing around in the kitchen, coming up with concoctions that my family was not brave enough to eat."
When it came time for college, Taylor, a first-generation college student, chose to stick close to home by attending California Polytechnic State University, San Luis Obispo. While earning her bachelor's degree in food science, she got involved with student association events for the Institute of Food Technologists. It was at those conferences she learned about North Carolina State University.
"NC State had a really large presence in college bowl and product development competitions," says Taylor. "Seeing NC State there and how well they were performing with their food science department really drew me to them when considering graduate school."
In 2001 Taylor crossed the country to attend graduate school at NC State, where she began working with Professor Allen Foegeding, now William Neal Reynolds Distinguished Professor Emeritus of the Department of Food, Bioprocessing and Nutrition Sciences.
"I was working in his lab on a project for caramel, so going there, diving in, getting my hands literally dirty [and] sticky was a great way to explore product development," Taylor says. "In that lab was where I found my home. Paige Luck, who managed the lab at the time for Dr. Foegeding, really mentored and fostered my curiosity about experiment design. She really was a role model. And I met two of my very best friends that are still my very best friends today. They became and remain my chosen family."
"It became evident that the people piece was where I got my energy."
After earning a master's degree in food science from NC State, Taylor worked for various companies, including Schwan's Bakery and Sara Lee. 
In her late 20s, decked out in safety gear overseeing a cookie development trial at one of her first employers, Taylor remembers inviting her father to the factory so he could get a taste of what her work was like.
"He was standing right next to me and wearing the same outfit, but people not knowing me well yet kept deferring to him for questions," she recalls with a laugh. "I was like, 'He knows nothing about these cookies, he's not going to be helpful to you at all. Look at me!"
Taylor — who has since carved out a successful career in food science and is currently the research and development early talent manager for Mars Wrigley — is certainly no stranger to the quirks of being a woman in science and has made it her mission to help other budding food scientists find their way.
"I got to run a lot of trials, always at the very weirdest time of the night. It was an opportunity for me to see things come to life," Taylor explains. Soon she found a calling beyond product development.
"It became evident that the people piece was where I got my energy, and I really wanted to be a subject matter expert to help mentor young talent in the food science field," says Taylor.
She now manages new team members coming into Mars Wrigley and helps pair them with associates and mentors.
"NC State played such a huge role in who I have become."
"My job is really making sure that people that want to learn and grow can do so," Taylor says. "Once you start doing something you love, and you have that support from others in the field, it's a completely different and amazing experience."
In fall 2022, Taylor was honored with a CALS Outstanding Alumni Award for her work in industry.
"It felt like too much," Taylor says of earning the award. "I try to do what I do well, but I was extremely honored, extremely flattered."
She credits NC State with giving her the confidence and support she needed to forge her career.
"NC State played such a huge role in who I have become," says Taylor. "I want to give a huge shout-out to Paige Luck for mentoring me, and to my fellow food scientist Jessica Somerton. It's been amazing to know others who have food science careers and work alongside them."