Video by Ken Ellzey
An ongoing partnership between NC State University and BASF was in the spotlight Aug. 28, when the organizations formally renewed an agreement that makes it easier and faster for the company to collaborate with university faculty members.
NC State Chancellor Randy Woodson, College of Agriculture and Life Sciences Dean Richard Linton and BASF President for Bioscience Research Peter Eckes signed the master research agreement during a series of afternoon research presentations at NC State.
Woodson acknowledged BASF's support of the North Carolina Plant Sciences Initiative – an endeavor to make the state the world's leading hub for plant sciences innovation. He also pointed out that there are other disciplines and areas of research in the university that BASF could pursue.
"There's almost no part of NC State that isn't relevant to the needs and the opportunities at BASF," he said.
Linton agreed, adding that "partnerships with companies like BASF are hugely important to us because it allows us to do science that matters – science that's relevant to the needs of the market and relevant to the needs of customers," he said. "We know that we can't go it alone."
While BASF's world headquarters are in Germany, several units, including Bioscience Research, are based in Research Triangle Park. That proximity, Eckes said, has been an advantage.
After the ceremony, he described his company and its partnership with NC State in more detail.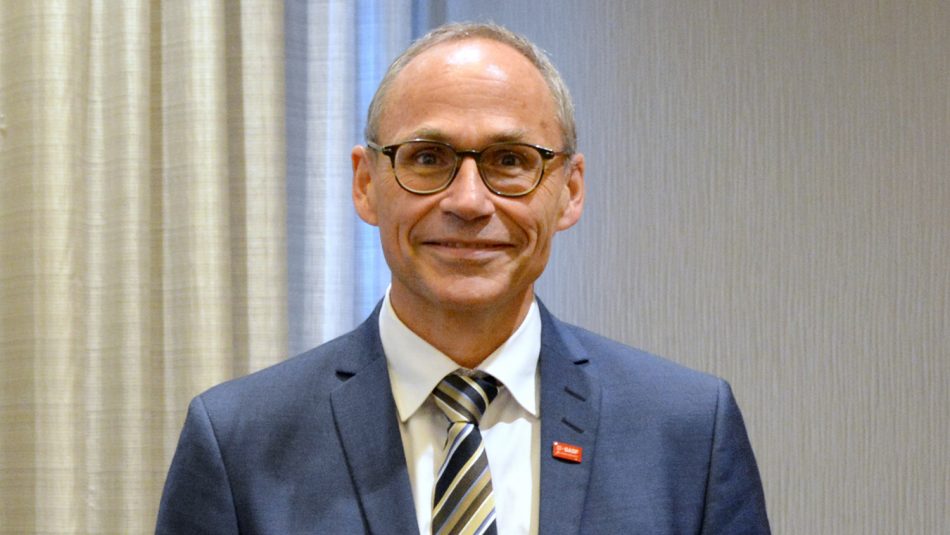 Please tell us about BASF and its mission.
BASF is a leading chemical company. We have 120,000 employees worldwide, and our mission is to create chemistry for a sustainable future. I think this is an incredible task. There are great challenges ahead of us like the growing world population, mostly concentrated in urban areas, resulting in a higher water, energy and food demand.
To meet these needs means that we must change the way … we do things and collaborate with many experts outside of BASF, like academia. Emerging technologies and digitalization will be the key enablers for sustainability.
It's a formidable space to be, and so we are really committed to creating chemistry for a sustainable future.
What makes the signing of this research agreement a milestone?
At BASF, we are absolutely aware that we need strong partners like NC State to find solutions for these challenges. This partnership — this signing — brings our collaboration to the next level. This is important for us as we now plan to explore interdisciplinary topics at the interfaces of bioscience, chemistry and engineering. I can see that the partnership has grown over the past years, and I'm extremely happy with our interactions and feel that we have developed a great partnership with the university.
Why has BASF chosen to continue its partnership with NC State?
The short answer is that it's working! Though what stands out from our experience over the last years is the building of a tremendous amount of trust and incredible openness — this openness differentiates NC State.
It's also very important for us to work with the top-notch scientists at NC State in order to solve the problems we want to solve and bring new, innovative and sustainable solutions to the market.
What outcome is BASF looking for in the partnership?
In this partnership, we really want to tackle significant challenges and opportunities that will ultimately benefit our communities and society overall. We are looking for breakthroughs — novel things that we can bring to our customers and the market. This is vitally important for us, and expectations are high. But I think we want to keep the expectations high to create energy and enthusiasm with all the scientists that are working together from NC State and BASF.
Anything else you'd like to add?
Having committed people from both industry and academia is critical for success. Many of the same individuals that started our partnership with NC State University are still involved today. This has helped each collaboration to flourish and contributed to a trustful working relationship. We look forward to what's to come.