As the first fruit of spring, strawberries are among North Carolina's most popular crops for both growers and consumers. The crop brought in $27 million in farm income during 2018. And with pick-your-own fields and farm stands dotting the state, the industry also supports opportunities for kids and grownups to get outside and have fun.
North Carolina is the third leading state when it comes to producing fresh market strawberries. To keep the finicky commercial strawberry crop growing strong, NC State Extension has a team of specialists working on major production challenges – from determining how growers can best protect berries from the frosts and freezes of early spring to suppressing diseases that thrive in North Carolina's hot, humid summers.
The range of challenges commercial growers face was evident in a field day held May 3 at the Central Crops Research Station in Clayton. Scientists and graduate students walked participants through test plots, outlining research on cultural management, breeding and insect, weed and disease management.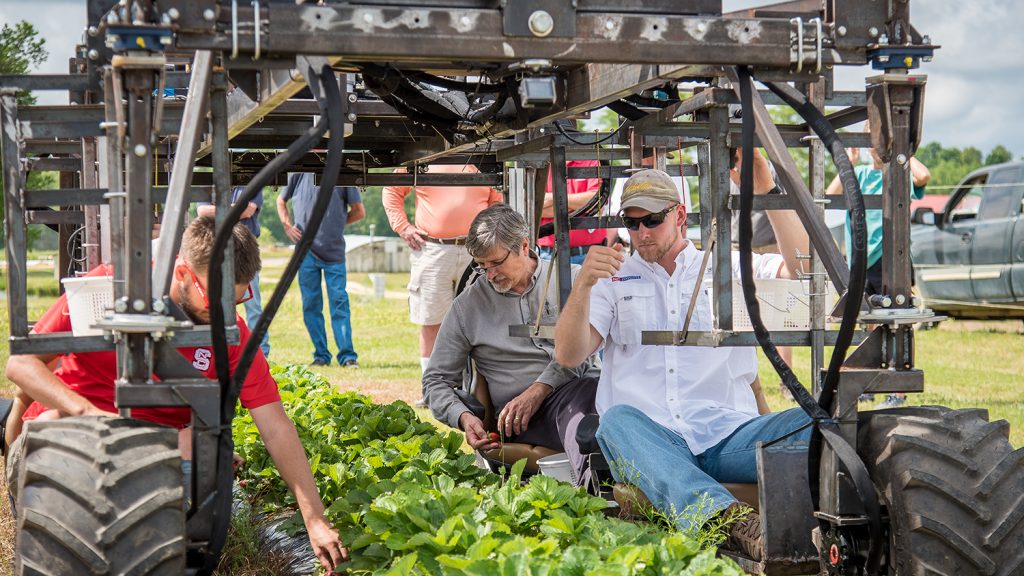 The event's program wrapped up with a demonstration of a harvesting aid nicknamed "The Glean Machine." Built by NC State engineers and students, the motorized cart is designed to cut the amount of produce that growers leave in their fields. It can carry four people low enough to the ground that they can quickly and more easily harvest the last of a crop.
Field day goers also had a chance to taste strawberries, including two new NC State-developed varieties named Rocco and Liz.
Mark Hoffmann, an assistant professor and Extension small fruit specialist in NC State's Department of Horticultural Science, estimates that the state has 500 to 700 strawberry producers, including small pick-your-own operations and large, integrated farms of 100 or more acres.
Since joining the faculty in 2017, Hoffmann has been testing alternatives such as steam treatments to reduce soil fumigation with the chemical methyl bromide, and he's also finetuning pre-plant fertilizer recommendations.
In addition, Hoffmann is developing longer-term projects to enhance the state's strawberry nursery industry and to increase scientists' understanding of how strawberry flowers respond to frosts and freezes.
The North Carolina Plant Science Initiative prompted him to work with faculty members from multiple disciplines at NC State to develop computer-assisted environmental protocols for optimized strawberry plant production. The knowledge gained could be key, Hoffmann says, to finding alternatives to the labor- and pesticide-intensive methods used in today's strawberry operations.
Right now, when it comes to protecting the strawberry flowers plants from frost and freeze, growers use row covers, overhead irrigation or both to protect the blooms. While effective, the methods have their drawbacks, says grower and NC State alumna Sue Leggett.
At their farm in Nash County, she and her husband, Brent, used row covers frequently during this season's abnormally cold spring. Still, they lost 15 to 20 percent of their first two weeks of harvest because of misshapen berries that occur when the flowers aren't adequately pollinated.
"When you have those row covers on, bees can't get under there to do their job and pollinate," she says.
"Strawberries are such a high-value crop that decisions and small anomalies in the weather make a huge difference," she adds. "So having somebody with the expertise in weather and the crop makes just a world of difference for us."
Kristy Phillips, the executive secretary of the North Carolina Strawberry Growers Association, agrees.
"Our growers depend on NC State for answers," Phillips says, "especially when it comes to managing plant diseases, coping with the weather and breeding new varieties that grow well in North Carolina."
We grow local economies, opportunities, solutions and talent.