Ready for New Strawberry Choices? Meet 'Liz' And 'Rocco'
Strawberry season has hit its stride in North Carolina, with producers bringing plump, tasty, healthy and locally grown fruits to consumers across the state. Thanks in part to NC State University, growers and consumers have two new varieties developed especially for North Carolina's climate and growing conditions coming their way.
North Carolina typically ranks as the third- or fourth-leading state when it comes to strawberry production, but the process of getting the fruits to market here can be difficult. There are plant diseases to conquer as well as challenging weather conditions – including spring frosts and freezes and humid summers – that can take a toll on farmers' yields and profits.
NC State strawberry breeder Gina Fernandez recognizes that it takes a team of researchers and extension educators to help farmers overcome such challenges. That's why she recently named the latest varieties, Rocco and Liz, after two staff members who've worked largely behind the scenes to strengthen the state's strawberry industry.
Nurseries are propagating 'Rocco' and 'Liz' this summer, she noted, so growers will be able to plant them in fall and harvest them next spring.
Rocco Schiavone is a research specialist in the Department of Horticultural Science, and the new variety named for him is a flavorful one that ripens early and has good yields. The other, named for former research technician Liz Cleavinger, ripens in the middle of strawberry season and has high yields. Both are best, Fernandez says, for pick-your-own operations.
Fernandez describes Schiavone as "an excellent plantsman. He really cares about the plants. I have said more than once that the plants are just so much happier when he is around."
Schiavone is an NC State alumnus with degrees in horticultural science and integrated pest management. He has worked in horticultural science for 32 years. For more than two decades, he's focused on strawberries, participating in a range of strawberry research, from testing varieties to evaluating row covers and determining planting dates.
[pullquote align=left color=red]What we are trying to do here is to bring good, healthy food to people locally … and to help the farmers of North Carolina make a good living.[/pullquote]
As he walked through the strawberry test plots at the Central Crops Research Station recently, he reflected on his career. He said he's particularly proud not only of having a strawberry variety named for him but also for the contributions he's made to developing a guide that helps farmers diagnose and manage strawberry disease problems. That diagnostic tool is available online through NC State Extension's strawberry growers portal at http://strawberries.ces.ncsu.edu.
"What we are trying to do here is to bring good, healthy food to people locally," Schiavone said. "And, of course, our goal is also to help the farmers of North Carolina make a good living."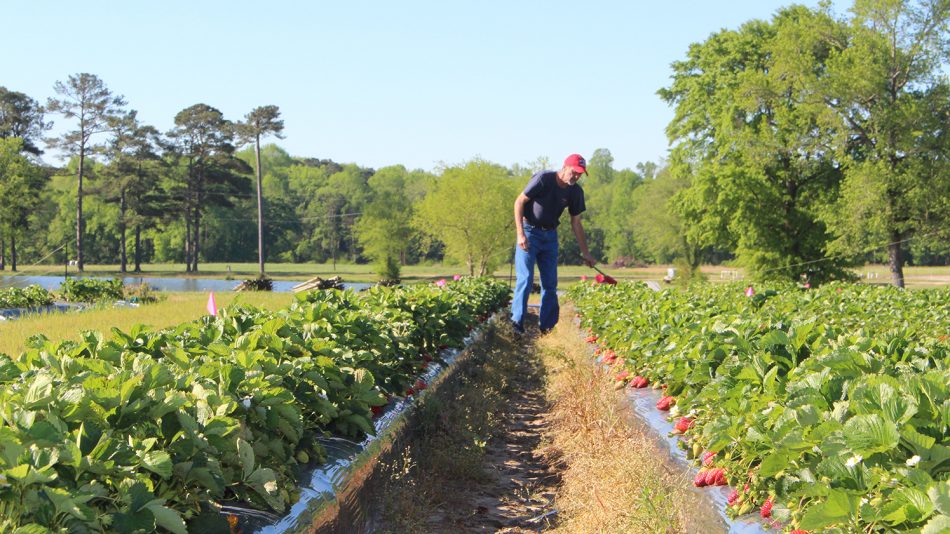 Want to try NC State's newest strawberry cultivars?
Ask your local farmers about them now and look for them next spring.
More about NC State's Strawberry Breeding Program