Silvopasture – the practice of combining forestry with forage and livestock production – is rare in North America, but the practice could bring both economic and environmental benefits on marginal lands where traditional row cropping hasn't worked.
To find out, scientists from NC State University and the U.S. Department of Agriculture are studying the practice at the Cherry Research Farm in Goldsboro.
Alan Franzluebbers is coordinator of the Center for Environmental Farming Systems' (CEFS) research unit at the farm, where the studies are taking place. The USDA scientist, affiliated with NC State's Department of Crop and Soil Sciences, said he and fellow researchers Miguel Castillo, an NC State crop scientist, and Matt Poore, an NC State animal scientist, are interested in learning more about silvopasture's potential here.
The site where they are working has proven difficult for conventional agriculture, Franzluebbers said. That's because it's in a flood plain and features a wide diversity of soil types and slight variations in elevation.
Previous researchers converted an open field into one designed for alley cropping: They planted rows of crops interspersed with stands of native loblolly pines, longleaf pines and cherrybark oaks.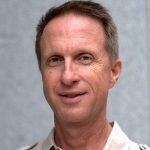 Franzluebbers said that they found that the crops — corn and soybeans — didn't do particularly well. In some years, drought pushed down yields in sandy areas, and, in others, floodwaters decimated low-lying areas.
Rather than giving up on agroforestry altogether, scientists recently decided to try another approach: planting native warm-season grasses where the crops had been and allowing Black Angus cattle to graze there during summer months in the protection of the trees' shade.
In addition to providing shade, the trees could also provide another income source, Franzluebbers said. At the CEFS site, the trees could be harvested for timber, but planting fruit trees is also possible in an agroforestry setting.
The trees also provide environmental benefits. A deep, expansive root system allows trees to withstand both drought and water-logging better than annual crops, as well as absorb excess nutrients and mitigate against greenhouse gas emissions, Franzluebbers explained in a blog post about the research.
Likewise, pasture grasses develop perennial root systems, which penetrate deep into the soil to extract water and overcome periods of drought. These grasses can also withstand occasional water saturation by growing rapidly and transpiring water back into the atmosphere, he said.
With more time and stable research funding, the scientists hope to answer a number of questions about silvopasture and its long-term environmental and economic sustainability for North Carolina producers.
"We have more production aspects to look at — what is the impact on the cattle? What is the impact on forage production? How do we design an appropriate forage mixture under the trees, because there is an opportunity to have forages under the trees if they are the right species?" Franzluebbers said. "These are among the questions we'd like to answer. In the end, the objective is to find agricultural systems that are truly sustainable in environmental, economic and social dimensions, and that means we have to be innovative."
About the Center for Environmental Farming Systems
CEFS is a partnership of North Carolina A&T State University, the N.C. Department of Agriculture and Consumer Services and NC State University. Its mission is to develop and promote food and farming systems that conserve natural resources, strengthen communities, improve health outcomes and provide economic opportunities. For more information about CEFS' Agroforestry experiment, please visit the Agroforestry page.
This post was originally published in College of Agriculture and Life Sciences News.