Dr. Basheerah Enahora: Nutrition and Extension
As an assistant professor and the nutrition education and behavior extension specialist at NC State, Dr. Basheerah Enahora is already making great strives and progress as a new faculty member. Before joining NC State, Dr. Enahora worked clinically as a registered dietitian, providing medical nutrition therapy primarily to underrepresented minority adults and teenagers. She also completed her PhD in Nutrition at the University of North Carolina Greensboro while doing her clinical work.
In April of 2022, Dr. Enahora participated in NC State's Building Future Faculty Program, where she explored the university and was introduced to the Department of Agriculture and Human Sciences (AHS). Unbeknownst to her at the time, she was introduced to her future home and place in the wolfpack community! After completing her PhD, Dr. Enahora joined the AHS department, and has recently started several research projects. In her work, she strives to provide opportunities for graduate students to gain research experience while developing, implementing, and evaluating nutrition education programs. She also strives to provide knowledge and experience for implementing community-driven policy, systems, and environmental strategies to improve the health of North Carolina families.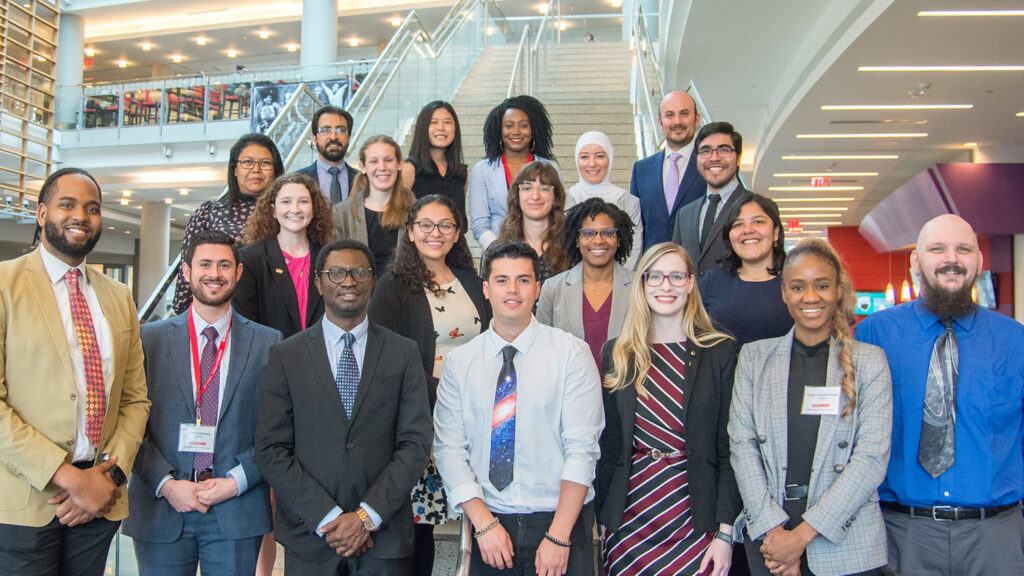 Starting as a new tenure track faculty member, especially joining at such an odd time during the year, Dr. Enahora was nervous and didn't know what she was jumping into. However, she soon found that the CALS and NC State faculty were beyond supportive and genuinely interested in her success. Dr. Enahora emphasized that she is amazed by the responsiveness and support of her department chair, the CALS research office, the dedication of AHS faculty and Extension staff to serving families in North Carolina, and how collaborative the faculty are in AHS and in other departments and colleges. So far, she has had the opportunity to interact on potential projects with faculty in Food, Bioprocessing and Nutrition Sciences, Computer Science, and Parks, Recreation and Tourism Management, and everyone exemplifies the university's values. So far, her experience working for the AHS department has been a success, and in her words "I could not have dreamed of a better start as a new faculty member!"
Dr. Enahora's current research focuses on reducing health disparities in lower-resourced communities, particularly among underrepresented minorities. Most of her work to date has utilized a mixed-methods approach to improve the diet and health of adolescents and adults through the use of innovative technologies such as virtual reality, text messaging, and digital apps. She aims to develop new youth-driven interventions that increase exposure and access to healthy foods while utilizing technology to enhance and sustain health behavior change.
Along with the Expanded Food and Nutrition Education (ENEP) team, Dr. Enahora is updating a new high school nutrition education curriculum as they pilot-test in select schools across North Carolina. After the pilot phase, she will evaluate its effectiveness in improving nutrition knowledge, cooking confidence, and dietary intake among high school teenagers participating in the program. She is also gearing up to start work on an NIH-funded pilot of a digital nutrition education program for a worksite wellness intervention among blue-collar workers in North Carolina. Finally, Dr. Enahora is working on two CDC grants that, if awarded, will deliver programs to increase healthy food, physical activity, and nutrition education access to those at the highest risk of diabetes and obesity in North Carolina.
What Dr. Enahora loves most about the nutrition field is its vastness. There are many different areas within the nutrition field that can be pursued by students and nutritionists alike. Her advice to students seeking employment in nutrition is "don't limit yourself. Don't be afraid to pivot throughout your career. Explore opportunities in clinical nutrition, but also look for experience in research and community nutrition as well."  She says NC State Extension is a great place to translate your clinical knowledge and expertise, build community partnerships and relationships, and directly impact people's lives every day. To learn more about Dr. Enhora and her research, visit her profile page.