CALS Weekly
YFCS Grad Hopes to 'Fill Gaps' in Youth Policies in UAE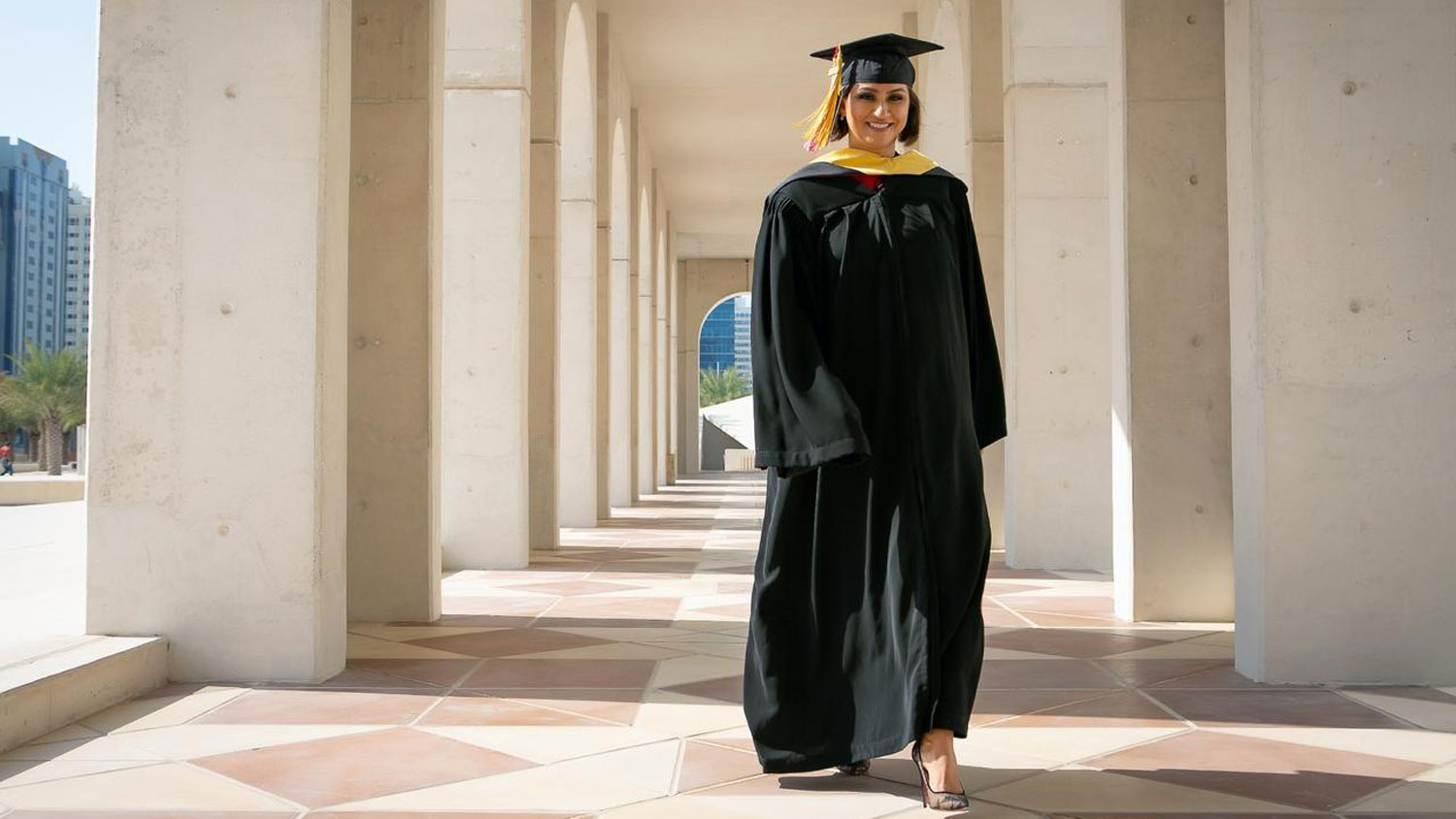 Rasha Abdullah starts her day anywhere between 3 a.m. and 4 a.m. For most graduate students, that alarm clock would be tough. But it's what Abdullah has done for the last three years as she works toward her master's degree in youth, family and community sciences.
The College of Agriculture and Life Sciences graduate student lives in Abu Dhabi, the capital of the United Arab Emirates (UAE), which happens to be nine hours ahead of folks in North Carolina. But Abdullah says she's had plenty of practice with waking up early as she had five children.
"I'm getting used to it. I just brush my teeth, have a cup of tea and sit in [for class]. It also helps that the house is completely quiet at that time," she said. Plus, Abdullah gets to study what she's passionate about — youth development and policy regulations.
"The country has recently made some changes to the family policy, divorce, inheritance and all that. They're great here, and care about women's rights but there are a few gaps here and there with regards to early childhood and youth," said Abdullah. "I'm hoping that in the coming years, some more regulation is built up. Policy is a great foundation, but it needs a lot of follow up and exploration. What I hope to do is be an active part of that, even if it's in research."
So with a bachelor's degree in finance, why switch to family education and youth development?
"I always wanted to do something different from what I already majored in. I started looking into what degrees were out there and coaching was becoming more and more popular," she said. "I used my business planning methodologies such as SWOT (strength, weakness, opportunity and threat) analysis, which is key to understanding family and community structures."
And whichever university she chose for graduate school, it had to be recognized in the UAE.
"NC State was the first university I looked into. I liked the program and I immediately reached out for Dr. Kim Allen, who was very friendly," Abdullah said. She spoke with Allen a few times via Skype. It was during those conversations that Allen thought Abdullah would be a great fit for the YFCS program.
"I decided I was going to apply and that I was going to do this. I did not apply to any other university. It was NC State," Abdullah said.
Abdullah has enjoyed most of her classes throughout the program, but some of her favorites were taken with former faculty member Ebonyse Mead.
"I took Program Development and Evaluation in Family and Youth, Theories in Family Science and Concepts in Parenting and Family Life Education with Dr. Mead. Those were all topics that changed my perceptions and views about youth and family dynamics in Middle Eastern communities. They opened my eyes on so many opportunities that can help children and families reach their potential and help those in need for guidance and support," Abdullah said.
But the most difficult part of the program was securing an internship during a global pandemic.
"I really struggled to get a position. It was either doing U.S. hours all the time or keep pursuing other opportunities," she said. "I pursued a number of government entities, but they weren't taking anyone due to the pandemic and whoever had applied previously was accepted."
But she finally found what she was looking for.
"I received a survey from New York University in Abu Dhabi, to participate in a study. It was exactly what I was looking for. I contacted them and they said it was a project in collaboration with the Early Childhood Authority, which I was going after almost every day for a position," Abdullah said. "I asked, 'Would you be interested if I applied for an internship, an unpaid position?' They said 'yes' and within a week, I started."
After all, it's about gaining experience, Abdullah said.
"I have expressed interest in staying with them even if the program concludes. I'm happy to work with them. It's very convenient, and it's just a few hours a day from home so I'm going to go for it."
As her graduate studies comes to a close, it's a bittersweet time for Abdullah — filled with excitement and a little disappointment. She had planned to fly to North Carolina to attend graduation in person, however due to the ongoing COVID-19 pandemic, ceremonies are once again virtual.
So instead of walking across the stage, she gets to thank her professors through Zoom.
"They were amazing. Dr. Allen, Dr. Mead, Dr. Andrew Behnke, Dr. Debbie Farr and last but not least Dr. Jamie Alexander. They're all great. I have to say, they kept me on track. And every time I needed advice or missed a Zoom session, they were very supportive. I'm very lucky that I applied. … I consider myself very grateful."