Working Toward a More Equitable Food System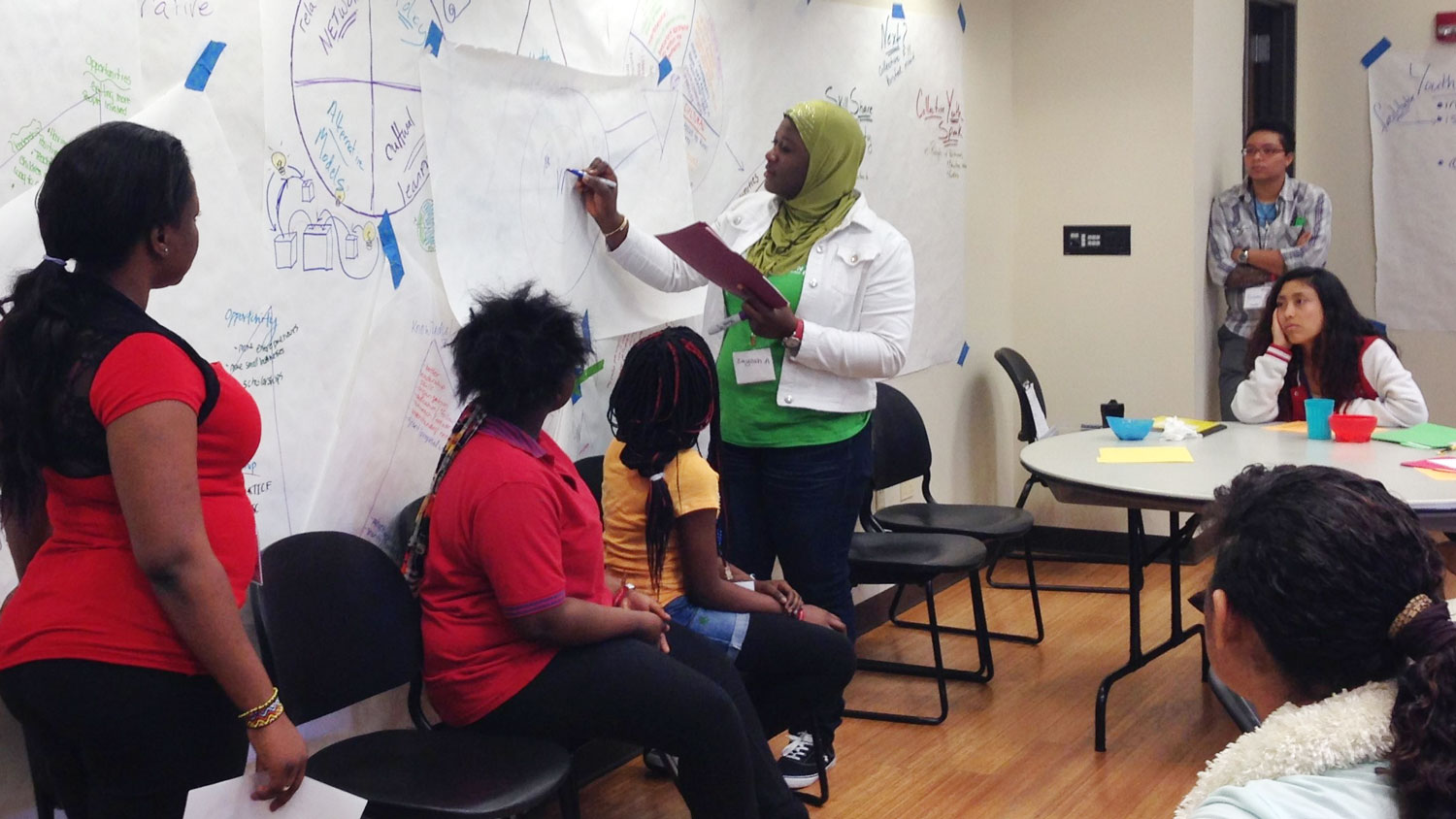 Shorlette Ammons' relationship with farming started at an early age, growing up in a family of tenant farmers and sharecroppers in Mount Olive, North Carolina.
"We didn't own the land, but we worked the land every summer," Ammons said. She currently serves as the community food systems outreach coordinator for the Center for Environmental Farming Systems (CEFS), which focuses on research, extension, and education in sustainable agriculture and community-based food systems. Ammons is one voice on a team of facilitators, researchers and educators who come together to actualize CEFS' mission.
Ammons first connected with CEFS when she was a children's librarian in Goldsboro, the same community that's home to CEFS' 2,000-acre research farm. 
CEFS offered a number of apprenticeships and internships for young people who became interested in learning about food, farming and sustainable agriculture. CEFS also supported Ammons with starting a community garden at the public library.
"We were very fortunate to have a research facility in our backyard that was run by the two North Carolina land-grant universities in North Carolina," says Ammons. "They helped us, really from scratch, to get the garden off and running, which reignited my relationship with growing food."
Ammons left the library and started working full time with CEFS.
"I worked on the small farm unit of the research farm, doing school tours, supporting the internship and apprenticeship program and getting people acclimated with a very unique part of the state, Eastern North Carolina, and how our community food systems work here," she said. "We recognized that a lot of work that was happening was either led by Black elders in the community or affected Black and LatinX youth who came from farm working families."
The work in Goldsboro began to formalize CEFS' work around food and race.
"There was something to really dissect. As young people became involved, they talked about not having many options in terms of opportunities within the food system. What we were seeing at that time was fast food jobs, that were typically promised to young people during the summer (but), because of the economic climate, were being held by older people. The younger folks didn't have many entry points into the food system."
Ammons says one of CEFS' goals was to reclaim the narrative of what it means to work in food systems and what it means to farm. Bevelyn Ukah, a CEFS CORE team member, leads the work of the Food Youth Initiative (FYI). This work, also housed at CEFS, supports and elevates the food systems and climate justice work of young people from across North Carolina. These youth represent voices that are often ignored or unheard in our food system. They serve on food councils, lead efforts to change conditions for farmworkers, are climate change activists and much more. 
Ammons says the project really catapulted CEFS racial equity and food systems work.
"We were looking at the intersections between the impact of race and racism over time on our food system, including land-grant institutions and the role they play in perpetuating this kind of divisiveness," Ammons says. This is how the Committee on Racial Equity in the Food System (CORE) came about. 
"Our goal at CORE is to build an understanding and analysis of the historical and present-day impacts of race and racialization on our institutions and systems so that we can work to make changes that allow for equity to emerge," says Abbey Piner, a member of CORE and project director of Community Food Strategies.
The CORE facilitation team is made up of Ammons; Piner; Bevelyn Ukah, FYI program leader; and Tessa Thraves, who leads CEFS' Farm to School work. The CORE team has been mentored by various racial justice leaders and organizations, such as Kim Pevia with K.A.P. Inner Prizes and Tema Okun and the late Cynthia Brown with dRWorks. 
Piner says CORE focuses a lot on the institution of higher education and land-grant universities and on the food system. 
"We know that our existing systems are inherently racialized. If we want to support an equitable food system, it feels important to us to build an understanding of how the current system works, and CORE offers us a framework and a community in which to do that. By bringing the tools and work of CORE into the Community Food Strategies project, we are able to support the network of local food councils, as well as the seven partner organizations of the Community Food Strategies project, to build our collective understanding and approach to shifting our food system towards equity," says Piner.
Piner and Ammons agree that although some progress has been made, there's still more that can be done.
"The lack of land access or the loss of land over time, especially among black farmers, is an area that needs improvement," Ammons says. "But we're seeing a lot of ingenuity and innovation around addressing that. We've also seen a lot of organized efforts happening to reclaim lost … black land nationally and to reclaim the narrative of food and food systems. Food is a tool to move all these different social justice (and) economic justice issues forward."
And with Ammons' leadership, Piner is optimistic and excited about changes that can be made.
"Through Shorlette's leadership, CORE is able to not only offer the tools and skills of this project to other communities across North Carolina, but she also leads by building relationships. She uplifts great work that is already happening, looks for partnerships whenever possible, and is great at asking important questions that invite deeper thinking and dialogue. This institutional dialogue allows decision makers to find ways to use their skills, expertise, and power toward greater equity in our university," says Piner. "Her approach has helped cultivate a willingness to engage, which is so critical."