Other News
Tsharre Sanders: Keeping the Faith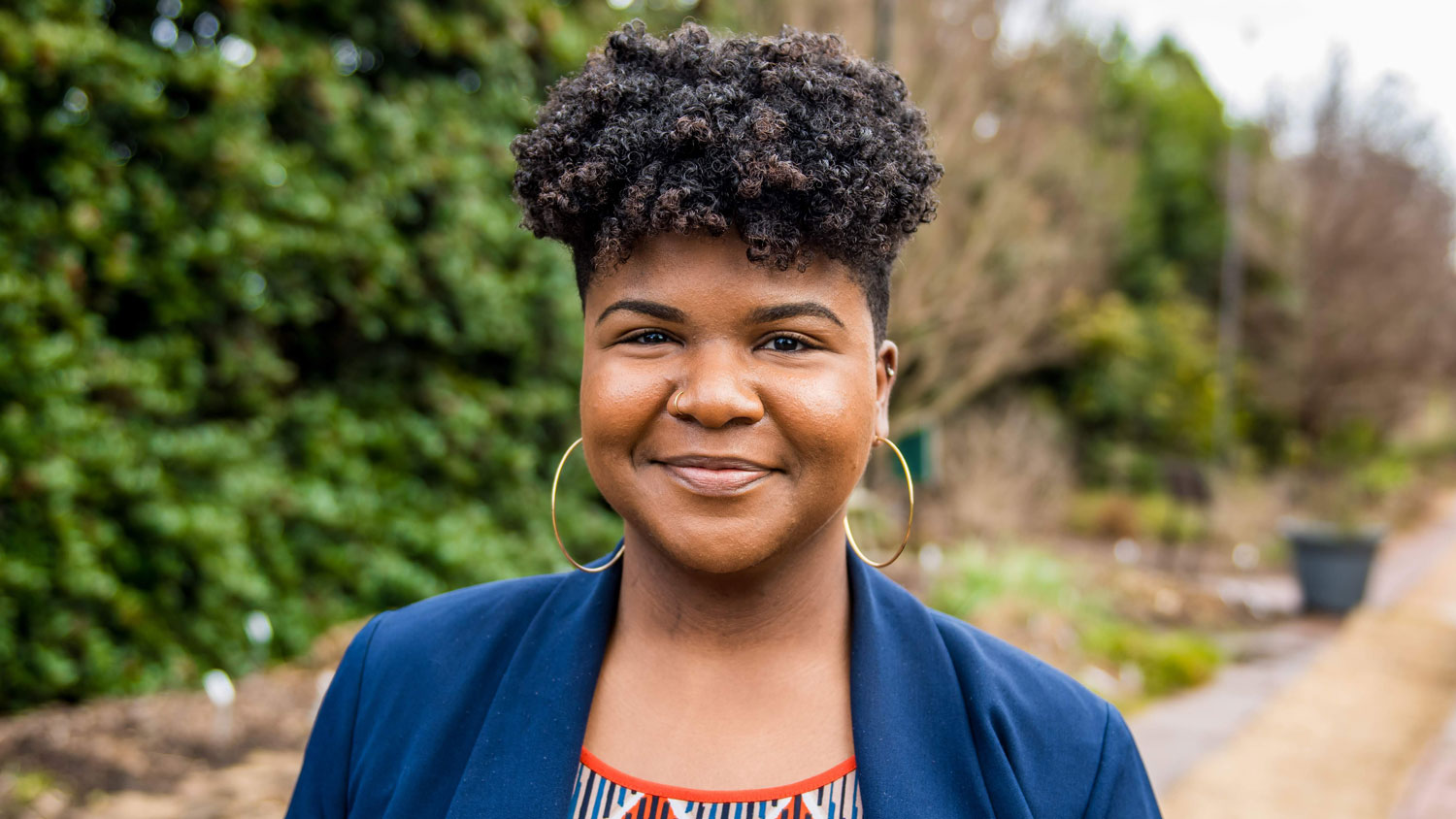 NC State University graduate student Tsharre Sanders knows exactly who she is. She is a Black, queer femme who has a strong faith in God. Sanders will graduate in May with a master's degree in Youth Family, and Community Sciences (YFCS). Her goal: to make sure LGBTQ youth don't feel spiritually disenfranchised.
Sanders, a 2016 graduate from NC State University, holds a bachelor's in psychology and minors in Spanish and Africana Studies. Soon after graduating, she started working in NC State's admission's office and began looking into counseling programs to further her education.
Sanders discovered Youth and Family Professionals as Leaders, a graduate-level course offered by the College of Agriculture and Life Sciences' YFCS program.
"After that first class, I fell in love. I loved the instructors and how personable they were," Sanders says. She then enrolled in the master's program where she became interested in answering the question: How do Black LGBTQ Christians maintain their faith?
It stems from Sanders' own personal experiences.
I had gone through a lot up until then with my faith and thinking God must hate me.
"I was getting ready for church one day and my mom texts me and says that she hopes this message reaches me without offense. She wanted to know why I'm always sharing information about women coming out," Sanders says. "I replied jokingly, 'LOL, I'm not coming out.' And then she replied, 'This is not a joking matter. I'm trying to save your soul.'"
That moment left Sanders feeling sad.
"I know that's a very basic word, but growing up, I never came out. I was found out. My mom found a letter from my girlfriend when I was in high school," Sanders says, "We've always had a rocky relationship when it came to my sexuality. I had gone through a lot up until then with my faith and thinking God must hate me."
But one of her undergraduate counselors encouraged her to not let go of her faith. Instead, she began seeking answers to her question of how Black LGBTQ people are maintaining their faith.
She began researching and learning about other people's experiences who were also in non-LGBTQ affirming Black Christian families. Her advisor put her in touch with Annie Hardison-Moody, a faculty member in the YFCS program.
"We talked for a while and she gave me lots of book suggestions and recommendations, and that's really what started my research process," Sanders says. "I really appreciated that no matter where I was in my journey, they [YFCS faculty] were super supportive."
Hardison-Moody says it's been an honor to journey alongside Sanders as she carried out her research.
The YFCS program … gave me a sense of purpose.
"As our country increasingly addresses longstanding racial and systemic injustices, researchers and religious practitioners like Tsharre — who ground their work in hearing and privileging voices that often go unheard — are critical," says Hardison-Moody. "Tsharre is a gifted leader who cares for others and works for a more just world."
Sanders says being in the YFCS program, she learned about healthy communities, healthy youth, and healthy families — things she wishes she had when she was younger.
"The YFCS program, I don't know if this was intentional, but it gave me a sense of purpose. They helped me to explore my purpose and my passion a little bit deeper," she says.
Sanders admits her research provided her with answers, but it left her with more questions, ones she hopes to answer while at divinity school. Sanders will attend Columbia Theological Seminary in Georgia to pursue a dual master's degree in divinity and practical theology.
"People think I'm silly for getting two master's degrees, but I think it's important, for the work that I want to do, that I have a more broad and deep theological knowledge," Sanders says. "My ultimate career goal is to hopefully find a way to affirm queer Christian youth and educate their families, so that their families can be affirming too. I don't want them to feel like they're out of the running for a relationship with the divine, or feel like they're less than."