Students
Travel With a Purpose
College of Agriculture and Life Sciences senior Emily Haupt loves traveling and exploring new places, especially when animals are involved.
In May 2022, Haupt joined over a dozen CALS students on a study abroad trip to South Africa for the Wildlife Management and Conservation program led by Shweta Trivedi, teaching professor of animal science and VetPAC director.
The program provided extensive hands-on veterinary experiences that allowed Haupt to better understand veterinary medicine from a global perspective.
Haupt is majoring in both animal and nutrition sciences. She currently works at the NC State College of Veterinary Medicine in the Translational Research in Pain lab, studying osteoarthritis in dogs. She's also a veterinary technician at a local small animal hospital in Raleigh. The senior enjoys volunteering at various reptile rescues in her free time, including the Turtle Rescue Team and Be Wild. She is a current veterinary medicine applicant.
Haupt couldn't pass up a chance to pursue her passion for animal care by studying abroad in South Africa. To help out with the cost, she received the Jack and Frances Britt Study Abroad Scholarship — a scholarship offered to animal science students.
Haupt credits her time in South Africa with her growing understanding of the importance and diversity in veterinary medicine. "I would not have the understanding I have now about wildlife conservation if it was not for this program."
Hands-on Compassionate Care
Haupt helped run a dog vaccine clinic with Hoedspruit Animal Outreach (HALO) in Hoedspruit, South Africa. With her peers, she managed tables where they admitted patients, scribed medical histories, completed physical exams, administered vaccines and performed other essential health assessments.
"I felt like a baby vet and loved every minute! As someone interested in pursuing small animal medicine, this experience was extremely moving."
Community members who brought their dogs spoke little to no English. "It was our job to help them understand their dog's health needs and help serve the community in combating contagious diseases," Haupt explains.
The clinic is free and the local volunteer team travels monthly to different communities without accessible veterinary care.
"Generally, we in the U.S. are fortunate to have the advanced and accessible veterinary care we do," says Haupt. "I was touched to participate in this initiative and will give my time to similar organizations when I become a veterinarian."
Advocating for Animal Conservation
From the very first day until the end of the program, Haupt busily assisted in providing veterinary care to a diverse range of animals, such as antelopes, rhinoceroses, reptiles, cattle and dogs.
Her days with the animals were long and physically demanding, but therein lay the impact. "Every day, I went to bed feeling accomplished and grateful for what I had been a part of that day, and that in itself is one of the best parts of the whole program."
On non-veterinary days, she toured various animal conservation facilities and learned about the successes and hardships of animal management.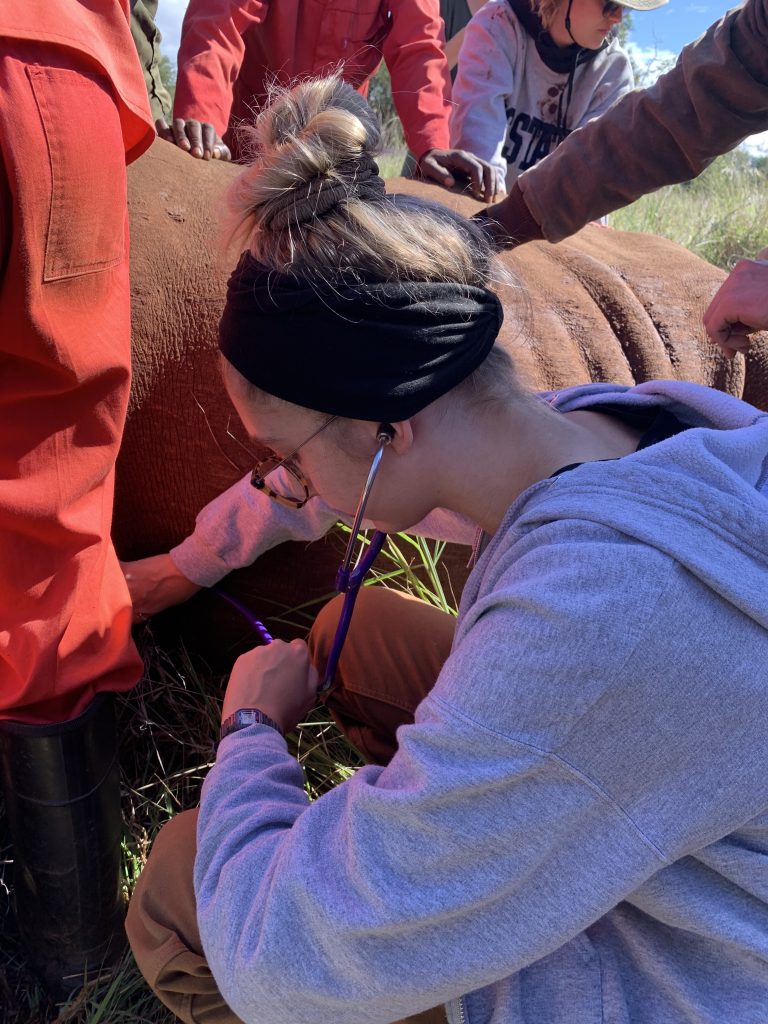 More animals need help than the funds, space and resources available — a hard truth of animal conservation. While Haupt was heartbroken to witness the aftermath of poached and snared animals, she felt encouraged to see organizations use available resources to create change through education, rehabilitation and release individual by individual.
"Helping get people to care about animal conservation is one of the most impactful ways to increase funds going to those endeavors," Haupt says. "I feel grateful to have had this first-hand experience that has made me a better advocate to help do just that."
Developing Confidence in Unfamiliar Situations
Traveling with a purpose demands embracing the unknown and the challenges of moving past your comfort zone.
"I believe this experience helped me identify my ability to embrace change successfully and gave me more self-confidence when facing unfamiliar situations."
One such challenge included riding in a helicopter to practice darting, a technique for immobilizing large animals. During darting practice, the student aims for a target on the ground.
"Shooting a dart gun from a helicopter, working alongside large, unpredictable wild animals and being in a new locale with new people tested me," says Haupt. "But making the most of my time and saying yes to the newness helped me realize how much I can achieve."
Haupt found support and camaraderie from other students who encouraged her. Completing her tasks built her confidence each step of the way.
"You will get out of the experience what you put into it. If you are ready to work hard, soak up all the opportunities and immerse yourself in a new culture, then you will have a fantastic time."
Not surprisingly, simply preparing to study abroad can feel like a daunting task to students who are curious about the opportunity but feel overwhelmed with everything involved.
"It is more than okay to be nervous about studying abroad!" Haupt assures.
Like students before her, she had to tackle coordinating her vaccinations, packing her luggage and navigating the complexities of international travel.
"Don't let the fear of the unknown stop you from doing something that will help you grow. Everyone in your group is in the same boat as you, and you'll find comfort in knowing you are all in it together!"
Ready to travel? The September 15 deadline for spring semester study abroad application and scholarship is quickly approaching. Apply now.