CALS Weekly
Topping-off for Tomato Breeding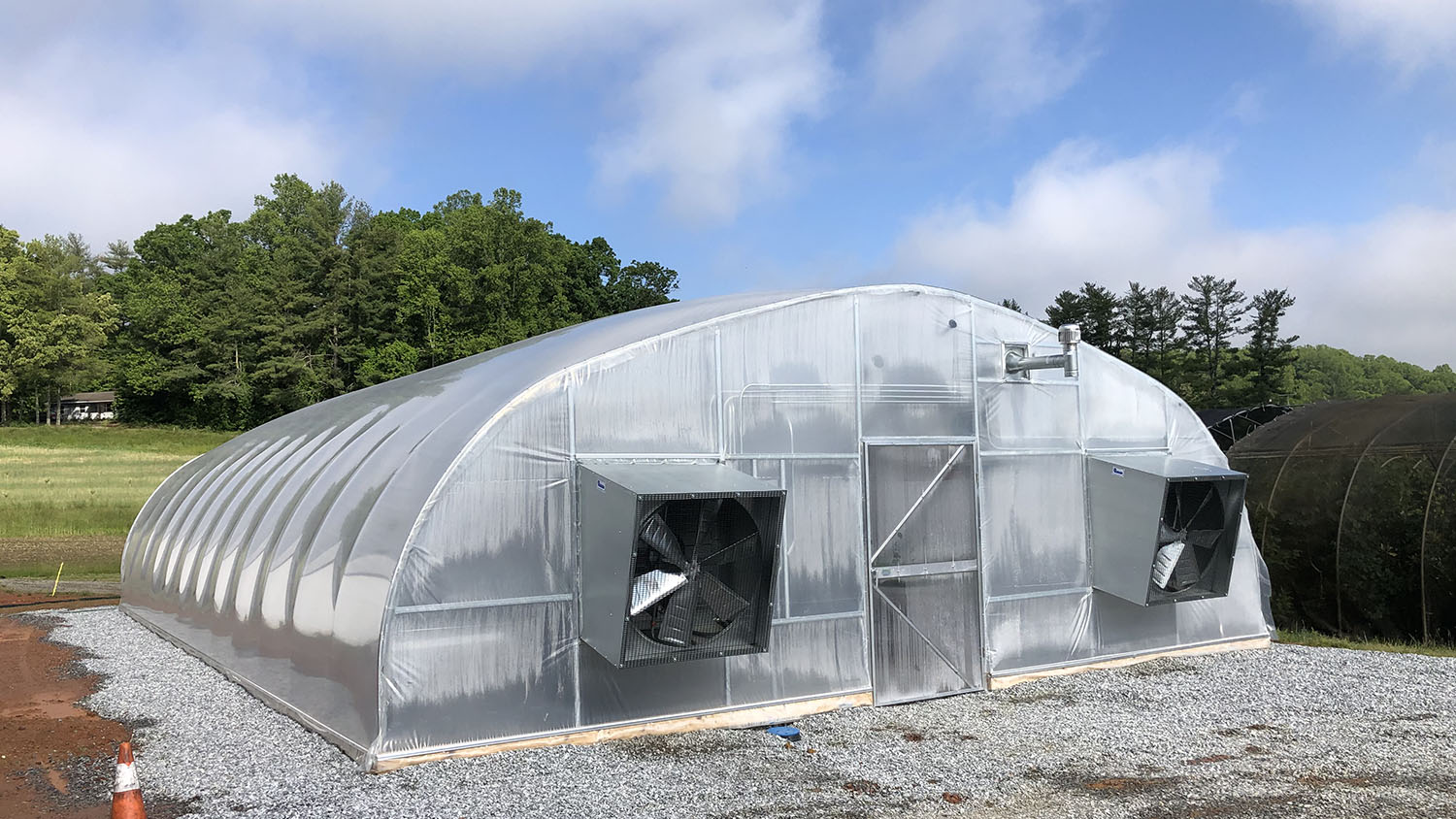 North Carolina farmers grow $33.8 million worth of fresh market tomatoes each year and approximately half of the tomatoes grown in the state are the fruit of NC State's tomato breeding efforts.
These efforts, led by Dilip Panthee, just got a 1440-square-foot boost. Specifically, a new 1440-square-foot greenhouse at the Mountain Horticultural Crops Research and Extension Center in western North Carolina.
"The new greenhouse will help to advance my research to the next level," said Panthee, an associate professor in the Department of Horticultural Science. "Currently I am using only one greenhouse. Since I will be able to control the temperature in the new greenhouse I could also evaluate my crosses during the spring and the fall. If I do that, my screening will be more accurate and I won't need to do my evaluations in a grower's field."
Breeding Better Tomatoes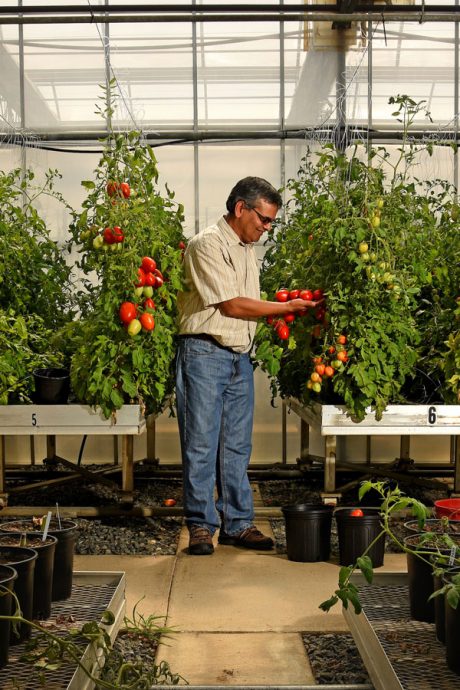 Panthee and his fellow tomato breeders focus on incorporating improved flavor, texture and nutrition as well as disease resistance into commercial tomato varieties. The diseases they tackle include Bacterial Spot, Bacterial Wilt, Late Blight, Early Blight, Fusarium wilt, Tomato Spotted Wilt Virus and Tomato Mosaic Virus. Two of these fellow breeders are Reza Shekasteband, a researcher, and Randy Gardner, a professor emeritus, both in the Department of Horticultural Science.
These are exactly the traits important for farmers like Kirby Johnson, a seventh-generation grower in Henderson County and co-owner of Flavor 1st Growers and Packers.
"Our main goal is taste, and the research station has got the best tasting tomatoes," Johnson said. "But, you've also got to grow it, so it's got to have a decent disease resistance package."
Flavor 1st Growers and Packers sells produce to many major grocery chains including Publix, Kroger, ALDI, Winn-Dixie, Ingles, Stop & Shop and Giant. The hub of Flavor 1st is in Henderson County, but the company also includes fields in Ohio, Southern Georgia, and Florida all the way down to Homestead, Florida.
In previous years, the tomato breeders have used the summer months to test their tomatoes' resistance to disease. Then they cross breed tomatoes with the best combination of traits in a greenhouse during the fall and spring months. This allows them to grow three generations of tomatoes in one year, speeding up the development of new varieties, which take six to eight years to produce.
The new greenhouse, which was completed in April, can be temperature-controlled. This will extend Panthee and his fellows' tomato growing season. The greenhouse also has separate compartments allowing them to grow multiple generations of crosses at the same time and even test the tomatoes' resistance to diseases.
Overcoming COVID-19 Delays
The new greenhouse's separate, temperature-controlled compartments — and the fact that they will allow multiple experiments to be conducted at the same time — is especially helpful right now. The reduction of research across NC State in order to slow the spread of COVID-19 has had an impact on Panthee's research.
"Because of COVID-19, this spring I was unable to make crosses at the level I wanted," Panthee said. "That means I will need to repeat all or most of my crosses, either in fall or in the spring. And this means I cannot test my crosses in the field conditions this summer, which means I may have to postpone my evaluation process for one year. That is a long period for the tomato variety development process."
When it is safe for non-critical work to resume, and Panthee can return to his research, this new greenhouse will help him and his team hit the ground running and continue breeding better tomatoes for North Carolina farmers.
"When the Santa Sweets grape tomato took off like a rocket and us smaller farmers couldn't get our hands on the seed, Randy Gardner developed the Smarty grape tomato," Johnson said. "And that's just one of maybe 35 varieties he had a hand in. I wouldn't be where I'm at today if it wasn't for the research station. It's not only me, it's tomato growers from Virginia, Georgia, Tennessee and North Carolina. The state of North Carolina has no idea what the research station has done for the tomato industry."
Reinvesting Royalties
The North Carolina Agricultural Research Service (NCARS) recognized the importance of the tomato breeding program at the Mountain Horticultural Crops Research and Extension Center.
Steve Lommel, the director of NCARS, and Frank Louws, the head of the Department of Horticulture, agreed to reinvest a portion of royalties from tomato parental breeding lines and released cultivars in a new greenhouse at the facility.
"This new greenhouse is an excellent addition to the facilities at Mountain Hort," said Jeff Chandler, the Director of the Research and Extension center. "It will be a tremendous boost to the tomato breeding program, as well as other research programs at the site. We're grateful to NCARS and the Department of Horticultural Science for this investment in our site."
Mountain Horticultural Crops Research and Extension Center also has a world-renown breeding program for ornamental trees, flowers and shrubs and regional expertise in apples. The facility also hosts an array of additional research efforts in vegetables, peaches, bio-energy crops, blackberries, raspberries, hops, corn, soybeans as well as various specialty and alternative crops.
Our research delivers real-world solutions for North Carolinians.