Students
The Maymester of a Lifetime
When animal science major Beatrice Eddy stepped off the airplane in South Africa, the airport buzzed with excitement. Welcomers greeted the rising senior and her fellow CALS travelers, guiding them to their bus across the green, red, blue and yellow tiled floor — colors that referenced the South African flag.
"Never in a million years would I have predicted flying to South Africa and immersing myself in this opportunity at my age."
Once on the bus, Eddy and her team looped through a mountain road. The view revealed diverse orangish-red bands of earth at varying altitudes. "It was breathtaking; it looked like a sight from a movie," says Eddy.
Vendors sold traditional clothing and wooden wares along the side of the road, and cows and goats roamed freely, at times crossing the vehicle's path to graze on the mountainside grass.
Before arriving at their lodging, the CALS team boarded a game viewing vehicle. As they drove through the thick bush to the Batiki Game Lodge, the sun radiated red and pink hues as it set over the horizon.
Every second, I felt like I was learning something new.
Led by Shweta Trivedi, teaching professor of animal science and VetPAC director, the South Africa Wildlife Management and Conservation course offers CALS students hands-on veterinary experience with African wildlife in their natural habitat. For two weeks in May 2022, Eddy and others got to work with a South African veterinarian and learn about challenges in tending and protecting wildlife.
During the journey, the Scotland County native found the freedom to immerse herself in the South African language, culture and customs.
"The first thing I learned in South Africa was a little about their language Afrikaans. I learned how to say common words like 'dankie,' which means 'thank you.' When you eat or have any type of conversation, you do it by the open fire."
South Africans savor a tradition called braai (pronounced "bry"). Braai is a social gathering among family and friends while cooking different meats on a wood or charcoal grill. The fire serves as a social centerpiece for the celebration, and the host and guests observe specific etiquette.
"Partaking in this tradition was amazing; I even got to make jaffles," Eddy recounts. A jaffle is a traditional South African closed, toasted sandwich with a savory filling placed in a cast iron clamp and crisped by the fire. "The key to getting the crispiest jaffle is to use a good amount of butter."
Doing the Work
Eddy gained practical experience handling and caring for animals in impoverished communities through the Hoedspruit Animal Outreach (HALO) program. This non-profit organization provides veterinary care to animals in the region.
Through this program, Eddy learned how to administer subcutaneous vaccines, conduct wellness exams, and check for transmissible venereal tumors (TVT), a common disease in the African dog population.
Through SA World Vets, during their two weeks in South Africa, Eddy and her cohorts served as wildlife veterinary assistants who administered injections (such as antibiotics), monitored the animals under anesthesia, microchipped, ear tagged and restrained animals, among other activities. They also assisted in pregnancy checks, animal relocation and emergency calls.
"We worked with animals ranging from goats, snakes, cows, cape buffalo, antelope (impala, waterbuck, wildebeest) and southern white rhinos."
Eddy also learned how to properly hold the horns of an animal under anesthesia so it can properly breathe and protect herself from being impaled.
Other outreach activities and excursions included visiting reptile and wildlife rehabilitation centers, the Hoedspruit Reptile Centre, the Moholoholo Animal Rehabilitation Centre, the Hoedspruit Endangered Species Centre and Kruger National Park.
Connecting with each other at the end of each day supplemented the day's intense itinerary. "At the end of each night, our team made time for bonding," says Eddy. "We would all sit by the fire and ask each other questions and talk about our day. We were always under the stars, and our guide even pointed out the different constellations in the sky."
Up in the Air
Eddy and others got to practice darting, in which each student flew in a helicopter and aimed for a target on the ground.
Darting is a technique used in veterinary medicine to tag, collect skin tissue or inject liquid into an animal's skin. Darting is a humane method of immobilizing or delivering vaccines to animals that are unapproachable, dangerous or hard to catch.
While Eddy worked as a wildlife veterinary assistant abroad, many animals were immobilized using this technique, which enabled the team to perform medical procedures, such as vaccination, DNA collection and ear tagging.
"During our practice session, we used a dart gun. The wildlife veterinarian filled the dart for us, so all we had to do was aim for the target, a wooden post with a bullseye right in the middle of it."
The darts used for practice didn't contain any immobilization drugs since one accidental drop on the hands could be fatal.
Initially, Eddy and the other students practiced aiming at a ground target 30 meters away. Then a few days later, they graduated to aiming for the same wooden target with a centered bullseye — in a helicopter.
"I was nervous but thrilled because once we flew off the ground and I saw the scenery from a bird's eye view, it was breathtaking," Eddy recalls. "After swooping around, I eyed the wooden target, aimed and took a shot from the helicopter."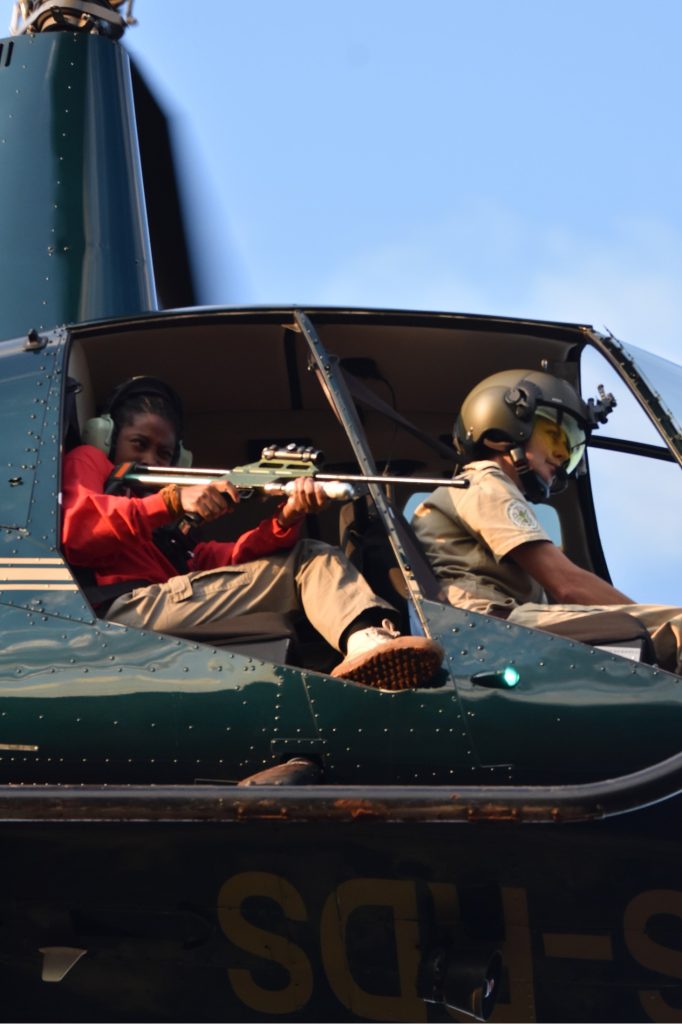 A Transformative Moment
One of Eddy's most impactful moments was when she came face-to-face with the endangered southern white rhino.
"Southern white rhinos are endangered. If things don't change in the next couple of years, they will go extinct due to poaching, habitat loss and other factors."
Eddy and the team took biological samples and data (fecal matter, blood, temperature, breaths per minute and age) from the free-ranging southern white rhinos to help them understand how to manage the animals in the U.S.
"I was able to feel its heartbeat in its ear, feel the roughness of its skin, as well as take samples for microbiome analysis to extract DNA to analyze in the U.S. for research."
This rare experience helped Eddy gain valuable knowledge about the southern white rhino and learn about existing programs to help save it from extinction.
Funding Your Adventure
Without a grant, this amazing opportunity might not have been possible for Eddy, who returns in fall 2022 as a VetPAC Intern, a Zoology Club officer and a teaching assistant for the Captive Animal Biology and Animal-Human Interactions course.
She encourages students to research the various study abroad programs and apply for grants and scholarships early. There is a wide range of study abroad opportunities available to students of any classification, but be aware that some programs have specific requirements.
The Study Abroad Office also offers scholarships and has several resources to fund one's program of interest. "There are priority deadlines, so make sure you apply early and by the deadlines provided because every little amount counts," advises Eddy. "If you are eligible to apply, do it. You never know unless you try."
Eddy will continue researching aye-aye lemurs and southern white rhinos during her senior year. She also plans to apply to NC State's College of Veterinary Medicine to earn her doctorate in 2027.
Ready to apply? The September 15 deadline for spring semester study abroad application and scholarship is quickly approaching. Apply now.