Alumni and Friends
Raising Protein and Produce With Aquaponics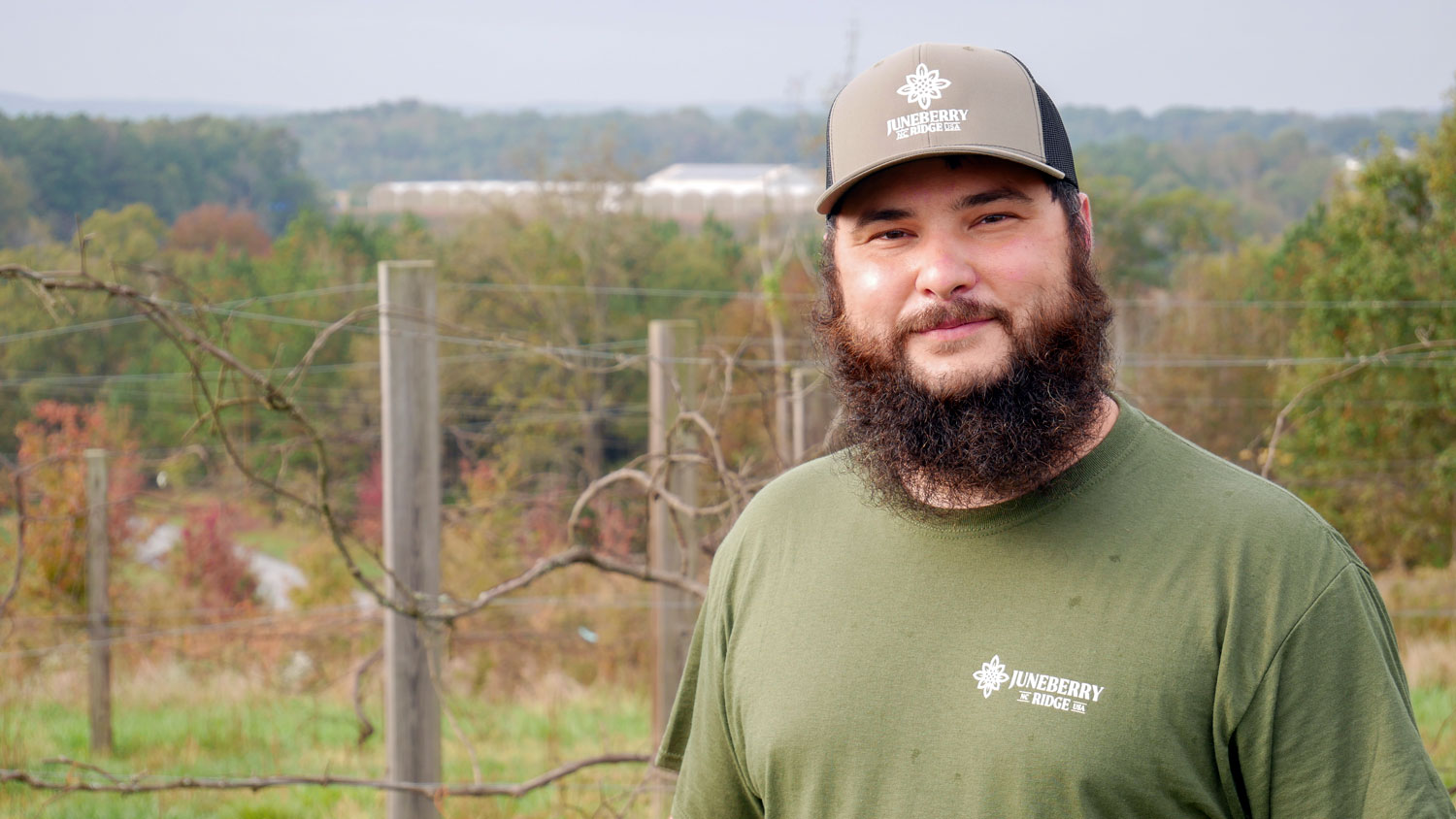 Ashton Thompson is passionate about sustainable farming methods and leaving the Earth better than he found it. As the senior operations manager for Juneberry Ridge, a farm dedicated to sustainable farming and producing fresh food, he's turning his passion into purposeful work.
"I'm in charge of ensuring successful day-to-day operations. My job is to keep an eye on our strategic plan, our short and long-term goals and creating an operational plan that drives us to achieving those goals," Thompson says.
Growing up in rural Stanly County, the great-great grandson of a dairy farmer and an active member in scouts, Thompson has always been drawn to nature and agriculture. But Thompson says he wouldn't be where he is today without a happy accident.
"In high school, I accidentally signed up for the wrong class. I thought I signed up for an animal science class, checking a box off, but it ended up being an agriculture class. I had a really influential teacher, Lanny Burleson, who is the owner of Burleson Beef. That class really helped me to understand the path I wanted to be on."
Thompson enjoyed it so much, he took six more agriculture classes before graduating from high school.
For the first-generation college student, NC State wasn't his immediate next stop. He attended Sandhills Community College and earned a two-year associate degree in applied science, focusing on landscape gardening.
"It was a very hands-on, dirt-under-the-nails experience. I learned a lot there and a lot of life lessons. When I got done, I wanted more of the science. I wanted more of the deep dive into the hows and whys," Thompson says. That's why he chose NC State.
I feel like if you're going to invest the time and energy into an education, you should go with the best, and I believe NC State is the best.
Thompson became hyper-focused on aquaponics — a system for raising fish and plants together — as an undergraduate student in the College of Agriculture and Life Sciences Department of Horticultural Science. "With the help of my advisors, I was able to do some independent studies. I did an undergraduate research project and became really passionate about the food production side of aquaponics."
Approaching graduation in spring 2013, Thompson was trying to decide what was next. He thought about grad school but love and family were calling him home. Not wanting to work in a tire factory or another local business back home, he started attending professional conferences, searching for employment that would be rewarding and fulfilling.
"I actually met Judy Carpenter, the owner of Juneberry Ridge, at an aquaculture conference in New Bern. Thompson graduated on a Saturday and immediately began working for Carpenter the following Monday.
"When I started at Lucky Clays Farm, now Juneberry Ridge, it was basically a private estate and I was hired as a farm hand. They had a greenhouse to produce food for the owner and her employees, and we were experimenting with aquaponics. I was able to help the team develop a productive aquaponic system that we turned into a business that became a sister company under the umbrella called Lucky Clays Fresh."
Thompson says they've been producing sustainably grown leafy greens, herbs and tilapia ever since.
"We started out doing research and development for the owner, approaching high-end restaurants in the Charlotte area and have evolved to grocery stores. We're currently in about 12 Harris Teeter stores in the Charlotte area."
It might seem like the company has pretty much perfected sustainable food production, but Thompson says there's room for improvement.
"We're actually trying to take the aquaponic systems that currently exist and improve them, make them a little more sustainable. We started delving into regenerative agriculture." Thompson describes regenerative agriculture as the next step in sustainable farming by honoring natural systems and cycles.
"Intensive rotational grazing is a good example. Grass uses energy from the sun to grow. Animals such as cows, sheep and goats eat that grass and convert it into meat and other products for human consumption. Their excrement becomes fertilizer for the grass. There are ways that we can manage that system … and actually pull carbon out of the atmosphere and put it into the soil and store it there long term. That's one of the big goals of regenerative agriculture — using soil as a carbon sink. Through proper management and new technology, it can actually be one of the best doses of medicine for our natural systems."
"The future is limitless, and it's really up to us to solve some of the problems that we and previous generations have caused." 
Thompson says it's an exciting time to be a young person in agriculture.
"The future is limitless, and it's really up to us to solve some of the problems that we and previous generations have caused."