Alumni and Friends
In Memory of Mary
N.C. PSI donor names second NC State Plant Sciences Building greenhouse in honor of his wife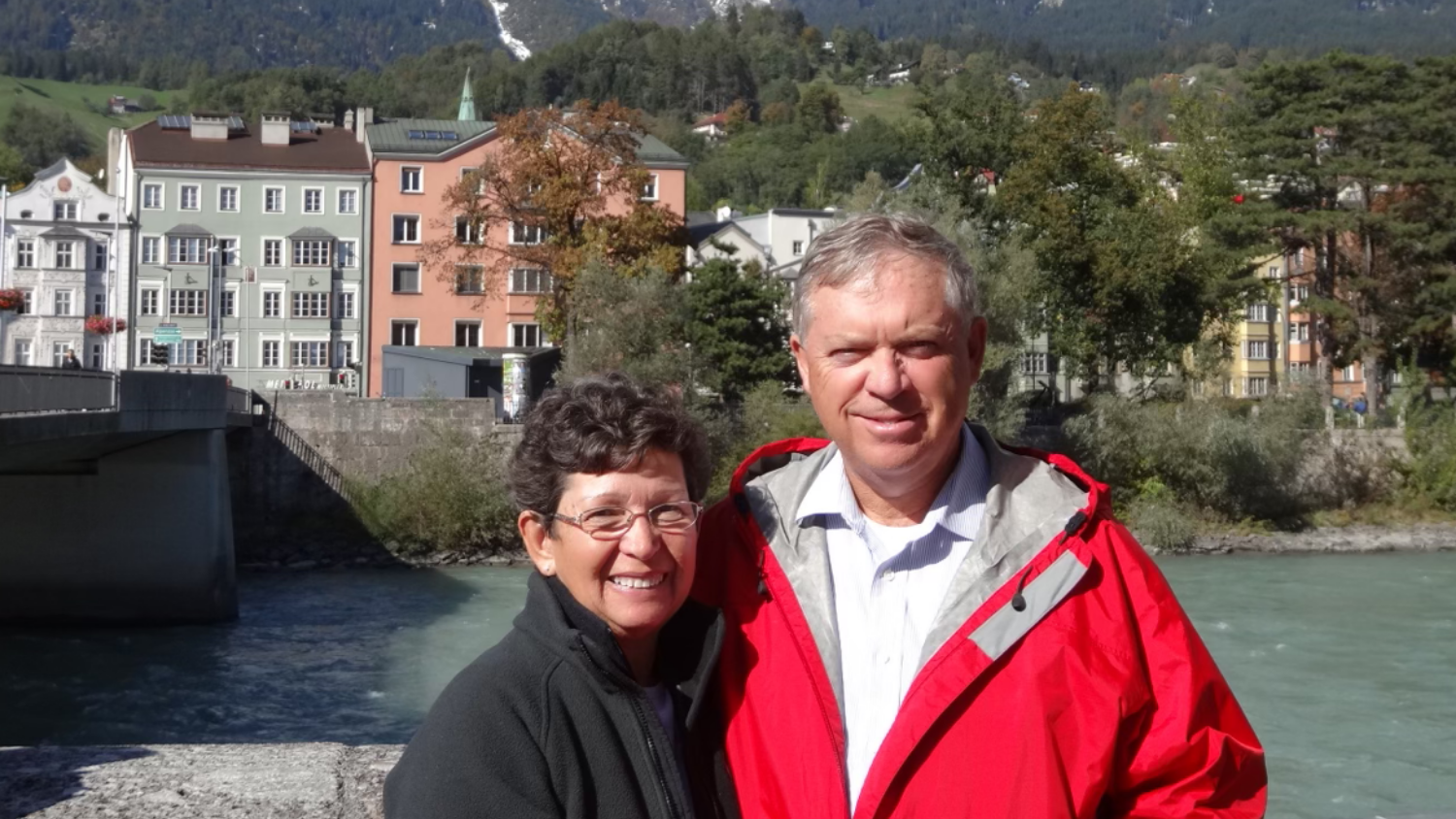 David Peele met his future wife, Mary, in 1972. Both were juniors at NC State competing for a secretary position on the prestigious Agri-Life Council. Mary won – handily.
Their first official date, an NC State basketball game, came a few short months later. It was a wonderful evening. Their favorite team won, and so did they. Their prize: a nearly 50-year marriage that began just several months after their graduation in 1973.
Life together was not easy at first, but they supported each other through the busy and financially difficult times of their graduate school years, as well as the sudden relocations during David's time as an officer in the US Army.
Things began to look up in 1978, after they moved to Merry Hill, North Carolina. David took on an agronomic research position for Avoca Division, a botanical processing company originally owned by RJ Reynolds. The company refined clary sage, a herbaceous flowering perennial plant originally meant to serve as a tobacco substitute.
With Mary's support, David rose through the ranks at the company. Along the way, he went back to NC State and earned his Ph.D. in Crop Science in 1994. By 2000, David became responsible for all aspects of Avoca's business. Soon after, he and business partner David Holmes bought the company in 2003. It became a massive success after their clary sage extracts found a market in laundry detergents and essential oils.
Like the botanical oils of clary sage, Mary had a calming effect that enabled David to rise above the pressures of his schooling, career, and business success. And although Mary dedicated most of her time as a mother and wife after graduate school, she never really left her roots in horticulture.
It's fitting, then, that both Mary and David decided to name a greenhouse atop the NC State University Plant Sciences Building, headquarters of the N.C. Plant Sciences Initiative (N.C. PSI), in honor of Mary's lifelong love for ornamental horticulture.
Sadly, Mary Peele passed away in May 2021. And as a testament to their lifelong love of each other, David named a second greenhouse atop the building solely in the memory of Mary.
We talked with David Peele to shine a light on the love of his life – and his support for the N.C. Plant Sciences Initiative, which employs team-based science and the latest technologies to advance innovation in agricultural research for growers in North Carolina, the nation, and the world.
You and Mary both graduated from NC State in 1973. How did you meet?
We met at the university when we were juniors. The three premier clubs on campus were Agronomy, Horticulture and Animal Science. I was in ag engineering on Dan Allen Drive at the time, and I joined the Ag Engineering club. Mary declared her horticulture major early, so the horticulture club took her in. Mary was the person who everybody knew. She was popular, bright, and intelligent. And she was shy, but she was still outgoing.
Each club had two representatives on the Agri-Life Council. And as a junior, I actually ran against Mary for a secretary seat. She wasn't even there during the decision, and she still defeated me. But we didn't really start dating until January of 1973, and it was around basketball of all things. The arena was always packed, and the students would get tickets based on what your last name was. There were four groups of students, and you rotated every game between the first guy and the fourth. So what you'd do is, if you liked basketball like I did, you'd find students in other name groups, and you'd get their tickets and go.
One day, Mary gave her tickets to me and another guy. Mary was out of town on a horticulture club trip that week. But then the reciprocal of that was, she got to go to another game with me. So our very first date was a basketball game at NC State that somebody else gave up their ticket for. We had NC State Basketball season tickets for nearly 20 years now.
What were the more memorable moments you experienced with Mary as students?
It was that time after we started dating. I was an ROTC student and a floor jock (resident assistant) during my senior year. I got paid for being in ROTC and as a dorm jock. I passed out papers and kept law and order. It wasn't a hard thing to do. But during that time, probably April or May before we graduated, we were dating each other. We decided we were going to get married at some point in our lives, and it was just a fun time in life.
We got married in September, right after graduation; but our student life didn't end there. We moved from North Carolina to Columbus, Ohio. Mary started graduate school at Ohio State on September 14th.
I got a job working for a soils lab at Ohio State. The professor in charge of my lab brought me into his office one day, and he said, "You know, David, you're pretty stupid." I had to respond to him. I asked, "What stupid thing have I done today?" He said, "Your wife's going to be here for two years while she's in graduate school. Why don't you just go ahead and get a master's too?"
I was still an ROTC graduate with a commitment to the US Army. This was right after the Vietnam war, so you could apply for an educational delay and do active duty after you finished your advanced education.
At that time, we were out-of-state students, and it cost $600 to $800 a quarter, which was a lot of money at the time. We scraped enough money together that I could go to school, and I graduated about six months behind Mary.
Why did you and Mary decide to support the N.C. PSI?
We knew that N.C. PSI had a good mission and focus, but it was more about honoring Mary for being in ornamental horticulture. We saw that you had greenhouses on the top. One of the things she always wanted to have was a greenhouse for selling ornamental plants, but selling them is a whole different story than growing plants for a hobby. She'd much rather be a mom and a wife than be an entrepreneur and start a business of her own. So we thought the greenhouse was very fitting. She looked at me and said, "Why don't we support one?" I looked at her and said, "We can do that."
One goal of the N.C. PSI is to boost North Carolina's rural economies. How do you see N.C. PSI advancing rural economies in North Carolina?
When you look at North Carolina, that corridor from Raleigh to Charlotte, that's going to be all biotech companies, big collaborations, and housing. The agriculture there will get lost to development. All the agriculture will need to come from the eastern or western parts of the state. Environmentally, those are very diverse areas. And with more loss of farmland and the rising population here and in the world, the challenges are in production, especially how you grow crops using new research methods in these different types of areas.
It's going to be a challenge to do what needs to be done in the future, but this effort should help. I applaud the system of research and extension that has worked over the years. The work that goes on at N.C. PSI needs to include applied research and extension. If that research doesn't leave the walls of that building, it's a failure as far as I'm concerned.
Why did you choose to sponsor a second greenhouse?
The first greenhouse was sponsored when Mary was alive. I sponsored the second one after doing a tour of the building. It made sense to name a second greenhouse in memory of Mary. You'll remember, I'm the one who didn't want to go back to school. She was the one who supported and encouraged me to become a Ph.D. I didn't go back to school until I was 40 years old.
Mary was supportive of it. We had two young daughters when I was going to school again. Our youngest four, and our eldest was 10. Have you ever tried to write a dissertation with a four-year-old sitting on your lap and pounding on the keyboard? That was a trip! So the first one was named in our names; the second was named In Memory of Mary Peele. It seemed fitting to me to name another greenhouse for her, one right next door to the first.
How did your schooling at NC State prepare you for your success in the botanicals industry?
I think an education deepens your perspective on how you view life, and one of the things that NC State taught me was to know a little bit about a lot of things – but also to have the ability to ask intelligent questions.
In the chemical extraction world, chemical engineers run your extraction plants for you, but there's all kinds of situations based on agriculture, which is where I come from. We had a problem one day where our grinders were worn out after just 30 minutes. The first thought from the engineers was that it was sand. But knowing plants, I knew that certain soils can create iron nodules on the roots of the plant; and these iron nodules are very hard. It was the iron nodules that were giving us the problem. And so I understood where the plants were being grown. The chemical engineers and others had their expertise. But my schooling helped me realize that you had to find people with the right specialties and learn how to ask questions. Smart bosses learn how to ask good questions. And it's true for any profession.
How does N.C. PSI's mission and vision align with your beliefs?
Anything that supports diversification in agriculture is important in eastern North Carolina. I applaud the school for building that building; but, again, if they keep that information inside those four walls, the building is going to be a failure. They have to take all that information, historically like NC State has done in the past, to educate people in agriculture. They're smart people. They know what they have to do. I trust that the people hired by N.C. PSI are the smart people to do that.